Yokohama Geolandar A/T-S Tire Review & Rating
Engineered to deliver quality on-road performance with dependable off-road capabilities, the Geolandar A/T-S from Yokohama is a popular model among owners of all types of trucks and SUVs.
The silica tread compound and symmetrical tread design are created to provide not only higher performance in all-season weather conditions, but also a much longer overall treadlife.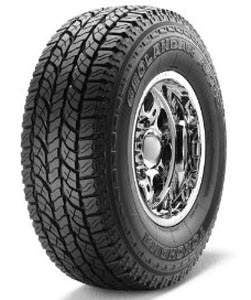 Dry surface traction and handling are increased through the use of center blocks that are staggered around the tread, as well as rounded edge intermediate blocks and larger shoulder blocks that give the tire added stability at higher speeds and a more quiet ride. Four circumferential grooves and dual interlocking sipes evacuate water from under the tread when roads become rain or slush covered.
Driving off-road on loose gravel, dirt, mud and other terrains is enhanced through the multi-stepped tread grooves. You'll also find unique sidewall protectors around the tire's shoulders that provide added bite on loose surfaces. They also increase tire life by preventing cuts and bruises from obstructions like large rocks, stumps and more.
Inside the Geolander you will find two steel belts with spirally wrapped nylon reinforcement to increase strength and durability. Yokohama includes either a 40,000 or 50,000 mile tread guarantee depending on tire size, and you'll find a wide variety of 15-20 inch sizes available.
Pros
Wet and dry traction is superb

Excellent steering response

Ride comfort is impressive

Long lasting tread

Performance and value is among best in class
Cons
High speed cornering may be soft for some drivers
Overall Thoughts
The Geolandar does just about everything you could want from an on/off road tire. Performance on the highway is excellent. Dry surface handling is solid and when the roads turn wet, this tire grips the pavement with the best of them. The steering response makes you feel in control at all times and riding comfort is surprisingly nice for an AT tire.
Off-road performance is equally as impressive. The tire handles dirt, sand, gravel, mud and other elements with relative ease. The topper with this model is its long tread life. We've heard from many drivers who have gotten 70,000-80,000 miles out of the tire.
Overall, while not among the top of class models, the Yokohama A/T-S delivers solid performance and value for the money. It's a nice choice in an all-terrain tire.
Click Here For Current Yokohama Coupons
Click Here To Find Current Prices
What Vehicles Will The Yokohama ATS Fit?
(This is not a complete list of ALL vehicles this tire will fit)
Chevrolet Tahoe, Blazer, Silverado, Trailblazer, Suburban

Dodge Durango, Dakota, Ram

Ford F-Series, Expedition, Ranger, Bronco

GMC Sierra, Envoy, S-15

Honda CR-V

Infiniti QX4 SUV

Jeep Wrangler, Grand Cherokee, Commander, Liberty

Kia Sorento

Nissan Titan, Frontier

Toyota 4-Runner, Tundra, Tacoma, RAV4
Tire Sizes
15″
205/70R15 96S BW
215/70R15 98S BW
P225/70R15 100S OWL
P235/70R15 102S OWL
P235/75R15 108S XL OWL
265/70R15 112S BW
LT215/75R15 100S C OWL
LT235/75R15 104S C OWL
30X9.50R15 104S C OWL
31X10.50R15 109S C OWL
32X11.50R15 113S C OWL
33X12.50R15 108S C OWL
16″
215/60R16 95H BW
215/65R16 98H BW
215/70R16 100S BW
225/70R16 102H BW
235/60R16 100H BW
P235/70R16 107S XL OWL
P245/70R16 106S OWL
255/65R16 109H BW
P255/70R16 109S OWL
P265/70R16 111S OWL
275/70R16 114S BW
LT215/85R16 110R D OWL
LT225/75R16 110R D OWL
LT235/85R16 120R E OWL
LT245/75R16 120R E OWL
LT265/75R16 123R E BW
LT265/75R16 119R D OWL
LT285/75R16 122R D BW
LT315/75R16 121R D BW
17″
215/60R17 96H BW
225/60R17 99H BW
225/65R17 102H BW
225/70R17 108T XL BW
235/65R17 108H XL BW
P235/70R17 108S XL OWL
245/65R17 107H BW
P245/70R17 108S BW
255/65R17 110H BW
P255/70R17 110S OWL
265/65R17 112H BW
P265/70R17 113S OWL
P275/60R17 110S OWL
275/65R17 115H BW
285/65R17 116H BW
LT235/80R17 120R E BW
LT245/70R17 119R E BW
LT245/75R17 121R E BW
LT265/70R17 121R E BW
LT285/70R17 121R D BW
LT315/70R17 121R D BW
37X12.50R17 124R D BW
18″
225/55R18 98H BW
245/60R18 105H BW
P255/70R18 112T BW
265/60R18 110H BW
P265/65R18 112T BW
P265/70R18 114S BW
275/60R18 112H BW
285/60R18 116H BW
LT275/65R18 123R E BW
LT275/65R18 113S C OWL
LT275/70R18 125R BW
LT285/65R18 121R D BW
35X12.50R18 118R D BW
37X12.50R18 123R D BW
20″
275/55R20 117S XL BW
275/60R20 115S BW
305/45R20 112H BW
305/50R20 120S XL BW
LT275/65R20 126R E BW
LT305/55R20 121S E BW
LT325/60R20 121S D BW
37X12.50R20 120R D BW
Price Range
Prices on the Yokohama AT-S range from approximately $97 and up. You may also find occasional rebates, discounts, coupons and special offers on this tire.
Click Here To Find The Current Prices On All Yokohama Geolandar A/T-S Sizes
Warranty
The ATS has a treadlife warranty of 5-years or 50,000 miles on 19 inch tire sizes and below, or a 5-year 40,000 mile warranty on 20 inch tire sizes and above. There is a first 2/32 inch of wear guarantee on the tire's uniformity for all sizes.
Materials and workmanship are guaranteed for 5-years and include first year or first 2/32 inch of wear free tire replacement. A prorated amount is given for the remaining time period or down to the final 2/32 inch of tread depth.
Yokohama includes their 30-day test drive guarantee whereby you can refund or exchange the tire if you are not completely satisfied.
---