Yokohama Avid Envigor Tire Review & Rating
The number of choices in high performance all-season tires are numerous, but one that continues to rank highly in this category is the Yokohama Avid Envigor. With H, V and W-speed ratings that go along with a wide variety of sizes, the Envigor is designed to fit all types of sport coupes, sedans and crossovers.
One of the bigger reasons the Envigor has remained so popular is due to its handling capabilities. Yokohama uses a silica tread compound to go with Uni-bloc shoulders and a continuous center rib that is tapered, which combines to increase grip and handling on both dry and wet surfaces. Groove-in-Groove technology reduces tire stress and adds more stiffness to the sidewalls for added handling.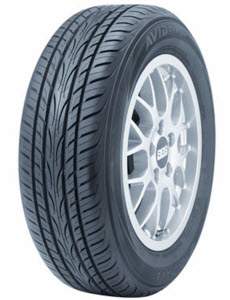 The tread contact patch is optimized to provide more contact with the road, which results in better overall wear and increased rolling resistance. A Six Pitch Tread Variation separates the tread blocks and staggers them in a way that greatly reduces road noise, which countless drivers has mentioned as a real plus in reviews on this tire.
Wet road traction, as well as light snow driving, are enhanced through 3-D sipes, angled grooves and intermediate tread blocks. It also reduces hydroplane resistance and gives you added confidence when the weather turns bad.
Inside the tread on the Envigor you will find two steel belts that are spirally wrapped with a jointless nylon cover to provide enhanced stability and durability at high speeds. This also increases riding comfort and gives the tire more even wear. Yokohama offers sizes ranging from 15-20 inches, and all sizes come with either an H, V or W-speed rating. A 45K or 60K mile tread warranty is also included depending on the speed rating.

Excellent dry and wet traction

Cornering grip is above average for all-season tires

Tire is quiet and ride comfort is equally impressive

Very good value for the money
Cons
While snow and ice traction are acceptable, it could be better

Increase the treadlife a bit
Overall Thoughts
As high performance all-season tires go, the Avid Envigor remains in the upper half of the class despite showing its age. While newer models like the Continental DWS06, BFGoodrich Comp-2 A/S and a few others have upped the performance levels, the Envigor still has its spot here. While not performing like a beast in the corners as some other tires in this class, traction and grip are very good on a variety of road surfaces and conditions. The ride is smooth and road noise is minimal.
Our biggest area of concern here is the relatively poor winter performance on ice and deeper snow. It doesn't have the traction capabilities of some of the better models in its class. However, this is a common issue with HP all-season tires. Yokohama offers a wide array of sizes to fit most any vehicle, and they also include a solid warranty. Another area that we've heard complaints from a few drivers is treadlife. Although we have no issues with treadwear, some have said it was less than expected.

Overall, if you're looking for a dependable and reliable high-performance all-season tire that has proven itself over the years, the Avid Envigor remains a solid choice. That said, if you're looking for a more aggressive tire that sports the latest in tire technology, you might want to opt for the higher performing BFG Comp2 A/S, Pirelli P Zero All Season Plus or the newer Michelin Pilot Sport A/S3 Plus.
Click Here For Current Yokohama Coupons
Click Here To Find Current Prices
What Vehicles Will The Avid Envigor Fit?
(This is not a complete list of ALL vehicles this tire will fit)
Acura Integra, MDX, TSX, RDX

BMW 328i, X3, 525i, X5

Chevrolet Impala, Malibu, Cavalier

Dodge Charger, Grand Caravan, Durango, Magnum

Ford Edge, Fusion, Taurus, Mustang, Focus

Honda Accord, CR-V, Fit, Civic, Odyssey, Insight

Hyundai Sonata, Genesis, Santa Fe

Land Rover LR2

Lexus RX330, RX400h, LS430, GS350

Mazda Miata, Mazda3, Protege, CX-9, Mazda5, Mazda6

Mercedes-Benz R350, E500

Mini Cooper

Nissan Versa, Altima, Sentra, Murano, Rogue

Pontiac Grand Prix, Grand Am, G6

Subaru Impreza WRX, Outback, Legacy, Baja Sport

Toyota Corolla, RAV4, Matrix, Camry, Sienna, Prius, Solara

Volkswagen Jetta

Volvo V50, XC70, XC90, S60
Tire Sizes
15″
145/65R15 72H BW
175/60R15 81H BW
175/65R15 84H BW
185/65R15 88H BW
195/55R15 85V BW
195/60R15 88H BW
195/65R15 91H BW
205/60R15 91H BW
205/65R15 94H BW
16″
195/55R16 87V BW
205/50R16 87V BW
205/55R16 91H BW
205/55R16 91V BW
205/60R16 92V BW
205/60R16 92H BW
215/55R16 97H XL BW
215/60R16 95V BW
215/60R16 95H BW
215/65R16 98H BW
225/50R16 92V BW
225/55R16 99V XL BW
225/60R16 98H BW
235/60R16 100H BW
17″
205/45R17 84V BW
205/50R17 93V XL BW
215/45R17 87W BW
215/50R17 95V XL BW
215/55R17 94V BW
225/45R17 94H XL BW
225/45R17 94W XL BW
225/50R17 94V BW
225/55R17 97H BW
225/55R17 97V BW
225/60R17 99V BW
225/65R17 102H BW
235/45R17 97W XL BW
235/45R17 97H XL BW
235/50R17 96V BW
235/55R17 99H BW
235/55R17 99W BW
235/65R17 108H XL BW
245/40R17 95W XL BW
245/45R17 99W XL BW
245/50R17 99V BW
18″
215/45R18 89W BW
225/40R18 92W XL BW
225/45R18 95W XL BW
225/50R18 95W BW
225/55R18 98V BW
225/60R18 100H BW
235/40R18 95W XL BW
235/45R18 94W BW
235/50R18 97W BW
235/55R18 100V BW
235/60R18 107H XL BW
235/65R18 106H BW
245/40R18 97W XL BW
245/45R18 96W BW
245/50R18 100V BW
245/60R18 105H BW
255/35R18 94W XL BW
255/40R18 95W BW
255/45R18 103W XL BW
255/55R18 109V XL BW
265/35R18 97W XL BW
275/35R18 95W BW
19″
225/40R19 89W BW
225/45R19 92W BW
245/40R19 94W BW
245/45R19 98W BW
245/55R19 103H BW
255/35R19 96W XL BW
255/45R19 100V BW
255/50R19 107V XL BW
20″
245/45R20 99W BW
245/50R20 102V BW
265/50R20 107V BW
Price Range
Prices on the Envigor prices range from approximately $86 and up. You may also find occasional rebates, discounts, coupons and special offers on this tire.
Click Here To Find The Current Prices On All Yokohama Avid Envigor Sizes
Warranty
Yokohama backs the Envigor with a 5-year or 60,000 mile tread life warranty on H and V-speed rated tires. For W-speed rated models the coverage is for 5-years or 45,000 miles. Tire uniformity is guaranteed for the first 2/32 inch of tread wear.
Materials and workmanship are warranted for 5-years and include free replacement during the first year or first 2/32 inch of wear. Yokohama prorates the amount for the remaining time period or until the final 2/32 inch of tread depth.
You will also get a 30-day test drive guarantee. If you are not satisfied with the tires you can refund or exchange them for another Yokohama tire.
---