Yokohama Advan Sport V105 Tire Review & Rating
Yokohama has recently introduced the Advan Sport V105 summer maximum performance tire as a successor to their Advan Sport V103 model. Developed for drivers of sport coupes and sedans, the V105 is built to deliver a higher level of cornering grip, stability and a more comfortable ride.
A high performance Micro-silica and Orange Oil tread compound is designed to provide increased cornering grip by making the rubber more pliable. Add to this the tire's asymmetric tread pattern and wider shoulder blocks and you have a tire that handles and corners very well on both dry or wet pavement, which has shown to be a real plus for this model.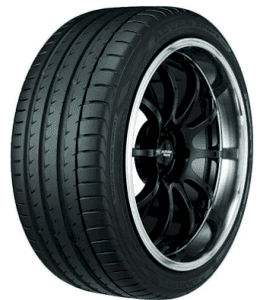 Four variable width circumferential grooves and numerous lateral notches enhance wet traction and channel away water from under the tread. This further reduces the risk of hydroplaning and adds more confidence behind the wheel.
Yokohama has addressed tire stability, handling and ride comfort on the V105 with what they call a Matrix Body Ply Structure. This new technology includes the addition of a rayon body ply that is molded at an angle in the sidewalls in order to maintain the highest lateral strength, while at the same time reduce the overall weight of the tire for better ride comfort.
You'll find two steel belts that are reinforced with nylon to increase stability throughout the speed range, as well as provide added durability. Yokohama offers sizes ranging from 16 to 20 inches on the V105, and speed ratings of V, W and Y.
Pros
Excellent dry and wet traction and handling

Cornering grip and stability are outstanding

Crisp steering response

Ride is comfortable for a max performance tire
Cons
Tread life

Not for winter weather
Overall Thoughts
Yokohama has done a fantastic job in upgrading the V105 from its older predecessor theV103. This model delivers exceptional handling and grips the corners with authority. It will take whatever you can give it without losing grip on dry pavement. This tire simply gives you a confident feeling while driving at higher speeds on dry or wet road surfaces.
Ride comfort was an issue with the older model, but the new Advan V105 has turned that around. The ride is smooth and comfortable, and road noise is nowhere as pronounced on this tire. Our only small issue is with the treadlife. We'd like to see a bit more out of it, although to be fair, much of the lifespan will be determined by driving habits.

Overall, while perhaps not on the level of tires like the Michelin Super Sport or Continental DW among a few others, this Yokohama tire is an excellent addition to their lineup and ranks highly in this class.
Click Here For Current Yokohama Coupons
Click Here To Find Current Prices
What Vehicles Will The Advan Sport V105 Fit?
(This is not a complete list of ALL vehicles this tire will fit)
Acura NSX, RSX, Integra

BMW M3, 335i

Chevrolet Corvette

Ford Mustang GT

Honda Civic, S2000

Infiniti G35

Lotus Elise

Mazda RX-8, Miata

Mitsubishi Lancer, Evolution

Nissan 350Z

Porsche 911, 944

Scion xA

Subaru Impreza WRX, Legacy

Volkswagen Jetta, GTI
Tire Sizes
16″
195/50R16 84V BW
205/55R16 91W BW
205/55R16 91V BW
205/55R16 91V BW
17″
205/55ZR17 91Y BW
215/45ZR17 91Y XL BW
225/45ZR17 94Y XL BW
225/55ZR17 101Y XL BW
235/50ZR17 96Y BW
255/40ZR17 98Y XL BW
18″
215/40ZR18 89Y XL BW
225/40ZR18 92Y XL BW
225/45ZR18 95Y XL BW
235/40ZR18 95(Y) XL BW
235/45ZR18 98(Y) XL BW
235/50ZR18 101Y XL BW
245/35ZR18 92Y XL BW
245/40ZR18 97Y XL BW
245/50ZR18 104(Y) XL BW
255/35ZR18 94Y XL BW
255/45ZR18 103Y XL BW
265/45ZR18 101(Y) BW
275/35ZR18 99(Y) XL BW
275/45ZR18 107(Y) XL BW
19″
225/35ZR19 88Y XL BW
225/40ZR19 93(Y) XL BW
235/35ZR19 91(Y) XL BW
235/40ZR19 96(Y) XL BW
235/45ZR19 95Y BW
245/35ZR19 93(Y) XL BW
245/40ZR19 98(Y) XL BW
245/45ZR19 98Y BW
255/30ZR19 91(Y) XL BW
255/35ZR19 96(Y) XL BW
255/40ZR19 100(Y) XL BW
255/45ZR19 100(Y) BW
265/30ZR19 93(Y) XL BW
265/35ZR19 98(Y) XL BW
265/40ZR19 102(Y) XL BW
275/30ZR19 96(Y) XL BW
275/35ZR19 100(Y) XL BW
275/40ZR19 105(Y) XL BW
285/30ZR19 98Y XL BW
285/35ZR19 99(Y) BW
285/40ZR19 103(Y) BW
295/30ZR19 100(Y) XL BW
295/35ZR19 104(Y) XL BW
305/30ZR19 102(Y) BW
20″
225/35ZR20 90(Y) XL BW
235/35ZR20 92(Y) XL BW
245/30ZR20 90(Y) XL BW
245/35ZR20 95(Y) XL BW
245/40ZR20 99(Y) XL BW
255/30R20 92(Y) XL BW
255/35ZR20 97(Y) XL BW
265/30ZR20 94(Y) XL BW
265/35ZR20 99(Y) XL BW
265/40ZR20 104Y XL BW
275/30ZR20 97(Y) XL BW
285/25ZR20 93(Y) XL BW
285/30ZR20 99(Y) XL BW
295/30ZR20 101(Y) XL BW
305/30ZR20 103Y XL BW
Price Range
Yokohama V105 prices range from approximately $158 and up. You may also find occasional rebates, discount prices, coupons and special offers on this tire.
Click Here To Find The Current Prices On All Yokohama Advan Sport V105 Sizes
Warranty
Yokohama provides a limited tread warranty on the V105. Tire uniformity is guaranteed for the first 2/32 inch of wear. Materials and workmanship are warranted for 5 years and include free replacement during the first year or first 2/32 inch of wear. A prorated amount is then given for the remaining time period or down to the final 2/32 inch of tread depth.
---