Yokohama Advan Sport A/S Tire Review & Rating
Yokohama has a number of high performance tires in their Advan lineup, with the S.4 having been a very capable performer in the ultra-high performance all-season category for several years now. But the S.4 has aged and technology has improved greatly since then. So… enter in the new Yokohama Advan Sport A/S.
Released in July 2014, the Advan Sport A/S is built for drivers of all types of sport coupes and luxury sedans who are looking for exceptional year round traction and handling, as well as a more refined ride quality.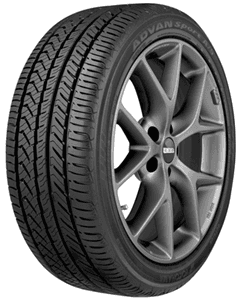 The Sport A/S contains advanced polymers and more silica in the tread compound than many other competitor tires. This makes the tread more pliable in colder temperatures for increased handling, and the additional silica enhances grip on wet road surfaces. Early results bear this out as this tire delivers excellent dry and wet traction.
An asymmetric tread pattern features larger outer shoulder blocks which work to give the tire added cornering power on dry pavement, while the 2-in-1 intermediate tread blocks increase overall lateral stability and make the tire more responsive.
Yokohama has placed wavy sipes and z-grooves across the tread area for extra bite on snow covered surfaces, although it is too soon to tell how well this model tracts on snow and ice. (We've since added our thoughts in an update below) Three large circumferential grooves expel more water from under the tire and aid wet grip.
Inside the tire you'll find two steel belts with spirally wrapped nylon that combine with an optimized sidewall for added strength and increased handling. The optimized contact patch further enhances ride comfort and quietens the ride.
The Yokohama Advan Sport AS is available in 17-20 inch sizes, and all sizes come with either a W or Y speed rating. Yokohama also provides a 50K mile tread warranty, which is very good for tires in this class.
Click Here For Current Yokohama Coupons
Click Here To Find Current Prices
Pros
Outstanding dry and wet traction

Grips well in the corners

Very responsive handling

One of the most quiet and comfortable rides in this class

50K mile warranty
Cons
Improve snow and ice traction
Overall Thoughts
Yokohama has built the Advan Sport A/S to compete with the likes of the Michelin Pilot Sport A/S 3 and Hankook S2 Noble2 among other top tires in the UHP all-season class, and they have done a solid job of doing just that. With excellent dry and wet traction to go along with impressive lateral grip, the Advan Sport A/S is built for the driving enthusiast.
What may surprise some is the overall quiet and comfortable ride quality you get on this tire. Unless you're driving over the worst potholes in town you shouldn't find the bone-jarring ride you'll often feel when driving on other UHP tires. In fact, this model ranks up near the best in class for low noise and a smooth ride.
The only real issue we have with this model is the traction in deeper amounts of snow and on ice or hard-pack. It lacks the traction of a tire like the Continental DWS. That said, this is by no means a tire that is designed for that. It will however get you around town in light snowy road conditions.
The 50K mile tread warranty speaks for itself as far as tread life goes, especially for W and Y speed rated tires. We've heard an overwhelming number of drivers speak highly of treadwear as well.
Overall, Yokohama has a winner with this model. It's a big step-up over the S.4 it's replacing, and we rank it as one of the best tires in the UHP all-season class.
What Vehicles Will The Advan Sport A/S Fit?
(This is not a complete list of ALL vehicles this tire will fit)
Acura TSX, TL

BMW 328i, X5, XI, 528i, Z4, M3, 750i

Chevrolet Camaro, HHR, Cobalt, Impala SS, Corvette

Dodge Challenger

Ford Mustang, Fusion, Fiesta

Infiniti G37, G35X

Lexus ES350, IS 350C, GS300

Mercedes C Class, E320, S63 AMG, CLK500

Porsche 911, Cayenne

Scion tC

Subaru Legacy, Impreza WRX

Toyota Camry, Prius, Avalon, Corolla S

Volkswagen Jetta, GTi, CC, Tiguan SEL

Volvo S80, V50, S60, V70
Tire Sizes
17″
205/45R17 88W XL BW
215/45R17 87W BW
225/45R17 94W XL BW
225/50R17 98W XL BW
225/55R17 97W BW
235/45R17 97W XL BW
245/40R17 95W XL BW
245/45R17 99W XL BW
255/40R17 94W BW
18″
225/40R18 92Y XL BW
225/45R18 95W XL BW
225/50R18 95W BW
235/40R18 95Y XL BW
235/45R18 98W XL BW
235/50R18 97W BW
245/40R18 97Y XL BW
245/45R18 100W XL BW
245/50R18 100W BW
255/35R18 94Y XL BW
255/40R18 99Y XL BW
255/45R18 99Y BW
265/35R18 97Y XL BW
265/40R18 101Y XL BW
275/35R18 95Y BW
285/35R18 101Y XL BW
19″
225/40R19 93Y XL BW
225/45R19 96Y XL BW
235/40R19 96W XL BW
245/40R19 98Y XL BW
245/45R19 102Y XL BW
245/50R19 105W XL BW
255/35R19 96Y XL BW
255/40R19 100Y XL BW
275/35R19 100Y XL BW
275/40R19 101Y BW
285/30R19 98Y XL BW
285/35R19 99Y BW
20″
245/40R20 99Y XL BW
245/45R20 103Y XL BW
255/35R20 97Y XL BW
275/35R20 102Y XL BW
275/40R20 106Y XL BW
Price Range
Yokohama Advan Sport A/S prices range from approximately $110 and up. You may also find occasional rebates, discount prices, coupons and special offers on this tire.
Click Here To Find The Current Prices On All Yokohama Advan Sport A/S Sizes
Warranty
Yokohama provides a 5-year or 50,000 mile tread warranty on the Sport A/S. If using a staggered fitment the mileage warranty drops to 25,000 miles. Tire uniformity is guaranteed for the first 2/32 inch of wear.
Materials and workmanship are backed for 5-years. You'll find free replacement during the first year or first 2/32 inch of wear. A prorated amount is then given down to the final 2/32 inch of tread depth.
---