Yokohama Advan S.4 Tire Review & Rating
As a member of Yokohama's Advan performance tire lineup, the S.4 has been one of their leading high performance all-season models. Developed for drivers of all types of coupes, sedans and even higher end minivans, Yokohama has added the latest in tire technology to make driving more enjoyable regardless of the season.
The tire sports a silica enhanced tread compound to go with a directional tread pattern to give the S 4 better grip and traction in all-weather conditions. Larger reinforced shoulder blocks provide increased cornering power, which is one of the strong suits of this tire. A staggered tread block design adds increased lateral stability and more precise steering response, giving the tire improved handling on all types of road surfaces.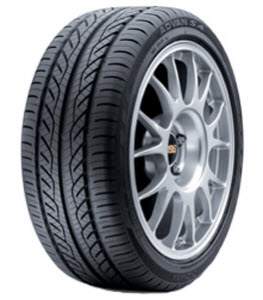 When the weather turns wet the S4 has 3 wide circumferential grooves and Optimum Sipe Placement that help evacuate more water from under the tread. In addition, Aqua Tusk lateral grooves further enhance wet handling.
One area that the S.4 outperforms other tires in this class is in how quiet it is on the highway or even around town. Variable Pitch Technology and Stress Control Waves with multi-sized tread elements virtually eliminate road noise.
Inside the tire you will find twin steel belts with spirally wound nylon that provide strength and durability at higher speeds. It also increases tread life and makes for a smoother overall ride. A unique Tapered Bead Filler balances out cornering power with reduced road noise, resulting in greater driving enjoyment.
Pros
Dry surface handling and traction are outstanding

Very quiet tire that is surprisingly comfortable

Tread life is longer than many other all-season tires
Cons
Would like to see a little more snow traction
Overall Thoughts
Please Note: Yokohama will be discontinuing the S.4 in 2016 with the release of the Advan Sport A/S.
We rank the S.4 in the upper half of the pack for high performance all-season tires. While dry traction handling and cornering grip are outstanding on this tire, the wet and snow covered road surface traction could be improved upon. We would go as far to say that if you live in a Northern climate that sees more than its fair share of snow, consider a different model instead. That said, this tire is amazingly quiet on the highway. So, if you live in a more moderate climate, this model would make a solid choice in new tires.
Click Here For Current Yokohama Coupons
Click Here To Find Current Prices
What Vehicles Will The Yokohama S.4 Fit?
(This is not a complete list of ALL vehicles this tire will fit)
Acura RL, RSX, TL

Audi A4, A6, A3

BMW 330Ci, 745i, M3, 530i, Z4

Chevrolet HHR

Chrysler Crossfire

Dodge R/T, Grand Caravan, Charger

Honda Civic, Odyssey

Infiniti G35x

Hyundai Santa Fe, Sonata

Lexus LS430, LS400, GS350

Mercedes-Benz ML320, SLK230, E350

Nissan Maxima, Altima

Porsche Cayman, Boxster

Scion tC

Subaru Legacy, Outback, Forester

Toyota Solara SE, Corolla, Camry, Sienna
Tire Sizes
16″
205/55R16 91W BW
215/55R16 93W BW
P215/60R16 94V BW
225/50R16 92W BW
225/55R16 95W BW
225/60R16 98W BW
17″
205/50R17 93W XL BW
215/45R17 87W BW
225/45R17 94W XL BW
225/50R17 94W BW
225/55R17 97W BW
235/45R17 94W BW
235/50R17 96W BW
245/40R17 91W BW
245/45R17 95W BW
255/40R17 94W BW
18″
225/40R18 92W XL BW
235/40R18 91W BW
245/40R18 93W BW
245/45R18 96W BW
245/50R18 100V BW
255/35R18 90W BW
255/45R18 99W BW
265/35R18 93W BW
265/40R18 101W XL BW
275/35R18 99W XL BW
19″
245/45R19 98W BW
245/45R19 98Y BW
255/35R19 96W XL BW
255/35R19 96Y XL BW
255/40R19 100W XL BW
255/40R19 100Y XL BW
255/50R19 107W XL BW
275/40R19 105W XL BW
275/40R19 105Y XL BW
275/45R19 108W XL BW
20″
275/40R20 106W XL BW
Price Range
Prices on the S 4 range from approximately $129 and up. You may also find occasional rebates, discounts, coupons and special offers on this tire.
Click Here To Find The Current Prices On All Yokohama Advan S.4 Sizes
Warranty
The Advan S.4 does not carry a mileage treadlife warranty. There is however a tire uniformity guarantee for the first 2/32 inch of wear.
Materials and workmanship are warranted for 5-years and include free replacement during the first year or first 2/32 inch of wear. Yokohama prorates the amount for the remaining time period or down to the final 2/32 inch of tread depth on the tire.
---