Yokohama Advan Neova AD08 R Tire Review & Rating
Developed for street use or track competition, the Yokohama Advan Neova AD08 R sports the most advanced tire technology by some of the industry's finest engineers. This extreme high performance summer driving tire is designed for use on high-end sports cars, coupes and sedans by drivers who want the best in cornering grip and steering response.
The high performance begins with the unique micro silica and hyper density carbon compound that has been developed solely for this tire. The compound provides enhances grip on dry or wet surfaces, while also improving treadwear.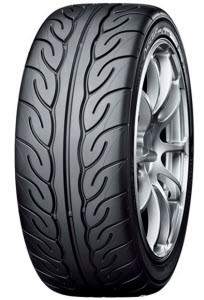 The directional tread pattern and low void to tread ratio helps maximize the tread patch for higher performance. Uni-block shoulders and Rapid Reflex Twin Ribs provide quick steering response and better tire stability that is among the best in this class. Steel Sidewall Inserts are strategically placed in the sidewall to resist lateral deflection and increase handling.
Hydro ARC Channels and multiple circumferential grooves combine to give the AD08 superior wet pavement driving abilities. They allow the tire to push away the water and deliver maximum grip on wet road surfaces.
Inside the tire you will find twin steel belts that are reinforced with a spirally wound nylon to give the Neova added strength and durability at higher speeds. The Groove-In-Groove technology creates small slits in the groove walls that distribute stress loads more effectively and makes for more even tire wear.
Pros
Tires hold the corners like those on a race car
Excellent steering response
Handles very well on wet pavement
Rides more comfortably than expected
Tires hold up well against heat buildup
Cons
A little more road noise than some other models in this class
Overall Thoughts
If you own a sports car and want a tire that gives you some of the most bang for your buck, this Neova AD08 fills the bill. It's basically a track tire that can be used on the street. That said, you'll find uncompromising cornering performance with superb steering response and control. Whether on the track or on the street, this tire is just plain fun to drive on.
Overall, this Yokohama model is one of the top tires in its class.
Click Here For Current Yokohama Coupons
Click Here To Find Current Prices
What Vehicles Will The Yokohama AD08R Fit?
(This is not a complete list of ALL vehicles this tire will fit)
Acura NSX, RSX, Integra
BMW M3, 335i
Chevrolet Corvette
Ford Mustang GT
Honda Civic, S2000
Infiniti G35
Lotus Elise
Mazda RX-8, Miata
Mitsubishi Lancer, Evolution
Nissan 350Z
Porsche 911, 944
Scion xA
Subaru Impreza WRX, Legacy
Volkswagen Jetta, GTI
Tire Sizes
15″
205/50R15 86V BW
16″
205/55R16 91V BW
225/50R16 92V BW
17″
205/45R17 84W BW
205/50R17 89W BW
215/40R17 83W BW
215/45R17 87W BW
225/45R17 91W BW
235/40R17 90W BW
235/45R17 94W BW
245/40R17 91W BW
245/45R17 95W BW
255/40R17 94W BW
18″
215/45R18 89W BW
225/40R18 88W BW
225/45R18 91W BW
235/40R18 91W BW
245/40R18 93W BW
245/45R18 96W BW
255/35R18 90W BW
255/40R18 95W BW
265/35R18 93W BW
265/40R18 101W XL BW
285/30R18 93W BW
295/30R18 94W BW
19″
225/35R19 88W XL BW
235/35R19 87W BW
245/35R19 89W BW
245/40R19 94W BW
255/30R19 91W XL BW
255/35R19 92W BW
265/30R19 89W BW
265/35R19 94W BW
275/30R19 92W BW
275/35R19 96W BW
295/30R19 100W XL BW
305/30R19 102W XL BW
Price Range
Prices on the AD08 range from approximately $149 and up. You may also find occasional rebates, discounts, coupons and special offers on this tire.
Click Here To Find The Current Prices On All Yokohama Advan Neova AD08 R Sizes
Warranty
Yokohama provides a limited tread warranty on the Neova AD08R. There is a first 2/32 inch of wear guarantee on tire uniformity, unless you have shaved the tires.
Materials and workmanship are warranted for 5-years and include free first year replacement or first 1/32 inch of wear. The amount is then prorated for the remaining time period or down to the final 2/32 inch of tread depth on the tire.
---