Westlake SV308 Tire Review & Rating
For drivers looking for a high-performance all-season tire at a cost that is lower than most any tire in this class, Westlake has the SV308 available. Designed for sport coupes, sedans and sporty SUV's, the SV308 does have some nice features for a tire in this price range.
A silica-enhanced tread compound and directional tread pattern are built to optimize performance on dry or wet road surfaces. The tread features a lower rolling resistance, which can increase fuel economy for those who would like to save a bit at the pump.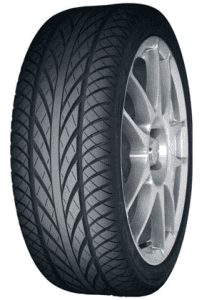 Two circumferential grooves and unique V grooves combine to channel away water on rain soaked streets, while also reducing the risk of hydroplaning. The tire's criss-cross grooves on the shoulder of the tire increase dry traction and cornering grip, as well as improve tire stability.
Inside the tire you'll find two steel belted construction for added strength and better overall ride comfort. Available in H, V and W-speed rated sizes, the SV308 has a 360 UTQG rating and 24,000 mile warranty.
Pros
Dry and wet traction

Braking and acceleration performance is solid

Comfortable ride

Low price
Cons
Road noise

Warranty could be longer
Overall Thoughts
The SV308 represents pretty good performance at a lower price point among other tires in this class. You can expect decent overall dry and wet traction, and the cornering grip is respectful as well.
You may find a little extra road noise, especially as the tire ages, but this is generally the case with most cheap tires. Hey, you can always turn up the radio. We'd like to see a little longer of a mileage warranty as well.
Overall, for a very low costing tire it's not a bad choice, especially when you factor in the dry performance.
What Vehicles Will The Westlake SV308 Fit?
(This is not a complete list of ALL vehicles this tire will fit)
Acura Integra

Chevrolet Aveo, Cobalt, Cavalier, Malibu, HHR

Dodge Neon, Charger, Challenger, Stratus

Ford Focus, Escort, Contour, Taurus, Mustang, Fusion

Honda Civic, Accord

Hyundai Elantra, Accent

Kia Rio, Spectra, Optima

Mazda Miata, Protege, CX5

Mitsubishi Lancer

Nissan Sentra, Cube, 240SX, Altima, Maxima

Pontiac Grand Am, Grand Prix, G6

Saturn SC2, L200, Ion

Scion tC

Suzuki Reno

Toyota Paseo, MR2, Corolla, Celica GT, Yaris, Camry, Avalon

Volkswagen Golf, Passat
Tire Sizes
15″
185/55R15 82V BSW
195/55R15 85V BSW
195/50R15 82V BSW
16″
205/55R16 94W BSW
215/55R16 97W BSW
225/55R16 99W BSW
205/50R16 87W BSW
225/50R16 92W BSW
205/45ZR16 87W BSW
17″
215/55R17 98W BSW
225/55R17 101W BSW
235/55R17 103W BSW
205/50R17 93W BSW
215/50R17 95W BSW
225/50R17 98W BSW
205/45ZR17 88W BSW
215/45ZR17 91W BSW
225/45ZR17 94W BSW
235/45ZR17 97W BSW
205/40ZR17 84W BSW
215/40ZR17 87W BSW
18″
265/60R18 110H BSW
255/55R18 105H BSW
225/40ZR18 92W BSW
235/40ZR18 95W BSW
20″
275/55R20 117H BSW
285/50R20 112H BSW
275/45R20 110H BSW
245/30R20 90W BSW
22″
305/45R22 118H BSW
305/40R22 110H BSW
265/35R22 98H BSW
24″
305/35R24 112H BSW
Price Range
Westlake SV308 prices range from approximately $54 and up. You may also find occasional rebates, discount prices, coupons and special offers on this tire.
Warranty
Westlake provides a 2-year or 24,000 mile warranty on the SV308.
---