Westlake SU307 Tire Review & Rating
The Westlake SU307 is built to provide SUV, pickup and crossover owners a lower cost option in all-season tires. With H-rated performance, the SU307 is also a tire made to deliver good handling and cornering grip as well.
An all-season tread compound is M+S rated for more dependable year-round traction, including light snow covered road surfaces. The CAD designed tread block pattern increases dry traction and cornering performance, while adding more responsive steering.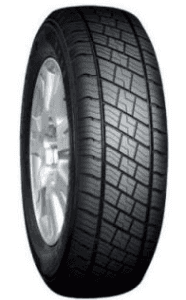 Two larger circumferential grooves and the tire's siping pattern combine to enhance wet traction, as well as provide increased grip in winter weather conditions. A further benefit to the sipe pattern is that it reduces outside road noise.
Inside the tire you will find dual steel belted construction and a polyester cord body for added durability and more even treadwear. A wide variety of 15-17 inch sizes are available on the SU307.
Click Here To Find Current Lowest Prices On All Westlake SU307 Tire Sizes
Pros
Dry and wet traction

Low cost
Cons
Road noise

Cornering performance
Overall Thoughts
The SU307 provides you with basic all-season performance at a much lower price than its competitors. Don't expect too much from this tire in the way of cornering, steering and road noise. It'snot terrible, but it's not on the same level as other top tires either.
Traction and handling on dry and wet road surfaces is pretty good on this Westlake tire.
If you are expecting Michelin ride quality, spend the extra money per tire and get them because that is not what this tire was made to provide. This model is built to give you basic everyday drivability and save you a lot of money in the process, which it does just that.
What Vehicles Will The Westlake SU307 Fit?
Fits these vehicles and many others:
Chevrolet Silverado, Tahoe, Avalanche, Suburban

Dodge Durango, Ram, Dakota

Ford Expedition, F-150, Explorer

GMC Yukon, Sierra

Honda Pilot

Hyundai Veracruz, Santa Fe

Isuzu Rodeo, Trooper

Jeep Grand Cherokee

Mercedes-Benz Sprinter

Nissan Murano, Titan, Pathfinder, Armada, Xterra

Toyota Sequoia, Tundra, 4Runner, Tacoma
Tire Sizes
15″
P215/75R15 100H BSW
P225/75R15 102H BSW
P235/75R15 105H BSW
P225/70R15 100H BSW
P235/70R15 103H BSW
16″
P225/75R16 104H BSW
P235/75R16 108H BSW
P245/75R16 111H BSW
P265/75R16 116H BSW
P215/70R16 100H BSW
P225/70R16 103H BSW
P235/70R16 106H BSW
P245/70R16 107H BSW
P255/70R16 111H BSW
P265/70R16 112H BSW
P275/70R16 114H BSW
P255/65R16 109H BSW
17″
P265/70R17 115H BSW
P235/65R17 104H BSW
P245/65R17 107H BSW
P265/65R17 112H BSW
P275/60R17 110H BSW
Price Range
Westlake SU307 prices range from approximately $71 and up. You may also find occasional rebates, discount prices, coupons and special offers on this tire.
Click Here To Find Current Lowest Prices On All Westlake SU307 Tire Sizes
Warranty
Warranty information not available at time of review.
---