Westlake SP06 Tire Review & Rating
Sporting touring all-season traction with a little extra cornering performance, the SP06 from Westlake is also priced lower for the budget-conscious driver. The SP06 is ideal for drivers of sport coupes and sedans who are seeking year round drivability, even in light snow.
An all-season tread compound and non-directional symmetric tread pattern increase dry and wet traction. Larger shoulder blocks enhance cornering grip, while providing added stability. The tire'scontinuous center rib helps increase steering response and feel.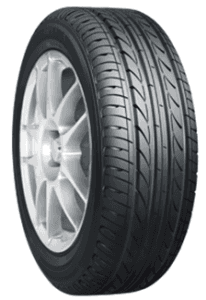 Four circumferential grooves channel away water from under the tread when driving on wet road surfaces and reduce the risk of hydroplaning. Westlake has added siping around the tread for enhanced grip on wet and light snow covered roads.
Inside the tire are two steel belts with a polyester cord body that combine to add strength and durability, as well as increased ride comfort. Sizes are available from 13-16 inches, and speed rating of T, H and V. You'll also find a warranty of up to 50,000 miles depending on the speed rating of the tire.
Click Here For Current Prices On All Westlake SP06 Tire Sizes
Pros
Dry and wet traction is good

Cornering grip and stability

Comfortable ride
Cons
Road noise as the tire wears down

Winter handling could be a little better

Treadlife
Overall Thoughts
The SP06 is somewhat similar to the Barum Bravuris 2 in looks and performance. You can expect decent road manners from this tire, with very good dry and wet traction. The ride is smooth and pretty comfortable for the most part, and the price is very low compared to other tires in this class.
On the other side of the coin you can expect a little extra road noise, especially as the tire wears down. Winter handling in deeper snow and ice could be better, but then again this is an all-season tire and not a dedicated winter tire. Treadlife is acceptable although we would like to see it deliver a bit more wear.
Overall, this model provides value for the money for those on a tight budget. Sure, it's not on the line of the Michelin Defender or Continental TrueContact, but for lower cost tires it will get you where you want to go.
What Vehicles Will The SP06 Fit?
(This is not a complete list of ALL vehicles this tire will fit)
Buick Lesabre, Regal, Century

Chevrolet Monte Carlo, Venture, Impala

Chrysler PT Cruiser

Dodge Neon

Ford Taurus, Windstar, Aspire, Mustang, Escort, Contour

Honda Civic

Hyundai Tucson, Elantra

Mitsubishi Galant

Nissan Maxima, Altima

Pontiac Grand Prix, Vibe, Firebird, Grand Am

Saturn Ion

Subaru Forester, Impreza, Legacy

Toyota Corolla, Camry, Prius, Tercel

Volkswagen Jetta, Beetle
Tire Sizes
13″
155/80R13 79T BSW
165/80R13 83T BSW
175/70R13 82T BSW
185/70R13 86T BSW
14″
175/70R14 84T BSW
185/70R14 88T BSW
195/70R14 91T BSW
205/70R14 95T BSW
175/65R14 82H BSW
185/65R14 86H BSW
185/60R14 82H BSW
195/60R14 86H BSW
15″
205/70R15 96H BSW
215/70R15 98H BSW
185/65R15 88H BSW
195/65R15 91H BSW
205/65R15 94H BSW
215/65R15 96H BSW
185/60R15 84H BSW
195/60R15 88H BSW
205/60R15 91H BSW
215/60R15 94H BSW
195/55R15 85V BSW
195/50R15 82V BSW
16″
205/65R16 95H BSW
215/65R16 98H BSW
225/65R16 100H BSW
235/65R16 103H BSW
205/60R16 92H BSW
215/60R16 95H BSW
225/60R16 98H BSW
235/60R16 100H BSW
205/55R16 91H BSW
205/50R16 87V BSW
Price Range
Westlake SP06 prices range from approximately $45 and up. You may also find occasional rebates, discount prices, coupons and special offers on this tire.
Click Here For Current Prices On All Westlake SP06 Tire Sizes
Warranty
Westlake provides a 2-year or 50,000 mile tread warranty on H-speed rated tires, and 2-years or 36,000 miles on V-speed rated models.
---