Westlake SL369 Tire Review & Rating
Built to provide dependable performance both on-road and off-road in light terrain, the SL369 from Westlake Tire is designed for drivers of all types of pickups, SUV's and crossovers. With an aggressive tread pattern and deeper tread blocks, the SL369 features a longer lasting tread life at a much lower cost than leading competitor tires.
A tougher all-season tread compound and unique tread pattern combine solid dry and wet traction on the street with the strength and durability needed for driving off-road in grass, dirt, sand, gravel and light mud. Added siping around the tread further enhances grip on and off road.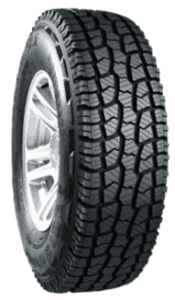 The tire's wide circumferential grooves channel away water for increased wet traction, while also reducing the risk of hydroplaning. An integrated tread block design provides added traction on dry pavement. Westlake's variable pitch tread sequence reduces outside road noise for a more comfort ride quality.
Inside the tire you'll find twin steel belted construction and a polyester cord body for added strength and durability, as well as more even treadwear. Sizes ranging from 15-17 inches in LT and non-LT models are available, and select sizes come with a load range E rating.
Pros
On and off road traction

Comfortable riding tire

Treadlife

Value for the lower cost
Cons
Would like to see more off-road performance in deeper mud

Additional sizes needed
Overall Thoughts
The SL369 fits the needs of most drivers looking for one of the lowest costing all-terrain tires on the market. While the performance does not match that of BFGoodrich, Michelin, Nitto, Cooper and other well known tire models, it does hold its own for what it is. Traction on dry and wet surfaces is good, as is light terrain use.
Ride comfort is better than you might expect from a cheaper tire like this, and treadlife is decent.
Overall, this is one of the better low cost off-road models in this class of tires.
What Vehicles Will The SL369 Fit?
(This is not a complete list of ALL vehicles this tire will fit)
Chevrolet Tahoe, Silverado, K-Blazer, Trailblazer, Suburban

Dodge Durango, Dakota, Ram

Ford F-Series, Ranger

GMC Sierra

Jeep Wrangler, Grand Cherokee

Nissan Frontier

Toyota 4-Runner, Tacoma, Highlander
Tire Sizes
15″
235/75R15 109S BSW
LT235/75R15 104/101Q BSW
31X10.50R15LT 109Q BSW
16″
225/75R16 108S BSW
235/75R16 112S BSW
245/75R16 111S BSW
265/75R16 116S BSW
215/70R16 100S BSW
225/70R16 103S BSW
245/70R16 111S BSW
265/70R16 112S BSW
275/70R16 114S BSW
LT215/85R16 115/112Q BSW
LT235/85R16 120/116Q BSW
LT225/75R16 115/112Q BSW
LT245/75R16 120/116Q BSW
LT265/75R16 123/120Q BSW
LT285/75R16 122/119Q BSW
LT245/70R16 118/115Q BSW
LT265/70R16 121/118Q BSW
17″
235/65R17 104S BSW
245/65R17 107S BSW
265/65R17 112S BSW
LT235/80R17 120/117Q BSW
LT245/75R17 121/118Q BSW
LT245/70R17 119/116Q BSW
LT265/70R17 121/118Q BSW
LT285/70R17 121/118Q BSW
LT275/65R18 123/120Q BSW
Price Range
Westlake SL369 prices range from approximately $113 and up. You may also find occasional rebates, discount prices, coupons and special offers on this tire.
Warranty
Warranty information unavailable at time of review.
---