Westlake SL309 Tire Review & Rating
The Westlake SL309 offers drivers a combination of all-season traction and handling to go along with the strength to haul heavier loads. Built for all types of pickups, SUV's and vans, the SL309 is ideally suited for those looking for a tire to handle the rigors of heavy-duty use.
An all-season Silica Tech tread compound is designed to increase year-round traction on dry or wet pavement, as well as lower the rolling resistance for added fuel economy.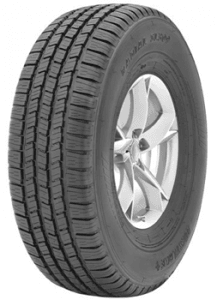 The M+S rated tread is also siped for added grip on wet road surfaces. Four circumferential grooves and numerous lateral grooves effectively evacuate water and reduce the risk of hydroplaning. The sipes on the SL309 further add to traction on snow and ice, although we would like to see more grip in deeper snow and hard-packed ice.
Westlake uses variable pitch tread blocks around the tire to help in reducing unwanted road noise and improving all-around ride comfort. We've heard several reviews from other drivers that this model is more quiet than some of the bigger brand name tires.
Inside the tread are two steel belts that increase durability. Westlake has a wide range of 15-18 inch sizes available, and all LT tires feature a Load Range E rating.
Pros
Reliable dry/wet traction
Treadlife is better than average
Lower price for budget-minded drivers
Cons
Deep snow and ice traction could be better
Increased road noise as tire wears down
Overall Thoughts
It's hard to walk away without being somewhat impressed by the all-around performance of the SL309. For delivery drivers, construction site vehicles and anyone else who needs a tougher all-season tire, this model holds up pretty well.
Our only real concern with this tire is its winter traction and braking. Like most every all-season tire, it can struggle with heavy deep snow, freezing rain and ice. Although it is M+S rated, you won't mistake it for a winter tire.
That said, overall the Westlake SL309 is a reliable, well built and dependable tire that is also value-priced. While you could easily argue that it falls short of the performance you would find on similar tires from Cooper, Yokohama and other larger name brands, the SL309 is one of the better second-tier models.
Click Here To Find Current Prices
What Vehicles Will The Westlake SL309 Fit?
(This is not a complete list of ALL vehicles this tire will fit)
Chevrolet TrailBlazer, Silverado, Suburban, Colorado
Dodge Dakota, Durango, Ram, Nitro
Ford Explorer, F-150, Ranger, Escape
GMC Envoy, Jimmy, Sierra, Suburban, Canyon, Terrain
Honda Element, CR-V
Hyundai Santa Fe
Kia Sorento, Sportage
Mercury Mountaineer
Nissan Pathfinder, Frontier
Suzuki Equator, Grand Vitara
Toyota 4Runner, Highlander
Tire Sizes
15″
LT215/75R15 100/97Q BSW
LT235/75R15 104/101Q BSW
31X10.50R15LT 109Q BSW
16″
185/75R16C 104/102R BSW
LT215/85R16 115/112Q BSW
LT225/75R16 115/112Q BSW
LT235/85R16 120/116Q BSW
LT245/75R16 120/116Q BSW
LT265/75R16 123/120Q BSW
LT285/75R16 122/119Q BSW
17″
LT235/80R17 120/117Q BSW
LT245/75R17 121/118Q BSW
LT265/70R17 121/118Q BSW
LT285/70R17 121/118Q BSW
18″
LT275/65R18 123/120Q BSW
Price Range
Westlake SL309 prices range from approximately $97 and up. You may also find occasional rebates, discount prices, coupons and special offers on this tire.
Click Here To Find The Current Prices On All Westlake SL309 Sizes
Warranty
Warranty information unavailable at time of review.
---