Westlake SA07 Tire Review & Rating
The Westlake SA07 is built to provide higher performance when you want it, but also give you a smoother and more comfortable ride for those times you need it. Designed for drivers of sport coupes, sedans and crossovers, the SA07 is also budget-priced to help save you some extra money as well.
An all-season silica-enhanced tread compound features a lower rolling resistance for both increased wet grip and better fuel efficiency. Larger outside shoulder blocks and deeper tread grooves are designed to provide improved cornering performance and stability, although we would like to see more from the tire.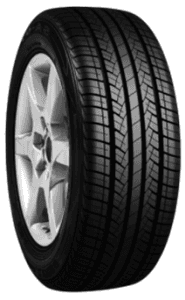 Four wider and deeper circumferential grooves add to wet traction by evacuating water from under the tread and reducing hydroplane risks. The tire's continuous center rib adds to steering response and creates more stability.
Inside the tire you'll find two steel belted construction with a polyester cord body for increased strength and better ride quality. Westlake has added a rim protector to help prevent accidental damage to expensive wheels. Sizes are available from 16-20 inches, and come with either a V, W or Y-speed rating.
Pros
Dry and wet traction

Smooth and comfortable ride

Low cost
Cons
Road noise

Cornering performance
Overall Thoughts
This tire reminds us of similar models like the Riken Raptor ZR or Sumitomo HTR Z in many ways. That said, the SA07 does not offer the same cornering performance as the other two. Although it could be better, it's not terrible at the same time. The ride is comfortable and smooth on the highway, and one of the best things with this tire is the lower price.
Road noise is a bit more pronounced on this model than others in this category, but there's always a trade off for getting such a lower cost tire. Overall, if budget is a bigger priority for you then this tire may be a good fit.
What Vehicles Will The SA07 Fit?
(This is not a complete list of ALL vehicles this tire will fit)
Chevrolet Cobalt

Chrysler PT Cruiser

Dodge Caliber

Ford Focus

Honda CRV

Nissan Sentra

Toyota Camry, Corolla

Volkswagen Golf
Tire Sizes
16″
205/55R16 91V BSW
215/55R16 93V BSW
225/55R16 95W BSW
17″
215/55R17 94V BSW
225/55R17 97W BSW
235/55R17 99W BSW
205/50R17 89W BSW
215/50R17 91W BSW
225/50R17 94W BSW
215/45ZR17 91W BSW
225/45ZR17 94W BSW
235/45ZR17 97W BSW
245/45ZR17 95Y BSW
255/45ZR17 98W BSW
245/40ZR17 95W BSW
18″
235/50R18 101W BSW
245/50R18 100Y BSW
215/45ZR18 89W BSW
225/45ZR18 95W BSW
235/45ZR18 94Y BSW
245/45ZR18 96Y BSW
225/40ZR18 92W BSW
235/40ZR18 95W BSW
245/40ZR18 97Y BSW
215/35ZR18 84W BSW
19″
245/40ZR19 94Y BSW
255/40ZR19 100W BSW
235/35ZR19 91W BSW
245/35ZR19 93W BSW
255/35ZR19 96W BSW
20″
265/50R20 111V BSW
245/35ZR20 95W BSW
Price Range
Westlake SA07 prices range from approximately $55 and up. You may also find occasional rebates, discount prices, coupons and special offers on this tire.
Warranty
Warranty information unavailable at time of review.
---