Vredestein Quatrac Pro: Tire Review & Rating
Overview
Typically, major American and European cities face extreme weather conditions that can be quite unpredictable. So an all-season tire is something that all drivers require to drive comfortably and safely all year round.
That's why you should choose Vredestein – a revolutionary tire like none other.
Vredestein Quatrac Pro is an ultra-high performance Grand Touring All-Season tire built for SUVs, coupes, sedans, and cross overs. It is a successor to the globally renowned Quatrac 5 and is designed in partnership with Italdesign Giugiaro.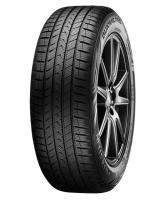 Vredestein Quatrac Pro is considerably better than its predecessor with stronger gripping capabilities on wet surfaces, snow, and ice. Also, its seamless handling allows SUVs and performance car drivers to have a sense of predictability.
The all-season tire comes packed with top-tier features that ensure maximum comfort, as well as accurate handling and control in wet and dry road conditions – they also perform exceptionally well on ice thanks to their enhanced traction capabilities.
Moreover, Vredestein Quatrac Pro cross-checks all industry-relevant standards for severe snow service requirements, making it an ideal fit for people who get to drive in all kinds of weather conditions.
The tread is molded into an asymmetric pattern, using high volumes of silica and resin. This creates the precise turning mechanism and enhanced road-gripping capabilities this tire is known for – the first rib and outbound shoulder provide solid tread blocks for a better drive.
Additionally, the rib within and inside the shoulder is designed to create adjacent notches and full circumferential channels that help in draining out any slush, mud, or water from the contact patch.
Also, the grooves in the tire's tread are perfect for extreme winter conditions – hence the three-peak mountain snowflake symbol imprinted on the tire.
Quatrac Pro shows such resilience and maintains balance all year round because of the way it's built – featuring a layer of the polyester exterior that supports two steel belts. Plus, a polyamide underpinning reduces wear and tear at high speeds, and ensures optimal performance at all times.
Pros
Impressive performance in all four seasons

Precession handling in wet and dry road conditions

Shorter braking distances in all road conditions – snow, ice, wet, dry, etc.

Accurate steering control

Better traction control

Optimal comfort with significant noise reduction

Durable for a good number of years

Reduced deformation of the tire at high speeds

Optimized water evacuation

It's a perfect choice for Grand touring
Cons
Not meant for smaller vehicles or sports cars
Overall Thoughts
Vredestein commenced its operation in 1909, and with over a century's worth of experience and success stories, the Netherland based manufacturer has revolutionized the tire industry.
In 2009, the company was purchased by Apollo Tyres Ltd, and with their combined history, expertise, experience, and technology, they released Vredestein Quatrac Pro in 2019.
No doubt, there are many all-season tires in the market, but nothing compares to what these bring to the table – a one of a kind tire dedicated to the UHP (ultra-high performance) segment.
The Vredestein Quatrac Pro is meant for people who are not too keen on replacing tires several times a year as the new season begins. And truth be told, the weather in Europe and America can have extreme shifts, and the fluctuations are unpredictable – making it necessary to invest in an all-weather tire like the Quatrac Pro.
Simply put, with Vredestein Quatrac Pro tires mounted to your car, you can drive comfortably throughout the year without going through the hassle of replacing tires as per the season.
Overall, these tires are a game-changer, and if you take proper care, they can last for a good number of years.
What Cars Are Compatible With Vredestein Quatrac Pro?
Here are some vehicles compatible with Vredestein Quatrac Pro, but the list is not just limited to these cars:
Audi

80, A3, A4, A6, S3, Q2

BMW

1 series, 2 series, 3 series

Chrysler

PT Cruiser, Saratoga, Sebring

Dodge

Dart, Neon SRT, Stratus

Ford

C-MAX, EcoSport, Escort, Focus, Focus C-MAX, Mondeo, Tourneo Connect

Lexus

E5, ES

Ford

Focus Active

Mazda

CX-3

Suzuki

S-Cross, SX4, SX4 S-Cross, Vitara

Peugeot

407, 5008, 508, 807
Available Tire Sizes
The Vredestein Quatrac Pro Tire comes in a variety of sizes ranging from 17" to 21" – listed below are the available sizes:
17''
205/50R1793V

225/45R1794Y

225/50R1798Y

225/55R17101Y

235/55R17103Y

245/45R1799Y
18''
215/50R1892W

225/40R1892Y

225/45R1895Y

225/55R18102V

235/60R18107W

235/65R18110H

245/40R1897Y

245/45R18100Y

255/55R18109W
19''
225/45R1996W

235/50R1999V

235/55R19105W

245/45R19102Y

255/50R19107W

255/55R19111W

275/35R19100Y
20''
235/45R20100W

245/35R2095Y

245/40R2099Y

255/40R20101Y

255/55R20110Y

275/30R2097Y

275/40R20106Y

315/35R20110Y
21''
245/35R2196Y

275/40R21107Y

275/45R21110Y

285/40R21109Y
Price Range
If you are in luck, chances are you may find many discounts and rebates to sweeten your deal, but ideally, the price for Vredestein Quatrac Pro ranges from $105 to $300.
Do They Come With A Warranty?
The company provides extensive after-sales services, as can be seen by its favorable warranty policies. But, all policies only apply if the tires are bought from an authorized Vredestein dealer in any of the 50 United States, District of Columbia, or Canadian provinces.
For starters, they provide a 30 day trial period for all purchased tires – when it comes to tread life, the warranty remains intact for eight years from production or till the tires have covered 40,000 miles.
These tires are resilient against deterioration, which is why the company gives you a year's coverage or for the first 2/32″ of wear for uniformity.
Moreover, there is also a Workmanship and Materials Warranty for eight years since production, and you can receive a free replacement for the first year or until 2/32″ wear and are examined for the remaining 2/32″ depth.
But there are some prerequisites for tire replacement; it needs to adhere to the following guidelines:
The tires should be mounted on the same car they were purchased for

The vehicle in question is used for personal, family or household purposes only
And lastly, all Vredestein Quatrac Pro owners receive a year's worth of road hazard warranty or until first 2/32″ of wear.