Veento G-2 Tire Review & Rating
Released in late 2015, the Veento G-2 is the company's newest touring all-season tire. Veento, which is owned by Vee Rubber America Inc., is offered exclusively by Discount Tire. Built for coupes, sedans and crossovers, the G-2 features a very low price that is ideal for budget-minded drivers.
An all-season tread compound is molded into a symmetric tread pattern that is designed to optimize dry and wet traction. The tire's continuous center rib enhances steering response, while larger outer tread blocks help with cornering grip and stability, an area this tire performs well.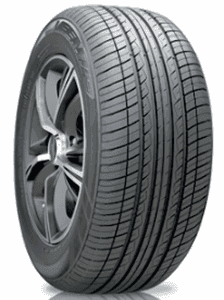 Veento has added four circumferential grooves and numerous lateral grooves to increase wet grip. These grooves further assist in reducing the risk of hydroplaning and keeping you safer on rain slick streets.
Variable pitch tread blocks help in lowering outside road noise and creating a more comfortable ride quality. The design on this model also gives it a smoother ride at highway speeds, which is a plus on this tire.
The Veento G-2 carries a 500 UTQG rating and comes with a 40K mile tread warranty. Based on initial driver reviews, this tire appears to deliver even treadwear and pretty good treadlife for a value-based model. Veento offers sizes ranging from 12-16 inches, and either an S or T-speed rating.
Pros
Dry traction and handling
Low road noise
Budget-friendly price
Cons
Overall Thoughts
There are a number of solid performing budget-priced all season tires available today, and the G-2 is another addition to the list. It's an ideal fit for drivers looking for a daily driver type of tire without all the bells and whistles so to speak.
Expect to find dependable dry and wet traction to go with good braking and acceleration. Winter performance is definitely not a highlight for this tire, but it will get you through lighter winter weather without a lot of problems. We would say it's about average for all-season tires.
For older vehicles that utilize smaller fitments of 13, 14 or even 15 inches, this G-2 is a good option. With its lower price you can certainly save a substantial amount of money. Seriously, it's not often that you can add a full set of new tires for less than $150.
That said, no one is going to try and fool you into thinking you'll find the same performance as you'd get from other tires in this class like the Continental TrueContact, Cooper CS3 Touring or Michelin Defender among others. But that is also not what this tire was designed to do either.
Overall, if budget is your biggest factor in purchasing new tires, the G2 is not a bad choice.
Click Here To Find Current Price
What Vehicles Will The Veento G-2 Fit?
(This is not a complete list of ALL vehicles this tire will fit)
Chevrolet Sonic
Honda Civic
Hyundai Elantra
Kia Forte
Toyota Corolla
Tire Sizes
12″
155/80 R12 77T BW
13″
P155/80R13 79T BW
175/70 R13 82S BW
14″
175/70 R14 84S BW
185/65 R14 86T BW
185/70 R14 87S BW
P185/75 R14 89S BW
195/70 R14 91T BW
P195/75 R14 92S BW
P205/70 R14 93S BW
P205/75 R14 95S BW
P215/75 R14 98T BW
P225/70 R14 98T BW
15″
165/80 R15 87T BW
185/60 R15 84T BW
195/65 R15 91T BW
205/70 R15 96T BW
215/70 R15 98T BW
16″
215/65 R16 98T BW
Price Range
Veento G-2 prices range from approximately $34 and up. You may also find occasional rebates, discount prices, coupons and special offers on this tire.
Click Here To Find Current Prices On All Veento G-2 Tire Sizes
Warranty
Veento provides a 40,000 mile treadlife warranty on the G2. Tire uniformity is guaranteed for the first 2/32 inch of treadwear.
---