Veento G-3 Tire Review & Rating
Designed specifically for Discount Tire, the Veento G-3 high-performance all-season tire is built to provide dependable performance at an affordable cost. The G3 is made to fit all types of sport coupes, sedans, minivans and sporty pickups.
Veento uses an all-season tread compound with a unique ground breaking Dual-Nature asymmetric tread pattern for the G-3. This new tread pattern allows you to mount the tire with either side outwards. One side outwards will enhance dry performance, while the opposite side mounted outwards will increase the wet/snow performance. Depending on climate where you live, you can customize the optimal performance of the tire.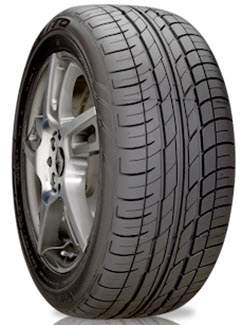 The tire's solid center rib and optimized contact patch are built to increase steering response and cornering grip, while improving braking/acceleration. This is a plus for this model an something that has been in other driver reviews as well.
Three wide circumferential grooves help in evacuating water away from the tire and reducing the risk of hydroplaning. Full-depth sipes around the tread work to increase traction on wet or snow covered road surfaces.
Veento utilizes a variable pitch tread sequence to aid in lowering outside road noise to give the tire a more comfortable ride quality. It does the job on all but worst types of uneven pavement for the most part.
You'll find the G-3 available in a range of 13-17 inch sizes, and in speed ratings of T, H and V. The tire sports a 500 UTQG rating, and a 40K mile tread warranty is also included.
Pros
Unique mounting design

Dry/wet traction

Cornering/steering response

Value priced
Cons
Road noise may be an issue for some

Winter traction
Overall Thoughts
This new G-3 from Veento is not your ordinary run-of-the-mill cheap tire. The company has attempted to utilize some new technology as well as provide a couple of unique mounting choices that may or may not see a number of other tire makers following in their footsteps. Only time will tell, but give credit for the company for at least stepping out of the box with this design. 
Grip on dry or wet pavement is very good for a low cost tire. While it arguably doesn't match the performance levels of a Pirelli or Michelin tire, among other top tires in this class, it does an adequate job for the everyday driver in most cases.
Naturally, as with most any all-season tire, traction on snow and ice is predictably poor. Anything over a light amount of the white stuff can be problematic, especially when braking or accelerating. The road noise on this model is not overly loud, but expect to find a little more road noise on the highway than many other higher quality models.
Overall, the G-3 is marketed towards the budget buyer who simply needs a set of tires to get around to work or around town. We rank it in the lower half of its class. In our opinion, if you can stretch your budget, there are many bigger name brand UHP tires that provide higher levels of performance and value.
Click Here To Find Current Price
Tire Sizes
13″
165/70 R13 82T BW
175/70 R13 82T BW
14″
175/65 R14 82T BW
185/65 R14 86H BW
185/70 R14 88T BW
15″
185/65 R15 88H BW
195/60 R15 88H BW
195/50 R15 82H BW
195/55 R15 85H BW
195/65 R15 91H BW
205/60 R15 88H BW
205/65 R15 94H BW
16″
205/55 R16 91V BW
205/60 R16 92H BW
215/60 R16 98H BW
215/65 R16 94H BW
225/60 R16 98H BW
17″
205/40 R17 84V BW
215/55 R17 94V BW
Price Range
Veento G-3 prices range from approximately $57 and up. You may also find occasional rebates, discount prices, coupons and special offers on this tire.
Click Here To Find Current Prices On All Veento G-3 Tire Sizes
Warranty
Veento provides a 40,000 mile treadlife warranty on the G3. Tire uniformity is guaranteed for the first 2/32 inch of treadwear.