Toyo Versado CUV Tire Review & Rating
Created specifically with today's crossover vehicles in mind, the Toyo Versado CUV has a sophisticated design structure that is built to provide a smooth driving experience with luxury comfort on all road surfaces.
With an asymmetric, non-directional tread design, the tires offer solid traction in both wet and dry conditions and help to reduce the effects of wear and tear. Along with this increased durability is enhanced cornering and more responsive steering.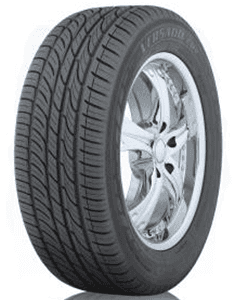 Toyo utilizes open lateral slits and four circumferential grooves for getting rid of water and increasing wet traction. It also results in reducing the risk of hydroplaning. Multi-wave sipes are used in the tread design and deliver enhanced grip on wet and snow covered roads.
To decrease road noise Toyo has installed their own unique Silent Wall technology that works to reduce pipe resonance and provide a more comfortable ride. Inside the tire are two steel belts with a polyester cord body for added durability and strength. Toyo offers 16 to 20 inch sizes and T, H and V-speed ratings. A 50,000 mile tread warranty is also included.
Pros
Very good traction on dry and wet road surfaces

Winter handling

Comfortable ride
Cons
Little extra road noise

Tread life could be better
Overall Thoughts
We give a mixed review on this Toyo model for several reasons. The good: You'll find excellent traction on dry pavement, as well as more than adequate handling on wet surfaces. Perhaps not the most reliable in heavy snow, they do provide decent traction and braking in lighter amounts of snow. Cornering stability is average, and the ride is comfortable on most all road surfaces.
The not so good: Treadlife has been an issue for many drivers and one that is hard to overlook. It simply does not provide the life it should as evidenced from many driver reviews. Beyond that, road noise is a bit more than you would expect even with Toyo's Silent Wall technology.
Overall, while not a tire that ranks in the upper half of its class, the Versado CUV does provide stability, dependability in most conditions and has a middle market price that should appeal to many crossover drivers.
What Vehicles Will The Versado CUV Fit?
(This is not a complete list of ALL vehicles this tire will fit)
Acura MDX, RDX

Audi Q5, Q7

Buick Enclave

Chevrolet Traverse

Ford Edge, Escape, Flex

Honda CR-V, Passport

Hyundai Tucson

Infiniti EX35, FX35

Mazda CX-7, CX-9

Mercedes-Benz GL450, GLK 350, ML350

Nissan Murano, Rogue

Toyota RAV4, Highlander, Sienna

Volkswagen Tigua
Tire Sizes
16″
P235/70R16 104T BSW
17″
P215/65R17 98T BSW
P225/60R17 98V BSW
225/65R17 102H BSW
235/55R17 99H BSW
235/60R17 102T BSW
235/65R17 104H BSW
235/65R17 108V BSW
245/55R17 102V BSW
255/60R17 106V BSW
18″
215/55R18 95T BSW
225/55R18 98V BSW
235/50R18 97V BSW
235/55R18 100V BSW
235/60R18 107V BSW
235/65R18 106T BSW
245/60R18 105H BSW
255/55R18 109V BSW
P255/65R18 109S BSW
265/60R18 110V BSW
19″
P225/55R19 99V BSW
235/50R19 99H BSW
235/55R19 105V BSW
P245/55R19 103T BSW
255/50R19 107V BSW
P255/60R19 108H BSW
265/50R19 110V BSW
275/55R19 111V BSW
20″
P235/55R20 102T BSW
P245/50R20 102V BSW
P255/50R20 104H BSW
P255/55R20 107H BSW
265/50R20 107V BSW
Price Range
Toyo Versado CUV prices range from approximately $139 and up. You may also find occasional rebates, discount prices, coupons and special offers on this tire.
Warranty
Toyo provides an 50,000 mile tread warranty on the Versado CUV. Tire uniformity is guaranteed for the first 1/32 inch of wear.
Materials and workmanship are warranted for 5 years and include free replacement for the first 25% of wear. A prorated amount is given for the remaining time period or down to the final 2/32 inch of tread depth.
Toyo also includes their No Regrets 45-day, 500 mile trial guarantee. If you are not completely satisfied with the tires you may refund or replace them with another model.
---