Toyo Proxes S/T II Tire Review & Rating
Combining an attractive tread design with solid performance is what Toyo has attempted to do with the Proxes S/T II. Built for drivers of sport trucks, SUVs and crossovers, this model features some of Toyo's latest in all-season tire technology.
An M+S rated all-season tread compound is matched to an asymmetric pattern that is also computer-optimized for maximum traction and handling performance. To that end, this tire handles itself quite well on both dry and wet pavement. Steering is quick and responsive, while tire stability is impressive as well.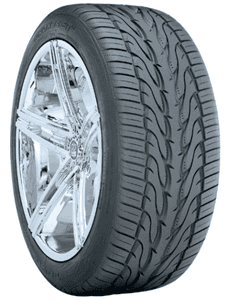 To reduce road noise and increase comfort, Toyo uses its unique Silent Wall Technology and five pitch tread sequence in the tread. The results speak for themselves as many drivers have mentioned how quiet this tire rides on the road. Linear grooving reduces wear and tear and contributes to overall durability as well as increasing cornering performance and handling.
Inside the tire are dual steel belts that are nylon reinforced for added strength and durability, as well as promotes more even treadwear. 16-24 inch sizes are available, and speed ratings of V and W. There are also optional sizes that come with an E load rating as well.
Pros
Good traction performance in dry and wet weather

Low noise due to unique technology

Look great
Cons
Not as good in winter as claimed
Overall Thoughts
Toyo Proxes S/T II's deliver pretty good traction on wet or dry pavement. Braking and acceleration are above average among tires in this class, and while cornering grip would considered to be better than most truck/SUV tires, we found it to be a less grippy in the corners than we would have liked.
One other area that we found lacking with this model is the winter weather performance. It can handle a dusting to an inch or two of the white stuff, but anything more than that can become problematic.
An area that this tire performs exceptionally in would be in how quiet it is. Toyo has done a remarkable job in eliminating road noise with this model. You'll find the ride is comfortable and responsive on long distances as well.
Overall the Proxes S/T II is a good value for the performance it provides. Although not the best in class, it provides more than adequate performance to go with a longer lasting treadlife.
What Vehicles Will The Proxes S/T II Fit?
(This is not a complete list of ALL vehicles this tire will fit)
Cadillac Escalade

Chevrolet Suburban, Tahoe, Silverado

Dodge Durango, Nitro, Ram

Ford Expedition, F-150

Infiniti QX56

Jeep Commander

Lexus LX 470, RX330

Mercedes-Benz ML320, ML430

Nissan Murano, Pathfinder, Titan

Toyota Land Cruiser, 4Runner, Tacoma

Volvo XC70, XC90
Tire Sizes
16″
265/70R16 112V BSW
275/60R16 109V BSW
17″
225/55R17 97V BSW
235/65R17 104V BSW
255/60R17 110V BSW XL
275/55R17 109V BSW
275/60R17 110V BSW
285/60R17 114V BSW
18″
255/45R18 99V BSW
255/50R18 106V BSW XL
255/55R18 109V BSW XL
255/60R18 112V BSW XL
285/60R18 116V BSW
295/45R18 108V BSW
19″
255/50R19 103V BSW
255/55R19 111V BSW XL
275/45R19 108Y BSW XL
285/45R19 111V BSW XL
20″
245/50R20 102V BSW
255/40R20 101V BSW XL
255/45R20 105V BSW XL
255/50R20 109V BSW XL
265/45R20 108V BSW XL
265/50R20 111V BSW XL
275/40R20 106W BSW XL
275/45R20 110V BSW XL
275/55R20 117V BSW XL
285/50R20 116V BSW XL
295/40R20 106V BSW
295/45R20 114V BSW XL
305/50R20 120V BSW XL
315/35R20 110W BSW XL
22″
265/35R22 102W BSW XL
265/40R22 106V BSW XL
265/45R22 109V BSW XL
285/35R22 106W BSW XL
285/40R22 110V BSW XL
285/45R22 114V BSW XL
LT285/50R22 121/118H BSW E
305/40R22 114V BSW XL
305/45R22 118V BSW XL
23″
305/40R23 115V BSW XL
24″
285/40R24 112V BSW XL
295/30R24 105V BSW XL
305/35R24 112V BSW XL
Price Range
Toyo Proxes S/T II prices range from approximately $148 and up. You may also find occasional rebates, discount prices, coupons and special offers on this tire.
Warranty
Toyo provides a limited tread warranty on the Proxes S/T II. Tire uniformity is guaranteed for the first 1/32 inch of wear.
Materials and workmanship are warranted for 5 years and include free replacement for the first 25% of wear. A prorated amount is given for the remaining time period or down to the final 2/32 inch of tread depth.
Toyo also includes their No Regrets 45-day, 500 mile trial guarantee. If you are not completely satisfied with the tires you may refund or replace them with another model.
---