Toyo Proxes A20 Tire Review & Rating
The Toyo Proxes A20 is a durable and stable mainstream tire designed for passenger cars. This is an all-season tire that offers strong wet weather grip and performance as well as long tread life and stability on the highway. We should point out that "all season" is a misnomer in winter months, and no all-season tire is as good as a winter tire below temperatures of 45-degree Fahrenheit.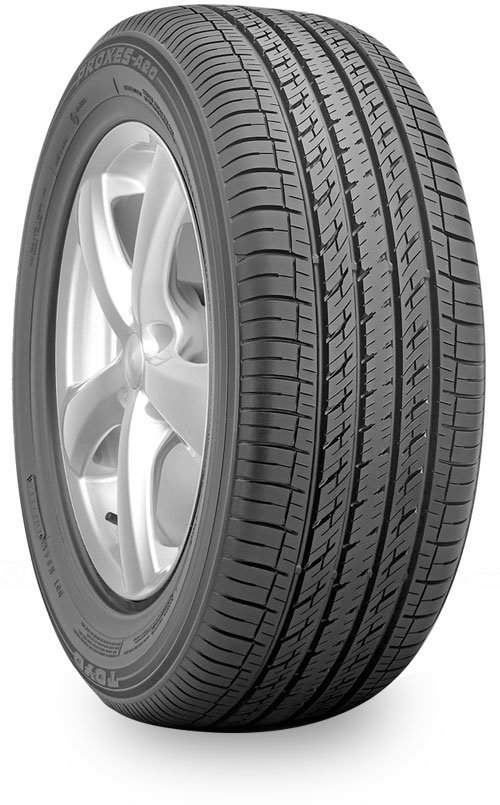 Toyo Tires is not related to Toyota but did provide original equipment rubber for a range of vehicles built by the compatriot Japanese company. Toyo Proxes A20s were standard fit on a number of vehicles including the Venza, Prius v, and Toyota's now defunct offshoot Scion with its tC and 86.
Two full-width steel belts support the silica-infused compound that includes a cap/base formulation designed to decrease rolling resistance and aid fuel economy, without sacrificing security. Tread life is solid, but not spectacular, and you can expect between 25,000 and 35,000 miles from a set. There are some instances of defects forming in the sidewalls on rough roads, and the Proxes A20 appears sensitive to incorrect tire pressures.
Road manners are good, with little tire noise and good compliance over bumps. The tread pattern is symmetrical and features four deep channels for evacuating water, and a large number of cuts and sipes to maximize the biting surfaces on wet pavement.
Many drivers opt to upgrade to a newer offering from the Proxes lineup when they change from the OE tires, but you can do a direct swap if desired.
Pros:
● Direct OE swap
● Good wet weather performance
● Decent road manners
Cons:
● Some complaints of sidewall defects and bubbles
● Limited size choices
Overall Thoughts
Toyo Tires' Proxes A20 tires are a comprehensive "do anything" tire for most small and medium passenger vehicles. They offer impressive stability and consistency in a wide range of conditions, though we caution that a winter tire is a better choice for driving on snow, ice, or freezing rain.
You can expect long live and performance from these tires, and they do boast better handling compliance than some others in the segment. Watch for inflation levels, and be wary on rough roads and large potholes as the sidewalls are prone to blistering if given a heavy impact.
Most drivers report quiet operation and stable, confident road feel from their Proxes A20s.
In short, this is a mainstream tire built to straddle a wide arc of usability and value, which is why brands like Toyota chose to fit it to their vehicles direct from the factory floor.
Tire Sizes
17" Rim
P215/50R17
P215/45R17
P215/50R17
18" Rim
P225/45R18
20" Rim
P235/55R20
Competitors & Alternatives
The closest direct competitor is the Goodyear Assurance All-Season tire, which is close enough in price and performance that your decision will likely come down to brand allegiance and/or availability. Drivers who want more performance should consider the Bridgestone Potenza RE92A.
Price Range
At around $140 for a 17-inch tire, this is on the mid-to-high end of all-season passenger vehicle tires and represents good value for the discerning tire buyer on the hunt for wet and dry consistency. You may also find occasional rebates, discounts, coupons, and special offers on this tire.
Warranty
There is no tread-life warranty on the Proxes A20 tire. Materials and workmanship are warrantied for five years of the tire, which is one year less than most brands. So to is tire uniformity. On the flipside Toyo Tires includes free replacement during the first 25 percent of wear, which is more generous than most who offer that up to 10 percent. A prorated amount is given for the remaining period down to the final 2/32 inches of wear.