Toyo Proxes 4 Plus Tire Review & Rating
The Proxes 4 Plus from Toyo is quickly making its presence felt. Designed for drivers of sport coupes and sedans, this high performance all-season tire is built to deliver impressive traction and cornering to go along with a quiet and comfortable ride as well.
A silica-enhanced high-performance tread compound and asymmetric tread pattern is developed to provide enhanced dry and wet traction and handling, while also increasing treadlife. A closed shoulder and wider ribs increase cornering grip and create more responsive steering, which is something this tire does very well.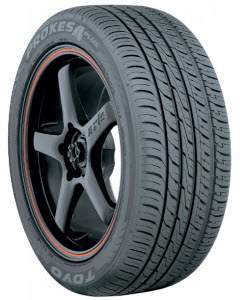 Four circumferential grooves and high density siping around the tread increase handling and braking performance on wet road surfaces, while reducing the risk of hydroplaning. The multi-wave sipes further provide biting edges for added grip on light snow covered streets and highways, as well as give the tire a more quiet ride quality.
Inside the tire you will find two steel belts that are nylon wrapped for added reinforcement. This provides more strength and durability throughout the speed range. A polyester cord body further enhances ride comfort and promotes more even treadwear. Toyo offers sizes ranging from 16-20 inches, and you'll find up to a 50,000 mile tread guarantee on this tire depending on the speed rating.
Pros
Excellent dry and wet traction

Braking, acceleration and cornering grip are outstanding

Tires are very quiet

Long lasting treadlife and very good warranty
Cons
Takes a few miles to get used to driving on them

Winter handling
Overall Thoughts
Toyo has a winner with this model. Expect to find excellent traction for an HP all-season tire. Cornering grip is comparable to nearly any Summer high performance tire you want to match it up to. The tire may take a few miles to get used to in the corners for more spirited drivers due to the sidewall, but once you get used to it you'll find it to be fun to drive. To no ones surprise really, traction on snow and ice is nothing to write home about. Unless you only drive in light snow, you'll likely encounter difficulty.
The one area we were very surprised to find was in how quiet this tire is. For this type of tire it rides almost like a grand touring tire. Tread life is very good on this model, and it is backed up with a nice tread warranty.
Overall, this is one of Toyo's better tires that provides some of the best performance in its class.
What Vehicles Will The Proxes 4 Fit?
(This is not a complete list of ALL vehicles this tire will fit)
Acura TL

Audi A4, TT

BMW 335i, Z4

Chevrolet Camaro, Cobalt SS

Dodge Challenger, Charger

Ford Focus ZX4, Mustang GT

Honda Accord, Civic

Hyundai Genesis Coupe

Infiniti G37 Coupe

Lexus IS250, IS350

Mazda 3, Mazda 6, Miata, RX-8

Mini Cooper

Mitsubishi Eclipse

Nissan 370Z, Maxima

Subaru BRZ, Impreza

Scion FR-S, tC

Volkswagen GTi, Jetta, Beetle, Passat
Tire Sizes
16″
205/50R16 91V XL BLK
205/55R16 94V XL BLK
17″
205/40R17 84WXL BLK
205/50R17 93W XL BLK
215/45R17 91W XL BLK
215/50R17 95W XL BLK
225/45R17 94W XL BLK
225/50R17 98W XL BLK
235/45R17 97W XL BLK
235/50R17 100W XL BLK
245/40R17 95W XL BLK
245/45R17 99W XL BLK
255/40R17 98W XL BLK
18″
215/45R18 93W XL BLK
225/40R18 92Y XL BLK
225/45R18 95W XL BLK
225/50R18 95W BLK
235/40R18 95Y XL BLK
235/45R18 98W XL BLK
235/50R18 101W XL BLK
245/40R18 97Y XL BLK
245/45R18 100W XL BLK
255/35R18 94Y XL BLK
255/40R18 99Y XL BLK
255/45R18 103Y XL BLK
275/35R18 99Y XL BLK
285/35R18 101Y XL BLK
19″
225/35R19 88Y XL BLK
225/40R19 93Y XL BLK
225/45R19 96W XL BLK
235/35R19 91Y XL BLK
245/35R19 93Y XL BLK
245/40R19 98Y XL BLK
245/45R19 102Y XL BLK
245/50R19 105W XL BLK
255/30R19 91Y XL BLK
255/35R19 96Y XL BLK
255/40R19 100Y XL BLK
255/45R19 104W XL BLK
265/30R19 93Y XL BLK
275/30R19 96Y XL BLK
275/35R19 100Y XL BLK
275/40R19 105Y XL BLK
295/30R19 100Y XL BLK
20″
225/30R20 85W XL BLK
225/35R20 90W XL BLK
235/30R20 88W XL BLK
245/35R20 95W XL BLK
245/40R20 99W XL BLK
245/45R20 103Y XL BLK
255/30R20 92W XL BLK
255/35R20 97Y XL BLK
255/45R20 105Y XL BLK
275/30R20 97Y XL BLK
275/35R20 102Y XL BLK
275/40R20 106Y XL BLK
295/25R20 95Y XL BLK
295/30R20 101Y XL BLK
Price Range
Toyo Proxes 4 Plus prices range from approximately $82 and up. You may also find occasional rebates, discount prices, coupons and special offers on this tire.
Warranty
Toyo provides a 50,000 mile tread warranty on V and W-speed rated tires, and 45,000 miles on Y-speed rated tires. All sizes include a first 1/32 inch of wear guarantee on tire uniformity.
Materials and workmanship are warranted for 5 years and include free replacement for the first 25% of wear. A prorated amount is given for the remaining time period or down to the final 2/32 inch of tread depth.
Toyo also includes their No Regrets 45-day, 500 mile trial guarantee. If you are not completely satisfied with the tires you may refund or replace them with another model.
---