Toyo Open Country HT Tire Review & Rating
The Open Country H/T from Toyo is an M+S rated tire that has been used as original equipment on vehicles from Toyota, Honda among others. Built for light trucks, crossovers and SUV's, the HT is created with durability, longevity and comfort in mind. Toyo HT tires come with all-season performance and an emphasis on offering a solid and consistent driving experience.
With a symmetric and non-directional tread design the tires are designed to provide strong traction and grip in all-weather conditions, while the two deep circumferential grooves ensure that water is dispelled for better wet handling. This also reduces the risk of hydroplaning.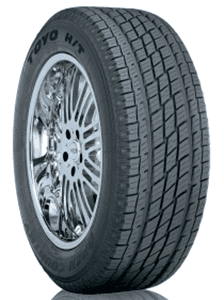 Irregular and prolonged wear is slowed with the tire's stability rib and multiwave sipes which also contribute to keeping road noise levels to a minimum. The result is added ride comfort on longer journeys and extended periods of time. The tire's sipes further provide additional grip on wet pavement.
Inside the tire are two steel belts for added durability and strength. The tires come in virtually every 15-22 inch size imaginable and Toyo includes a 60,000 mile tread warranty on metric and P-metric models.
Pros
Good dry and wet traction and braking

Low road noise

Comfortable ride
Cons
Treadlife

Snow and ice performance
Overall Thoughts
The Toyo Open Country HT is a pretty good option to some of the other bigger names in the light truck and SUV market. They may not be the cheapest tire but they do offer solid performance.
Handling in wet and dry conditions is very good and the deep evacuation grooves really help when driving in rain. Winter performance is an area we find this tire lacking. Anything more than a few inches of snow will require some extra caution. That being said, for the rest of the year it is difficult to beat the Open Country HT for quality and value.
Steering is responsive and true and you get a quiet drive with these tires on. Finally, treadlife could be a little longer lasting, which is what many drivers have mentioned in other reviews of this model. Toyo does back it up with a 60,000 mile warranty on select models.
Overall, this is good middle of the pack performing tire in its class.
What Vehicles Will The Toyo Open Country HT Fit?
(This is not a complete list of ALL vehicles this tire will fit)
Buick Enclave

Chevrolet Tahoe, Silverado, Trailblazer, Avalanche, Express

Dodge Durango, Dakota, Ram, Nitro

Ford Explorer, F-Series, Expedition, Ranger

GMC Sierra, Envoy, Yukon

Infiniti QX4 SUV

Jeep Wrangler, Grand Cherokee, Commander, Liberty

Mercedes Benz G500

Nissan Titan, Frontier

Toyota RAV4, Tundra, Tacoma, Highlander

Volkswagen Touareg
Tire Sizes
15″
P225/70R15 100T OWL
P225/75R15 102S OWL
P235/70R15 102S OWL
P235/75R15 105S OWL
LT235/75R15/C 104/101S OWL
P265/70R15 110S BSW
31×10.50R15LT 109S OWL
16″
215/65R16 98H BSW
P215/70R16 99H BSW
LT215/85R16/E 115/112S BSW
P225/70R16 101T OWL
P225/75R16 104S OWL
LT225/75R16/E 115/112S BSW
235/60R16 100H BSW
P235/65R16 101S BSW
P235/70R16 104T OWL
P235/75R16 106S OWL
LT235/85R16/E 120/116S OWL
LT235/85R16/E 120/116Q BSW
P245/70R16 106S OWL
P245/75R16 109S OWL
LT245/75R16/E 120/116R BSW
LT245/75R16/E 120/116S OWL
255/65R16 109H BSW
P255/70R16 109S OWL
P265/70R16 111S OWL
P265/75R16 114T OWL
LT265/75R16/C 112/109S OWL
LT265/75R16/D 119/116S OWL
LT265/75R16/E 123/120S OWL
LT265/75R16/E 123/120Q BSW
P275/70R16 114H BSW
LT285/75R16/E 126/123S OWL
LT285/75R16/E 126/123Q BSW
17″
225/65R17 102H BSW
LT225/75R17/E 116/113Q BSW
P235/60R17 100S OWL
P235/60R17 100S BSW
235/65R17 104H OWL
235/65R17 104H BSW
P235/70R17 108S OWL
P235/70R17 108S BSW
P235/75R17 108S OWL
LT235/80R17/E 120/117R BSW
LT235/80R17/E 120/117S BSW
P245/65R17 105H OWL
P245/65R17 105H BSW
P245/70R17 108S OWL
P245/70R17 108S BSW
LT245/70R17/E 119/116S OWL
LT245/70R17/E 119/116S BSW
P245/75R17 110S OWL
LT245/75R17/E 121/118S OWL
LT245/75R17/E 121/118S BSW
LT245/75R17/E 121/118S BSW
255/60R17 106H BSW
P255/65R17 108S OWL
P255/65R17 108S BSW
P255/70R17 110S OWL
P255/70R17 110S BSW
P265/65R17 110S OWL
P265/65R17 110S BSW
P265/70R17 113T OWL
P265/70R17 113T BSW
LT265/70R17/E 121/118R BSW
LT265/70R17/E 121/118S OWL
LT265/70R17/E 121/118S BSW
P285/70R17 117T BSW
LT285/70R17/E 121/118S OWL
18″
235/55R18 100V BSW
235/60R18 107V BSW
P235/65R18 104T BSW
P245/60R18 104H BSW
255/55R18 109V BSW
255/60R18 112H BSW
P255/65R18 109S BSW
255/70R18 113S BSW
P265/60R18 109T OWL
P265/60R18 109T BSW
P265/65R18 112S BSW
P265/70R18 114S OWL
P265/70R18 114S BSW
LT265/70R18/E 124/121R BSW
P275/60R18 111H BSW
P275/65R18 114T OWL
P275/65R18 114T BSW
LT275/65R18/E 123S OWL
LT275/65R18/E 123S BSW
LT275/65R18/E 123/120S BSW
LT275/70R18/E 125S OWL
LT275/70R18/E 125S BSW
LT275/70R18/E 125/122S BSW
19″
P245/55R19 103S BSW
255/55R19 111V BSW
255/60R19 109H BSW
20″
P235/55R20 102T BSW
P245/50R20 102V BSW
P255/55R20 107H BSW
265/50R20 111V BSW
275/55R20 117S OWL
P275/60R20 114S OWL
22″
285/45R22 114H BSW
Price Range
Toyo Open Country HT prices range from approximately $102 and up. You may also find occasional rebates, discount prices, coupons and special offers on this tire.
Warranty
Toyo provides a 60,000 mile tread warranty on Open Country HT metric and P-metric sizes. Tire uniformity is guaranteed for the first 1/32 inch of wear.
Materials and workmanship are warranted for 5 years and include free replacement for the first 25% of wear. A prorated amount is given for the remaining time period or down to the final 2/32 inch of tread depth.
Toyo also includes their No Regrets 45-day, 500 mile trial guarantee. If you are not completely satisfied with the tires you may refund or replace them with another model.
---