Toyo Observe Garit KX
If you live in the northern states, or even in Massachusetts, New York, or Connecticut, you may be subject to inhospitable driving conditions during the winter season.
Winter tires will help you power through these dangerous tracks because they bring more traction, better performance, long-lasting treadlife, and much-needed comfort.
Though winter tires are a better option for rough winter weather, it is hard to narrow down to the perfect match, considering the multitude of choices.
We will make it easy for you and recommend the Toyo Observe Grait KX, a tire gaining immense popularity among car enthusiasts.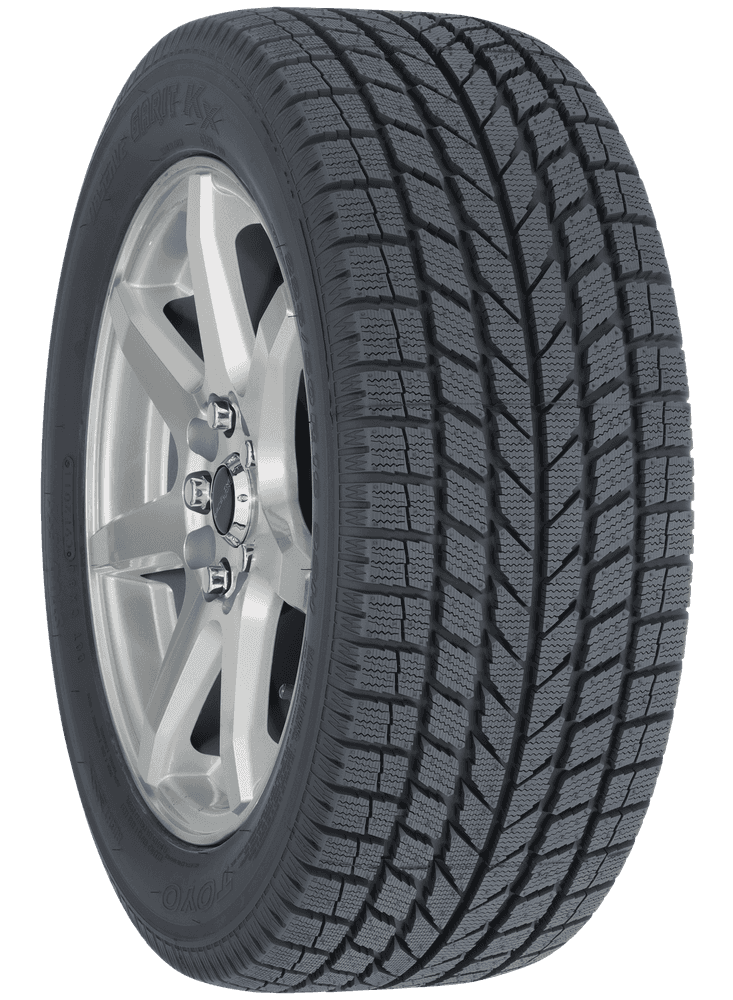 This studless performance winter tire is ideal for luxury sedans and sports cars. It can steer your vehicle through anything the road can throw at you!
It has been designed specifically to provide users with enhanced flexibility, added ice and snow traction, short braking distances, better cornering, and above all, comfortable driving.
Drivers of various types of vehicles – who have used the Toyo Observe Grait KX – have labeled it as the best winter tire for daily use. Let's delve into some of its specs to see why.
Overview
The Observe Grait KX is manufactured for passenger cars by Toyo, a Japanese tire company famous for making some of the world's best tires.
It provides slightly better cold-weather traction than its predecessor models. The difference is the addition of a unique compound, directional tread pattern design with saw-tooth blocks, and detailed dense siping.
Furthermore, its angled and circumferential lateral grooves disperse slush and water from the tire's contact patch to avoid hydroplaning. This feature will allow you to drive with complete peace of mind!
In addition to that, this is a three-peak mountain snowflake (3PMSF) certified winter tire, which means it guarantees a standard of performance in severe weather conditions.
This performance is further propelled through KX's superior control. The tread pattern has two-block ribs that help maintain contact with the road at all times. This improves grip by providing enhanced handling, steering response, and riding stability.
Overall, its technical superiority cannot be questioned. Now, let us highlight how comfortable it is:
The Observe Garit KX has a solid shoulder block design that enhances the biting edge capacity. This design feature ensures that the tire remains firmly gripped to the road during maneuvering and cornering.
Additionally, it offers a serene driving experience through snow or slush. And when it comes to road noise, not many tires can match its quiet operation.
Moreover, it has a low treadwear rating, which will make it last longer. The tread also provides increased surface contact through even distribution of riding pressure.
The equally disseminated forces of braking, cornering, and acceleration lower the treadwear and enhance usability.
Through expert engineering, this tire offers industry-leading traction, comfort, hydroplaning resistance, and better performance. It is also a more cost-effective winter tire than other models that claim to serve the same purpose.
Pros
Exceptional winter and snow traction and grip
Five deep circumferential grooves
Low treadwear
Exceptional hydroplaning
Supported with high-silica compound
Saw-toothed tread lugs
Quiet performance
Offers comfortable driving experience
Cons
Its traction on dry pavements needs improvement
Overall Thoughts
The Toyo Observe Grait KX tire is developed especially for driving enthusiasts and their sports and sedan cars.
It provides a good blend of comfort and performance in almost every condition at a lower price than the majority of other high-end brands.
With this tire, you can expect immense traction on icy surfaces thanks to its state-of-the-art rubber compound — It includes silica, which allows the tire to remain flexible at any temperature.
In addition to that, it also contains walnut shells that help improve the tire's grip and traction with the surface. Its sipes are molded onto shoulder blocks and provide additional grip, so you won't have trouble cornering.
Moreover, the directional tread pattern works well enough to make the snow and slush seem non-existent. Plus, with its saw-tooth tread lugs, you'll get an extra grip in severe weather conditions.
Lastly, this Toyo model is available in many performance sizes so that you can find a suitable pick, and all sizes come with an H-speed rating.
All in all, if you want year-round performance from your sedan or sports car, the Toyo Observe Grait KX is just what your car needs,
What Vehicles Does The Toyo Observe Grait KX Fit?
Here is a list of vehicles that are compatible with Toyo Observe Grait KX (This is not a complete list):
Tire Sizes
15″
16″
195/50R16 – 84H
195/55R16 – 87H
205/50R16 – 87H
205/55R16 REIN – 94H
215/55R16 REIN – 97H
225/50R16 – 92H
225/55R16 REIN – 99H
17″
205/50R17 REIN – 93H
215/45R17 REIN – 91H
215/50R17 REIN – 95H
215/55R17 – 94H
225/50R17 – 94H
225/55R17 – 97H
235/45R17 REIN – 97H
235/50R17 – 96H
245/45R17 REIN – 99H
18″
225/45R18 – 91H
225/50R18 – 95H
235/45R18 REIN – 98H
245/45R18 – 96H
19″
Price Range
Based on tire size and specifications, a single tire of Toyo Observe Grait KX can cost you anywhere from $65 to $270. Plus, you can also find a used variant of this winter tire in good condition.
Warranty
Winter tires are always a big and seasonal investment if you plan to buy a set. Therefore, it's better to buy those that offer a warranty, so if something goes wrong, you can have a replacement or repair free of cost.
The Toyo Observe Grait KX comes with a limited treadwear warranty of five years.