Toyo observe g3 ICE
Winter tires are made using special compounds and have detailed tread patterns that provide better performance d cold temperatures.
They are designed to conquer wintery conditions and slippery surfaces. Also, they make driving in cold weather safe and secure.
The market is replete with many winter tires capable of meeting your needs; however, our top-pick for this season is Toyo Observe G3 ICE.
It provides improved cold-weather performance, safety, and controllability even on icy surfaces. Furthermore, it has long-lasting treadwear that provides an enhanced road grip and ensures safe driving.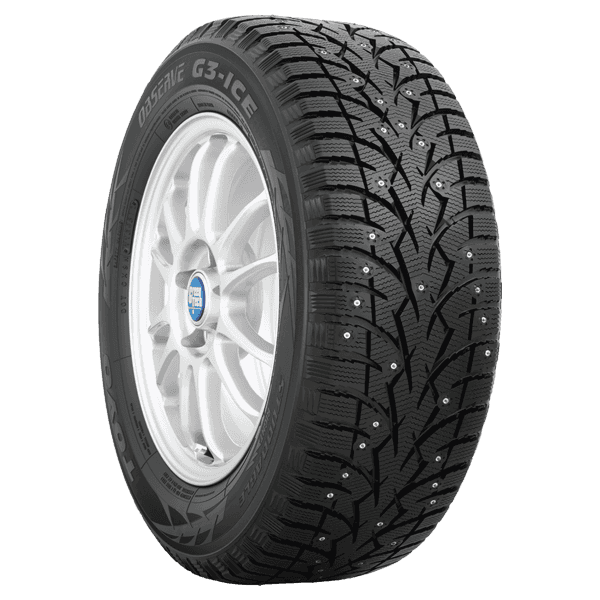 So, without further ado, 'let's get to some of its industry-leading specifications:
Overview
This latest model from Toyo comes with upgraded winter traction coupled with a durable compound and tread design. The tire's detailed siping and high-silica compound work together to provide you the best ice, snow, and slush performance.
Moreover, this silica keeps it flexible in colder temperatures, and the detailed tread patterns provide extra biting edges for improved snow traction.
Additionally, due to the state of the art Microbit technology featured in its compound, it has improved traction when driving through rough wintery terrains.
This way, the Toyo Observe G3 ICE also minimizes skidding chances in slippery conditions and ensures greater safety levels.
Furthermore, the tread patterns' deep grooves' placement helps it avoid hydroplaning — which can be dangerous for vehicles as it can become a barrier between the surface and the tire.
This Toyo 'model has a V-shaped rib and wide grooves that make it possible to channel slush and water away from the contact patch. This maximizes the 'tire's contact with the road and reduces the chances of med, water, and slush being accumulated.
This winter tire can last longer due to its impressive treadlife. The tread is designed to balance contact with the surface — Improving rigidity and keeping the tread flexing.
When combined with 3D microwave sipes, it ensures that the pressure is evenly spread across the tread.
The even distribution of acceleration, braking, and cornering keeps the tread from forming unevenly. Lengthening the service life and usability of the tire and making it more cost-efficient.
We also liked that this model has increased winter traction and surface contact, which is possible only due to its horizontal siping and V-shaped ribs. This enhances the 'tire's steering response, overall handling, and stability.
Additionally, the tread pattern enhances the car's braking and maneuvering capabilities. Also, its gear edge keeps the tire in contact with the road and improves traction.
This Toyo model provides extra biting power for surface-gripping and paves the way for safe maneuverability. Plus, it helps the tire decreases its braking distance.
Pros
Microbit tech for improved winter and snow traction
Eco-friendly
High-silica compound for flexibility to various cold temperatures
Optimized Stud hole placing
Gear edge for better braking and cornering
3D sipes
Provides a quiet and comfortable ride
Good treadwear
Effective hydroplaning resistance
Cons
Slightly softer cornering on dry surfaces
Overall Thoughts
Toyo, a Japanese tire company, manufactures the Observe G3 ICE winter tire.
They have been producing some of the's best winter tires since 1945 — with impressive ice and snow traction and overall performance.
This enhanced winter tire is designed with expert craftsmanship and is backed by industry-leading technologies to ensure unmatched performance.
Its tread lugs include saw-toothed edges, which bite into snowy surfaces for effective braking. Moreover, it has an optimized stud hole placement that improves traction and road surface contact. Plus, with fewer studs, you will have a quieter drive.
In addition to that, you won't have to worry a bit about hydroplaning as the tire's wide, deep grooves efficiently clear water and slush from contact patches.
Furthermore, this eco-friendly tire has a special rubber compound that contains walnut shells for additional biting on ice and snow.
Whether studless or studded, this latest Toyo model is going to blaze through icy and snowy surfaces and provide excellent acceleration, stopping and cornering even on knee-deep ice-ridden surfaces.
We particularly liked the low road noise and increased comfort this tire offers. Arguably, it is one of the quietest and most comfortable winter tires for passenger vehicles.
Overall, the Toyo Observe G3 ICE is a reliable winter tire with key improvements in traction and grip. It's a must-have for those long winter drives!
Vehicles Compatible With Toyo Observe G3 ICE Tire
Here is a list of vehicles that will accommodate Toyo Observe G3 ICE tire (not a comprehensive list):
Audi – 100, 200, 5000, 80, 90
BMW – 3 Series
Chevrolet – Astra, Aveo, Enjoy, Lacetti, Lova RV, Meriva, Montana, Move, N300, N400, Optra, Prisma, Sail, Sail3, Tornado, Vectra
Fiat – Albea, Croma, Doblo, Fiorino, Marea, Palio Weekend, Qubo, Strada, Uno
Honda – Accord, Accord Inspire, Amaze, Civic Shuttle, Fit, Jazz, Prelude, Vigor
Nissan – Almera, Almera Classic, Bluebird, Bluebird Sylphy, Cube Cubic, Evalia, Grand Livina, Latio, Livina, NV200, Primera, Pulsar, Sunny, Wingroad
Tire Sizes Available
13″
14″
175/65R14
175/70R14
185/60R14
185/65R14
185/70R14
15″
175/65R15
185/55R15
185/60R15
185/65R15
195/50R15
195/55R15
195/60R15
195/65R15
205/65R15
205/70R15
215/70R15
265/70R15
16″
185/50R16
185/55R16
195/45R16
195/55R16
205/55R16
205/60R16
215/55R16
215/60R16
215/65R16
215/70R16
225/55R16
225/70R16
225/75R16
235/70R16
235/75R16
245/70R16
245/75R16
255/65R16
255/70R16
265/70R16
275/70R16
17″
205/50R17
215/40R17
215/45R17
215/50R17
215/55R17
215/60R17
225/45R17
225/50R17
225/55R17
225/60R17
225/65R17
235/45R17
235/55R17
235/60R17
235/65R17
245/40R17
245/45R17
245/65R17
245/70R17
255/65R17
265/65R17
275/65R17
18″
215/55R18
225/40R18
225/45R18
225/55R18
225/60R18
235/40R18
235/45R18
235/50R18
235/55R18
235/60R18
235/65R18
245/40R18
245/45R18
245/50R18
245/60R18
255/45R18
255/55R18
255/60R18
265/60R18
275/60R18
285/60R18
19″
225/55R19
235/50R19
235/55R19
245/45R19
245/55R19
255/40R19
255/45R19
255/50R19
255/55R19
265/50R19
275/40R19
275/55R19
285/40R19
285/45R19
20″
235/45R20
235/55R20
245/40R20
245/45R20
255/35R20
255/45R20
255/50R20
255/55R20
265/40R20
265/50R20
275/35R20
275/40R20
275/45R20
275/50R20
275/55R20
275/60R20
285/50R20
315/35R20
21″
265/45R21
285/35R21
295/35R21
295/40R21
325/30R21
22″
275/40R22
275/50R22
285/45R22
Price Range
Buy a tire that offers value for money, like the Toyo Observe G3 ICE!
You can find the G3 with a starting price of only $80, stretching out to $270. However, if you are looking for good deals, look at online tire shops.
Warranty
Whenever you plan to buy a winter tire, always check for a warranty to safeguard your hefty winter investment.
Toyo Tires provide a limited warranty for its products, including the Observe G3 ICE. It offers a 5-year limited wear-out and workmanship warranty.