Top 5 Tire Pressure Monitoring Systems
Although most modern vehicles do come equipped with some form of tire pressure monitor system (TPMS) straight from the factory, many older vehicles lack the technology. Having TPMS can save you a lot of headache, warning you if a tire is going flat, or letting you know if your tire is overinflated or underinflated. Having overinflated or underinflated tires can contribute to a myriad of problems, including a harsher ride or negatively impacting your fuel economy.
The aftermarket offers several options for easy-to-install tire pressure monitoring systems. For under $100, you can add TPMS to your vehicle, giving you real-time readings of your tire pressure and their temperature. In this article, we'll take a look at five of the best tire pressure monitoring systems that you can add to your car at a low cost. These kits are all easy-to-install so you can get going right away.
Table of Contents
1. Editor's Pick: ZEEPIN Solar Power TPMS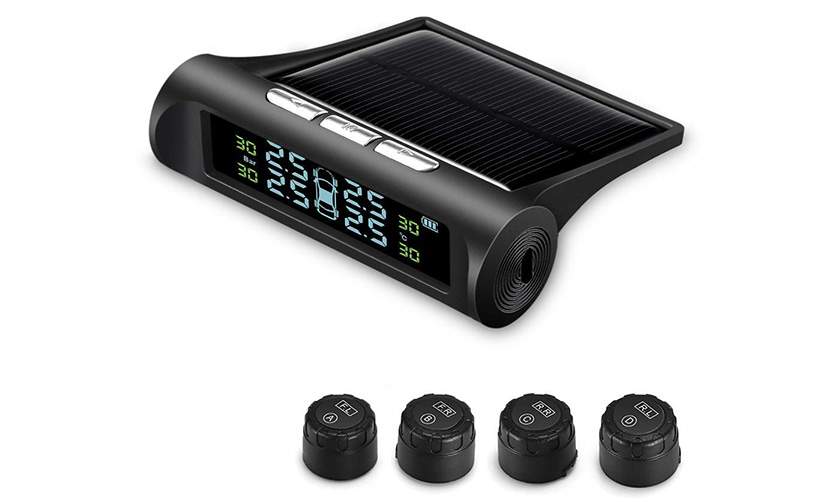 One of the most affordable tire pressure monitoring systems on our list comes from ZEEPIN. It's a solar powered unit featuring a built-in 500mAh lithium-ion battery, which means you don't have to constantly keep it plugged in for power. The unit however, does support USB charging in case solar power doesn't cut it for you. This kit comes with 4 sensors that are waterproof with anti-corrosion and anti-theft technology, which means it'll function perfectly fine in the rain.
This kit comes with a bright, backlit display that reads in BAR or PSI, along with displaying temperature in Fahrenheit or Celsius. The unit supports both visual and audible alarms, which can be customized between 0-5 BAR or 0-72 PSI.
ZEEPIN offers a 180-day free exchange service for the sensors.
---
Pros: Solar powered display, built-in battery, reads in BAR/PSI, visual and audio alarms, 180-day exchange on sensors
Cons: Doesn't include a USB charger and cable, temperature reading isn't accurate, display can be difficult to read in bright light
---
2. Vesafe Wireless TPMS
A compact and convenient option to add TPMS to your vehicle is with Vesafe's wireless kit. This package comes with four sensors and a plug-in device that uses your cigarette lighter receptacle for power. The good news is, the plug does have a built-in USB port that you can use as a charger for your mobile device. This kit offers both visual and audible alarms if your tire pressure or temperature exceeds a certain threshold, which you can set yourself. It displays in both BAR or PSI, while temperature is only displayed in Celsius.
The sensors included with the kit are anti-theft, waterproof, and easy to install with the included tool. Each sensor only weighs 9 grams and the batteries should last up to 2 years, but are easily replaceable as they're just CR1632 cells. This TPMS package is not suitable for motor homes, caravans, or trailers.
Vesafe includes an 18-month warranty with this product.
---
Pros: Simple and easy-to-install, plug includes a USB charging port, displays in BAR/PSI, sensors are lightweight, 18-month warranty
Cons: Temperature display is only in Celsius, display can be dim in bright light, could interfere with radio reception
---
3. B-Qtech TPMS
B-Qtech has a wide range of TPMS offerings, including this easy-to-use plug-in system. The company also offers a solar power system and kits for RV/trailers or motorcycles. But we'll talk about the wireless kit that uses your cigarette lighter receptacle for power, which includes a built-in 1.5A charging port, similar to the Vesafe unit. Featuring a digital LCD screen, this TPMS has both visual and audible warnings and displays in BAR/PSI for tire pressure and Celsius/Fahrenheit for temperature.
Thresholds can be customized on the unit and the sensors are similar to Vesafe's units, powered by replaceable CR1632 batteries while being anti-theft, waterproof, and dustproof. This particular product supports tire pressures up to 50.75 PSI and 19 feet of range, so keep that in mind if you're planning to add these sensors on a trailer.
---
Pros: Different product offerings, plug-in wireless system includes built-in 1.5A charging port, digital LCD screen
Cons: No advertised warranty, replacing batteries can be a pain, poorly written instructions—if you even get any
---
4. Vesafe Solar Power TPMS
One of the more expensive systems on our list is Vesafe's solar power TPMS. Available with either a color display or a black and white display, this kit has similar features as other systems but comes with a much more detailed display. It displays both BAR/PSI for tire pressure and Celsius/Fahrenheit for temperature, supporting both visual and audible warnings based on the thresholds you setup. The sensors are just like the other Vesafe sensors, powered by a CR1632 battery and are anti-theft and waterproof, while weighing only 9 grams.
Like the Vesafe wireless TPMS, this kit comes with an 18-month warranty. It is quite a bit more expensive than ZEEPIN's solar power unit, but Vesafe includes a cigarette plug-in charger and a USB cable in case the solar power isn't good enough for you.
---
Pros: Solar power, reads BAR/PSI/Celsius/Fahrenheit, lightweight sensors, 18-month warranty, includes cigarette plug-in charger and USB cable
Cons: Price, no brightness control, poorly written instructions
---
5. SHOWAY TPMS
One extremely versatile product is from SHOWAY. While this system isn't as svelte as other kits on our list, it does include three USB ports and two cigarette lighter receptacles, so it actually expands your options for in-car charging. It boasts a high-definition LCD display that displays PSI (up to 87 PSI)/BAR (up to 6 BAR) for tire pressure, as well as Celsius/Fahrenheit for temperature. This system can be set to monitor the front and rear tires separately and the alert values can be adjusted.
The external sensors are pretty standard, powered by CR1632 batteries, which can last up to 2 years. The sensors are cold- and heat-resistant, waterproof, dustproof, and feature an anti-theft design. SHOWAY includes a 12-month warranty and lifetime customer support with this product.
---
Pros: Versatile—includes two cigarette lighter receptacles and three USB ports, supports up to 87 PSI, 12-month warranty
Cons: Bulky solution since you'll need to give up a cupholder, low number of user reviews
---
---
We are committed to finding, researching, and recommending the best products. We earn commissions from purchases you make using the retail links in our product reviews. Learn more about how this works.