Top 10 Low Priced All-Terrain Tires
To meet the challenges posed by different weather conditions, every driver's dream is to invest in tires that deliver both excellent grip and responsive steering. While we understand a full set of all-terrain tires could set you back as much as $1000, here are the cheaper alternatives currently available, such as the Corsa all season tires.
It is a myth to consider that only the more expensive offerings will be able to satisfy your needs; economical options are also viable. Low priced all-terrain tires feature tremendous tread design elements such as siping and biting edge surfaces. These tires are capable of digging into rugged terrains to provide excellent traction and stability.
Saving money on new all-terrain tires is on the minds of many drivers these days. With that in mind, we thought it would be helpful to look at the 2018 Top 10 Low Cost All-Terrain tires that can help you save some extra cash.
Tires are listed in no particular order, and all would make a nice addition on any light truck, SUV or other 4×4.
---
Laufenn X Fit AT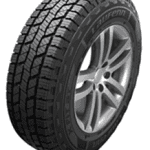 Not only does the X Fit AT cost quite a bit less than many big-name brand tires, but it also performs much better than average. For driving in milder off-road conditions or on the highway, this tire does a solid job.
The Laufenn X Fit AT tires feature four circumferential groove design and stone ejectors that dislodge debris build-up and increase tread life. These tires offer excellent traction on wet surfaces; resisting hydroplaning and allowing for a stable drive.
Key Features
Rim protectors to secure your rims from damage over the years to come
Nylon reinforced belt design to allow better traction
Pros
Excellent handling on dry and wet roads
Above average performance on snowy roads
Great value for money
Cons
Performance on mud and sand is poor
Tires are loud on most surfaces
Click Here For A Complete Review
Atturo Trail Blade A/T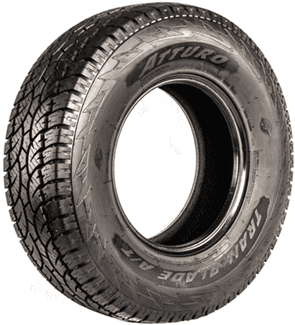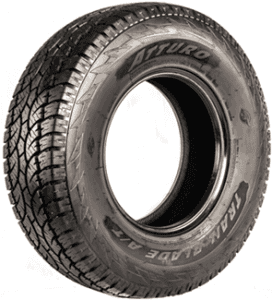 If a lower priced and aggressive looking AT tire is what you'd like, you may want to add the Atturo Trail Blade A/T to your short list. In addition, this model sports a deeper 12mm tread depth that helps extend the treadlife, and Atturo backs it with a 50K mile warranty.
Atturo Trail Blade A/T are durable tires that offer great handling on dry city streets and highways. All while performing well and delivering good braking ability under wet conditions. These super economical tires offer a comfortable driving experience with low noise output and stability being some of the most important benefits.
Key Features
Siping to allow for better traction
Large shoulder blocks designed to improve handling and steering control
Rim protectors and debris ejectors to increase tire life
Pros
50,000-mile warranty
Excellent performance on dry roads
Steering responsiveness and traction on wet roads is above average
Cons
Traction degrades when driving on mud and sand
Click Here For A Complete Review
Mastercraft Courser AXT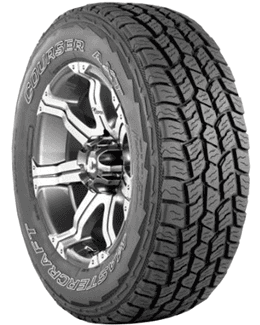 Featuring a good-looking tread design and traction on wet or snow covered roads that is among the better value-priced tires, the AXT has been extremely popular since its release a few years ago. You'll also find a 50K mile warranty in addition to its lower price.
The Mastercraft Courser AXT incorporates a five-rib tread design to allow for great handling and road grip. Its criss-cross groove design allows for traction on off-road terrain. This mix of features makes for a solid well rounded all-terrain tire for your SUVs and pickup trucks.
Key Features
Shoulder design to improve off-road capabilities
Tread design pushes out debris and functions well on dry and wet roads
Pros
Excellent traction on dry and wet roads
Steering is responsive and precise
Performs well in light snow
Cons
Poor performance in heavy snow conditions
Tires can get loud
Click Here For A Complete Review
Capitol All Terrain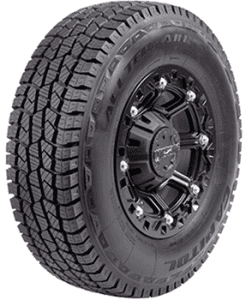 The Capitol All Terrain features an attractive tread pattern with design elements that permit excellent grip and stability on streets and highways. The siping on this tire allows your vehicle to perform well in wet road conditions and on light snow affected roads.
Ideal for driving in lighter off-road conditions, the Capitol All Terrain will also save you a good amount of money as well. It's mild-mannered enough for everyday driving and the tread holds up better than expected for the most part. It comes backed with a 50K mile tread warranty.
Key Features
Tread design that ejects stone and mud buildup
Designed to improve fuel efficiency
Pros
Excellent performance in light snow and muddy conditions
Steering is responsive
Cons
Considerable noise output
Performance in the rain is average
Click Here For A Complete Review
Pathfinder Sport S A/T
If we had to choose a favorite among all the lower priced all-terrain tires, the Pathfinder Sport S A/T may be the best of the group. It features an aggressive looking design that transforms the looks of any vehicle, and the on/off road performance from this model matches its looks. It also has the mountain/snowflake emblem designating it as Severe Service rated in winter conditions.
The Pathfinder Sport S A/T features a tread compound structure. This allows it to protect itself against damage and bruises that will manifest over time — increasing overall tread life. Featuring a center rib, the Pathfinder S A/T allows your vehicle to maintain straight-line stability at high speeds and reduces noise output.
Key Features
Tapered circumferential grooves to resist hydroplaning and eject debris
60,000-mile warranty
Durable tread compound offering protection against punctures
Pros
Excellent traction and stability on dry roads
Priced reasonably for the performance it delivers
Tread is sturdy and durable
Cons
Poor performance in mud and sand
Click Here For A Complete Review
Corsa All Terrain XL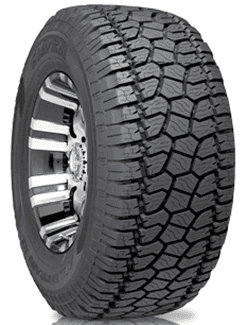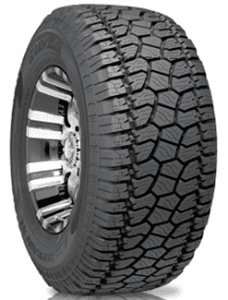 The Corsa all season tire included in this category are all terrain tires. These are capable of delivering exceptional performance even with hard braking and tight cornering. The Corsa All Terrain XL offer precise and responsive handling and steering; making for a stable and comfortable drive.
If an aggressive off-road tire at a low price is what you're after, the Corsa All Terrain XL makes an excellent choice. Performance on the highway is very good, especially on snow covered road surfaces. This model also has a 40K mile warranty.
Key Features
Aggressive tread pattern provides great handling
Durable and tough build
Stone ejector to remove debris
Pros
Excellent traction on dry roads
Comfortable driving experience on highways
40,000-mile warranty
Cons
Traction on loose soil and rocky terrain is poor
Click Here For A Complete Review
Federal Couragia A/T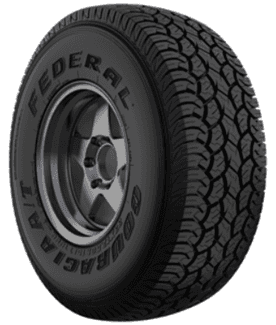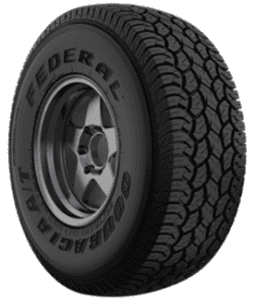 The Federal Couragia A/T boasts a silica-based tread compound that allows for amazing traction on all surfaces. The grooves built into the tire provides the biting ability for excellent steering response and grip on snow and wet conditions.
As one of the more popular cheap all-terrain tires, the Couragia A/T from Federal performs very well in all types of off-road terrain. Despite its rugged traction off-road, this model is pretty nimble rolling down the highway as well.
Key Features
Lateral grooves to allow better traction
Designed to reduce debris build up
Tread pattern that reduces noise
Pro
Performance off-road is superior; with good traction
Tires work well in wet road conditions
Cons
Tread durability is questionable
Click Here For A Complete Review
GT Radial Adventuro AT3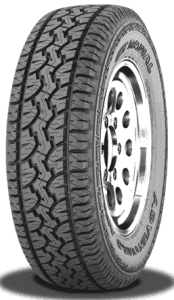 The Adventuro AT3 from GT Radial is easily among the best lower costing all-terrain tires available today. It handles most any off-road terrain with relative ease, yet rides smoothly and comfortably down the highway. Simply stated, the AT3 offer good all-around performance and value.
GT Radial Adventuro AT3, with its tread compound, provides the resistance needed to defend against damage and wear and tear from use over time. The tread design makes for an attractive tire that is able to perform on all surfaces.
Key Features
50,000-mile tread warranty
Central rib that improves stability and all-terrain drive
Rim protector to protect from damage
Pros
Traction and handling on dry roads
Performance on light off-road terrain is great
Treads sturdy and durable
Cons
Performance on heavy off-road terrain is nearly average
Click Here For A Complete Review
Kenda Klever A/T KR28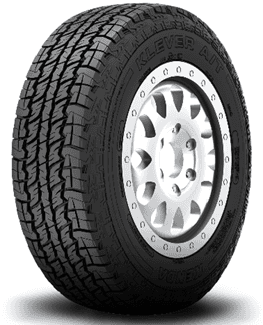 Kenda, with its Klever A/T KR28, has molded a tire with biting edges that grips onto surfaces. As a result, this tire is able it is able to negotiate tough terrain. Its performance on dry roads is also very exceptional; making the KR20 an excellent yet economical option on our list.
Kenda's AT tire delivers solid traction in most every type of off-road terrain you might go through. It's 3-ply sidewall with a tough fabric overlay may be among the strongest of most AT tires today. Traction on dry, wet or snow covered roads is also very good.
Key Features
3 Ply sidewall, making for a strong and durable tire
Tread design that promotes traction and handling
Pros
Traction on dry and wet roads is fantastic
Steering is responsive and precise
Cons
Users have reported tire durability as an issue
The tire can be very noisy
Click Here For A Complete Review
Multi Mile Wild Trail All Terrain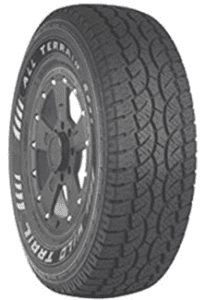 Since the Wild Trail AT tire is just a little over a year old, you may not have heard of it yet. For milder use in off-road conditions, the Wild Trail does quite well, making it a good choice for drivers living in rural areas on gravel or dirt roads. On paved streets and highways, this tire performs as well as many name brand AT tires.
The Multi Mile Wild Trail All Terrain is a tire built for application on dry and wet roads while delivering superior traction and stability for a safe and fulfilling drive. The wide tire design allows for a stronger grip and braking ability; in turn providing excellent control over the vehicle.
Key Features
Shoulder grooves for water dispersion
Nylon wrap to promote longer tread life
Siping to improve traction on off-road terrain
Pros
Great handling on mild off-road conditions
Steering responsive on dry and wet roads
Cons
Performance is lacking in heavy snow
Wet mud and rocky terrain performance is average
Click Here For A Complete Review
Why Buy Low Priced All Terrain Tires?
If you're on a tight budget but looking for a superior quality tire, these economical options are perfect for you.
Pocket-friendly tires such as the Corsa all season tires are capable of meeting the demands of the most challenging terrains and are also perfect for highway application. These lower price tires come with the siping and durability that features in expensive variants; allowing them to boast the much-needed traction and handling to satisfy customer demand.
---