Top 10 Load Range E Truck Tires For 2017
If you're a truck or SUV owner who needs a set of tires that will withstand heavier loads, then you know it can be time consuming in trying to find the best tires that will do the job.
We've listed below our choices for the 2017 Top 10 Load Range E Truck tires. Each of these tires offers excellent performance and drivability on the highway or off the beaten path. This list appears in no particular order.
---
Michelin LTX A/T 2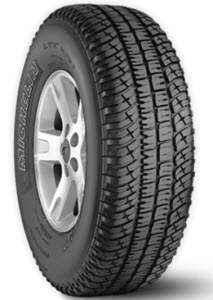 Providing some of the highest performance and load hauling capabilities in its class, the Michelin AT 2 is an excellent pick for truck and SUV owners. It starts with its tougher tread compound that resists cuts and punctures, and carries over into its dependable traction and handling. The ride is more comfortable than you might expect, and noise is minimal for an AT tire. There's also a 60,000 mile tread warranty included on this model.
Cooper Discoverer A/T3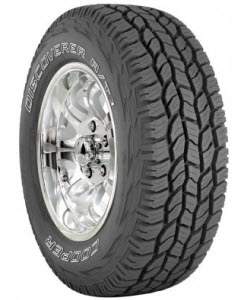 Designed to deliver serious on and off-road performance, the A/T3 from Cooper has a lot going for it. Grip on dry, wet or snow covered road surfaces is outstanding on this tire. Off-road traction on a variety of terrains is impressive due to the tread compound and 5-rib design. This tire cleans itself of mud and gravel very well. With a lower price point than many of its competitors and Cooper's 55,000 mile warranty, the AT3 is a solid option in new tires.
Click Here For A Complete Review
Falken Wild Peak A/T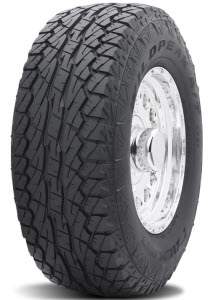 Falken's Wild Peak AT tire is another good option for anyone looking for a load E model. Traction on and off-road is among the better tires in this class, while the ride is very comfortable and well-mannered for an all-terrain tire. It comes at a lower price, making it an affordable choice for the budget-minded driver. There's also a 50,000 mile tread guarantee as well.
Click Here For A Complete Review
Yokohama Geolandar A/T-S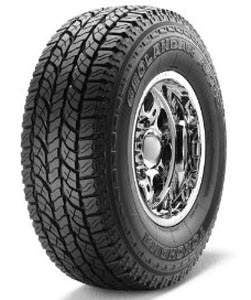 With dependable traction both on and off-road, the ATS from Yokohama gives you just about all you could ask for from an all-terrain tire. We like the dry and wet traction this tire provides. The steering is responsive, and the ride is comfortable on all types of road surfaces. With load range E sizes available from 15-20 inches and a 50,000 mile warranty to go along with its more affordable price, the ATS is a popular choice.
Click Here For A Complete Review
Bridgestone Dueler A/T Revo 2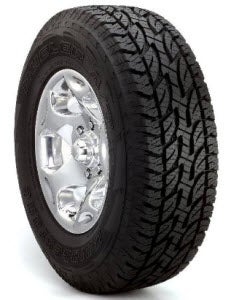 The A/T Revo 2 is arguably Bridgestone's best performing all-terrain tire in their lineup. You can expect to find excellent traction on all types of terrain, as well as a quicker steering response and solid handling. It hauls heavier loads with ease, and the tougher tread compound delivers exceptional performance. There's also a 50,000 mile tread warranty included.
Click Here For A Complete Review
General Grabber HTS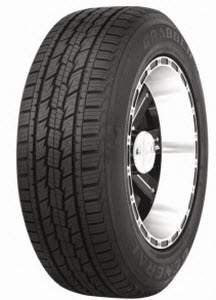 For a highway tire that also is available in load range E sizes, the General Grabber HTS makes for a good choice in new tires. This model delivers very good dry and wet traction to go with more precise steering and solid cornering grip. General uses their unique Duragen technology in the tread to give this model increased durability and better overall ride comfort.
Click Here For A Complete Review
Pirelli Scorpion ATR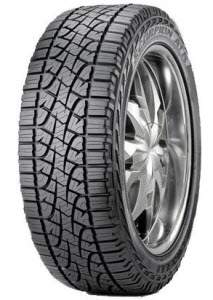 Pirelli makes the list with its tough Scorpion ATR tire. Performance is impressive both on or off-road in lighter terrains. The tire's silica tread compound and symmetric tread design provide solid and sure traction on dry or wet pavement. Its ride is smooth and comfortable, and treadlife is very good as well. Pirelli backs it for 40,000 miles.
Click Here For A Complete Review
Michelin LTX M/S 2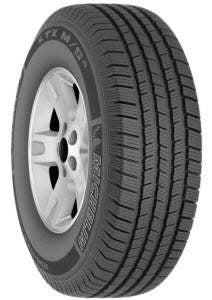 The LTX MS2 from Michelin may be at the top of heavy hauling class of new tires. With outstanding traction and handling on any type of road surface or off-road terrain, this tire simply continues to amaze. The ride is like you would expect from Michelin, smooth and comfortable. Even better is the long lasting tread life that is backed for 70,000 miles. You would be hard pressed to find real issues with this model.
Click Here For A Complete Review
Nitto Terra Grappler AT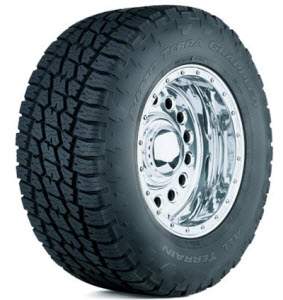 When most people think of Nitto they think of high performance car tires, but the Terra Grappler AT is one of their best truck tires in the company's lineup. With quick steering response and good feel, the Grappler delivers outstanding traction on all types of surfaces. Despite its rugged appearance, this tire rides comfortably and doesn't leave you feeling like you're riding in a rock hauler.
Click Here For A Complete Review
Hankook DynaPro ATM RF10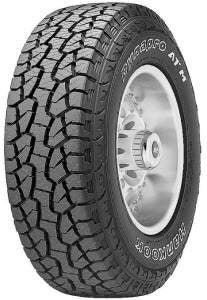 For price and performance it's hard to argue that there's a better tire available today than the ATM RF10 from Hankook. This tire simply delivers high performance traction and handling at a cost that is much less than other competitor tires. They are very quiet on the highway, and the tread is longer lasting than you might expect. Hankook backs it up with a 50,000 mile warranty.
Click Here For A Complete Review
---