Top 10 Digital Tire Pressure Gauges
When you stop to consider that your cars' tires are the only thing separating you from the pavement underneath, it's easy to see why it is so critical to keep them properly inflated throughout the year.
Based on data from the National Highway Traffic Safety Administration (NHTSA) and other organizations, under or over-inflated tires are one of the causes of many traffic accidents and deaths. In fact, nearly 700 fatalities and 33,000 injuries occur every year due to under-inflated tires alone.
Flat tires, failures and blowouts are all serious possibilities when driving on tires that are improperly inflated.
In addition, your tires will wear more quickly than they should, and can also create severe handling issues and dramatically reduce gas mileage. The good news is that a simple digital tire pressure gauge can be a huge help in knowing that your tires are holding the correct psi that is specifically set for your vehicle.
Why Use A Digital Tire Pressure Gauge?
Beyond the safety aspects mentioned above, a digital tire pressure gauge/monitor is simple and easy to use. Digital tire gauges have an electronic LCD display which makes them easy to use and read. Many have an illuminated display window for use at night, which is very handy when you need to check tire pressure in the dark.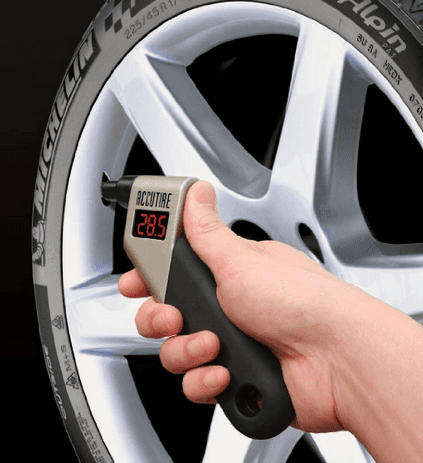 A digital gauge is also very accurate, much more so than your typical pencil style gauge. The digital monitor doesn't stick like many of the stick gauges will, and some models have added features like a built-in mini flashlight, window breaker and seat belt cutter among others.
The downsides of digital tire pressure gauges would be the need for batteries to be replaced over the years, (depending on how often it is used) as well as the fact a digital gauge is little bigger than your run-of-the-mill stick gauge that is similar to a pen. However, we feel the benefits to going digital far outweigh these minor issues.
When To Check Your Tire Pressure
Before I get to the when I should mention that to get your ideal tire pressure, you should always go by your automaker's recommendations that are placed on a plate in the driver's side doorjamb. (It might also be found in your owner's manual or inside the glove compartment) That is the number that is specially designed for use on your vehicle. You never want to go by the "max pressure" you find on the sidewall of the tire.
The best time to check tire pressure is in the morning before starting your car. You want the tires to be cool and not hot. Why? As your tires heat up it increases the air pressure and provides you with inaccurate readings. In many instances it could read 5-7 psi higher than what the pressure actually is when cold.
If you have been driving your vehicle for more than 3-4 miles since it was parked, be sure to wait 3 hours before checking tire pressure in order to get a more accurate reading.
That said, here is our list of the top 10 digital tire pressure gauges :
| | | | | | | | | | | |
| --- | --- | --- | --- | --- | --- | --- | --- | --- | --- | --- |
| | Accutire MS-4021B | Travelsafer | TEKTON 5941 | Ionox | Michelin MN-12279 | Foval | Slime 20017 | NorthONE | AstroAI | FORTEM |
| | | | | | | | | | | |
| PSI Range | 5-150 | 0.5-100 | 0.5-100 | 0.5-150 | 5-99 | 3-150 | 5-150 | 0.5-100 | 0-150 | 3-150 |
| Reading Increments | 0.5 PSI | .05 PSI | .05 PSI | 0.5 PSI | 0.1 PSI | 0.5 PSI | 0.5 PSI | 0.5 PSI | 0.5 PSI | 0.5 PSI |
| PSI Accuracy | +/- 1% plus 0.5 | Not Specified | Not Specified | +/- 0.5 | +/- 1% plus 0.5 | +/- 1 | +/- 2 PSI at 20-100 | Not Specified | Not Specified | +/- 1 |
| Illuminated LCD Screen | Yes | Yes | Yes | Yes | Yes | Yes | Yes | Yes | Yes | Yes |
| Illuminated Nozzle | Yes | Yes | Yes | Yes | Yes | Yes | Yes | Yes | Yes | Yes |
| Battery Type | 3 Lithium Batteries | 1-CR2032 Lithium & 3-LR44 Batteries | 1-CR2032 Lithium & 3-LR44 Batteries | 5-LR44 Batteries | CR2032 | 2-AAA Batteries | 4-LR44 Batteries | 1-CR2032 & 3-LR44 Batteries | Lithium Coin Cell | 1-CR2032 & 1-AAA Battery |
| Auto Shutoff | Yes | Yes | Yes | Yes | Yes | Yes | Yes | Yes | No | Yes |
| Housing | Plastic | Plastic | Plastic | Metal | Plastic | Plastic | Plastic | Plastic | Plastic | Plastic |
| Storage Case | No | No | No | No | Yes | No | No | No | No | No |
| Seat Belt Cutter | No | No | No | No | No | Yes | No | No | No | Yes |
| Emergency Hammer | No | No | No | No | No | Yes | No | No | No | Yes |
| Warranty | 5 Year | Lifetime | Lifetime | Lifetime | 1 Year | 18 Months | 1 Year | 100% Satisfaction Guarantee | 1 Year | Lifetime |
| Check Current Price | Click Here | Click Here | Click Here | Click Here | Click Here | Click Here | Click Here | Click Here | Click Here | Click Here |
1. Accutire MS-4021B Digital Pressure Gauge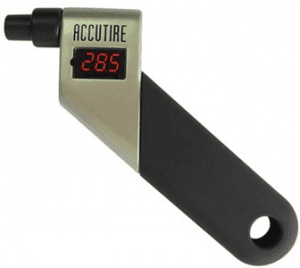 Accutire is a trusted leader in the tire gauge industry and their MS-4021B is arguably the best performing and biggest selling low-cost digital tire gauge available today. This tire gauge will provide results up to 100 psi, and it has settings to store your vehicle's recommended pressure.
It not only gives you a backlit LCD easy-to-read display, but it can also be set to speak the measurements in both English and Spanish. A low-level light helps with using this gauge in the dark, and it also comes with a handy metal carrying case and extra replacement battery. This digital tire gauge provides extremely good value and performance for the cost.
2. Travelsafer Digital Tire Air Pressure Gauge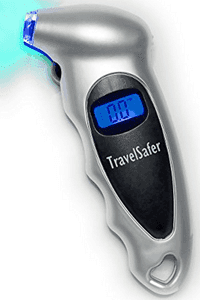 Among digital tire gauges costing less than $10, the Travelsafer Digital Tire Pressure Gauge may be the best performing gauge of them all. It features readings up to 100 psi, has an illuminated LCD display and nozzle for seeing readings in the dark.
A 3-volt lithium battery provides upwards of 2-3 years of use before needing to be replaced, and it also sports an automatic shut-off to better conserve battery life. A lifetime guarantee is also included.
3. TEKTON 5941 Digital Tire Gauge, 100 PSI
The 5941 digital tire pressure gauge from Tektron is another good quality gauge that has the features that every driver looks for. It offers readings of 0-100 psi, an automatic shut-off to conserve battery life, and a backlit LCD display.
You'll also find a non-slip grip and LED nozzle light that makes it quick and easy to use at night. Even better is the fact it delivers accurate readings time after time.
4. Ionox Tire Pressure Gauge Digital w/ Metal Body 150PSI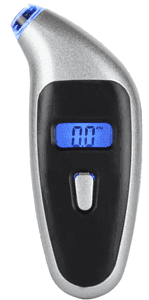 With its larger backlit LCD display and accurate pressure readings, the ION-15S is one of the more popular gauges sold today. The small hand-held design features a non-slip grip that is easy to use day or night.
One of the better things about this particular model is that it's made of heavy-duty die cast metal. It's built to last and very durable. This gauge has up to 150 PSI readings and comes with a lifetime warranty for peace of mind.
5. Michelin MN-12279 Digital Programmable Tire Gauge with Light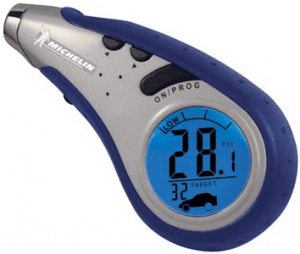 Keeping things simple and easy is the goal for Michelin's digital tire pressure gauge. It has all the features you look for in a gauge including the ability to program the gauge for all four tires, a lighted LCD display that is larger than many similar gauges and a soft rubber grip.
This is also one of the few tire gauges that offer .01 increments instead of the 0.5 standard that most gauges use. That means more accurate measurements. There's also a light for using this gauge at night. The MN-1279 is very accurate and built to work for years to come.
6. Foval 150PSI Car Digital Tire Pressure Air Gauge
This handy tire pressure gauge from Foval not only checks your tire pressure, but has functions for a flashlight, seat belt cutter, window breaker and a red LED light for emergency situations. The display panel is LCD lit and the nozzle features a blue light making it easier to check tire pressure at night.
This model will check pressure from 0-150 psi in .5 psi increments. It uses standard AA batteries and includes an auto-shutoff to help conserve battery life. For around $10 this Foval gauge offers a lot of functionality and value.
7. Slime 20017 Digital Tire Gauge 5-150 PSI with Lighted Tip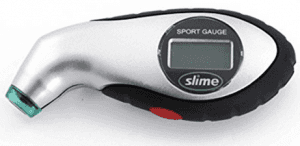 As one of the lowest priced digital tire gauges, the Slime 20017 maintains most of the same features you find in gauges costing a bit more. It measures pressure up to 150 psi and includes an auto-shutoff, as well as a convenient reset button.
A rubber grip makes it easier to hold onto while a green lighted nozzle helps during nighttime use, while the unit's LCD display provides at a glance readings. The Slime digital tire gauge is considered a solid value by most vehicle owners.
8. NorthONE Digital Tire Pressure Gauge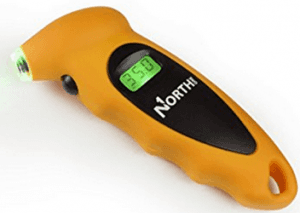 The NorthONE digital gauge has been designed do one thing and do it as well as possible… give you accurate tire pressure readings. It doesn't have all the bells and whistles as some gauges do, but that's one of the reasons so many vehicle owners like using it.
You'll find this unit to be lightweight and very easy to use. The green LED lit nozzle makes it easier to use in the dark, which is something this model does better than most others we've seen, and there's also an auto-shutoff after 30 seconds to help with battery life. Most importantly, it's very accurate and consistent.
9. AstroAI Digital Tire Pressure Gauge 150 PSI
Designed for use on cars, trucks, motorcycles, bicycles and just about anything that rolls on wheels, the AstroAI tire gauge is sold in packs of two. This makes it handy for two-car families or you can give the second one away as a gift.
The AstroAI provides readings of up to 150 psi, and the LCD display is lit for easy viewing. It includes a lighted nozzle for night use and runs on a standard watch battery. For consistent accurate readings, this model is a good value.
10. 5 In 1 FORTEM Digital Tire Pressure Gauge RPL-16-MPTPG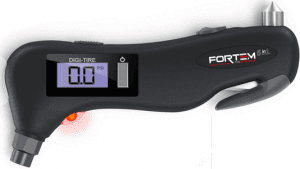 Offering multi-functionality and precise tire pressure readings up to 150 psi is what you'll find on the FORTEM Digital Tire Pressure Gauge. The unit is lightweight and includes a backlit LCD display with a handy built-in flashlight for seeing in the dark.
This model is compatible for use on cars, trucks, motorcycles and bicycles. Also included on this gauge is a seatbelt cutter, retractable hammer and a red LED light for added safety. Put it in your vehicle's console and it will be in easy reach when you need it.
---