Top 10 Best Wheel and Tire Cleaners
To most car enthusiasts and car owners, the most important part of their car's aesthetics are the wheels. New wheels are often the very first thing new owners get for their otherwise stock cars.
Wheels are an easy way to make a car look more expensive than it actually is. Keeping those wheels clean plays a huge role in the general appearance of your car, but because they're so exposed to the elements, wheels can get ultra dirty very quickly. Wheels tend to get dirty quicker than any other part of your car because they're constantly exposed to mud, dust, gross road water, roadkill, bugs, slush, salt, or even brake dust.
You need to keep your wheels and tires squeaky clean to match your car's clean look, but most drive-thru car washes don't have dedicated wheel scrubbers. The market is filled with hundreds of wheel care products. A good wheel care product should offer more than just a shine; it should protect the wheels from natural elements and the tires from becoming hard over time. Instead of sorting through hundreds of products, here are the 10 best wheel and tire cleaners on the market.
Table of Contents
1. Car Guys Tire Shine Spray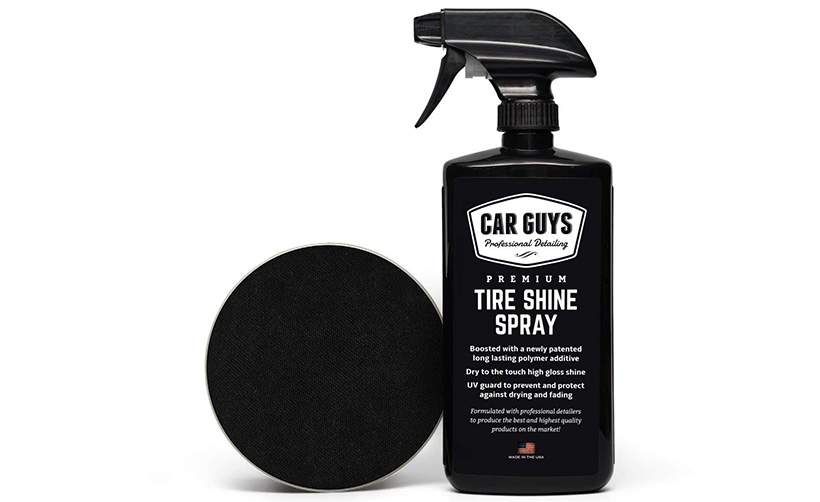 This is a thick, anti-sludge tire spray that can be either applied with a microfiber cloth or like a regular spray. It has a UV protection shield and gives a tire a show car look. The company claims this tire spray includes nano polymer additives that extend the longevity of the tire dressing.
The spray bonds with the tire surface to prevent sling and runoff during high-speed driving. It is sold as a kit with an applicator for ease of use. As every detailer has their own style and preference, the applicator gives you an even look, while directly spraying the dressing leaves your wheels with a rich glossy look, so a detailer can choose the kind of shine they want.
---
Pros: Comes with an applicator, pretty good price for an 18oz bottle, spray is solid and strong, gives a high gloss shine, easily takes away grime, grease and brake dust, good for restoring dull and faded rubber
Cons: Some people claim it wears away faster than claimed
---
2. Black Magic Tire Wet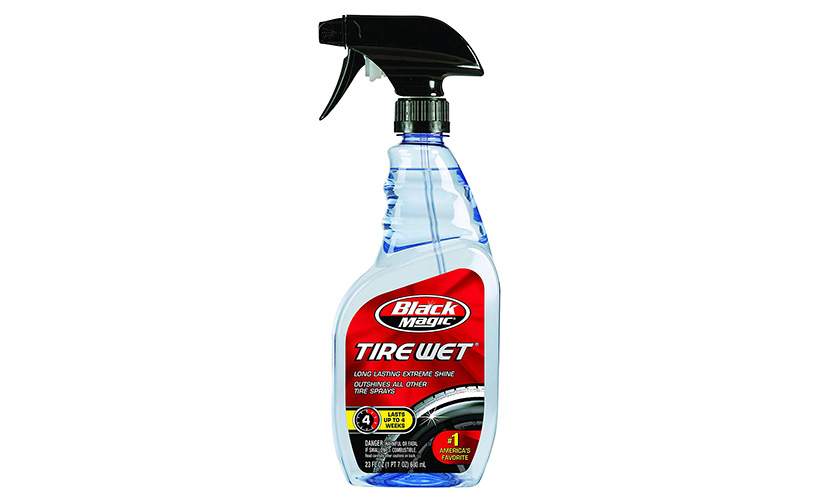 This is a thinner, quicker drying tire spray. The bottle holds more liquid than other comparative brands, i.e. 23 oz vs 15 oz or 18 oz. Black magic tire spray gives a nice, smooth textured look to the tires. The company claims the product is more concentrated than other tire sprays, requiring you to use less liquid for a comparatively better shine.
The chemical liquid contains a unique combination of polymers along with high molecular weight silicones that stick better and longer to a tire for a longer lasting shine. Most people are happy with this spray and claim its excellent value for money, considering the low price and the extra amount of liquid in the bottle.
---
Pros: Lowest price than any other quality tire spray, contains more liquid (23oz), dries very quickly, cleans even the dirtiest of tires pretty adequately, ideal for owners of 4X4 with bigger tires
Cons: Does not come with an applicator, does not provide a lot of shine, centered towards cleaning the tire rather than giving it a shine
---
3. Meguiar's G7516 Endurance Tire Gel
Meguiar's is known to make very good quality car care products. Meguiar's products are not really considered high end, but they're somewhere between mid-range and high end, above most of the competition for sure. They are typically better formulated than anything else within their price range.
This product is not a spray unlike our first two picks, but a tire gel. It has to be applied with either a waxing pad or a sponge. The 16 oz liquid is packed in a deep purple bottle. Just like with any Meguiar product, we were not disappointed with the results. The gel endures through water and rain and also protects the tires against UV rays and browning.
---
Pros: Dries fast, makes tires very shiny, you don't have to apply a lot—usually 1-2 swipes are good enough, is known to last a solid month depending on how you wash your car, ideal for drag radials and high speed driving
Cons: Does not come with an applicator, known to sling off chemical if over applied
---
4. Black Magic Wet Tire Foam
Not every detailer likes tire foams, as they usually don't last that long, but they are easier to apply than gels. They are a hassle-free way of making sure your tires look top notch without getting your hands dirty.
Black Magic's Tire Foam is an extraordinary product for the price. It does not require any drying time, but you will still have to wait around 7-10 minutes for the foam to dissolve. While dissolving, the foam takes away the maximum amount of dirt, grime, and brake dust that it can, leaving your tires shiny and new. Of course, it does not have the added UV protection or all the other added benefits of similar products, but it's a cheap and easy alternative to a tire gel.
---
Pros: Dissolves quickly, no-hassle shine, takes no effort, no scrubbing or wiping
Cons: Will not work very well on white lettered tires, one can will not last a very long time, the nozzle can sometimes lose its pressure
---
5. Meguiar's D14001 Wheel Brightener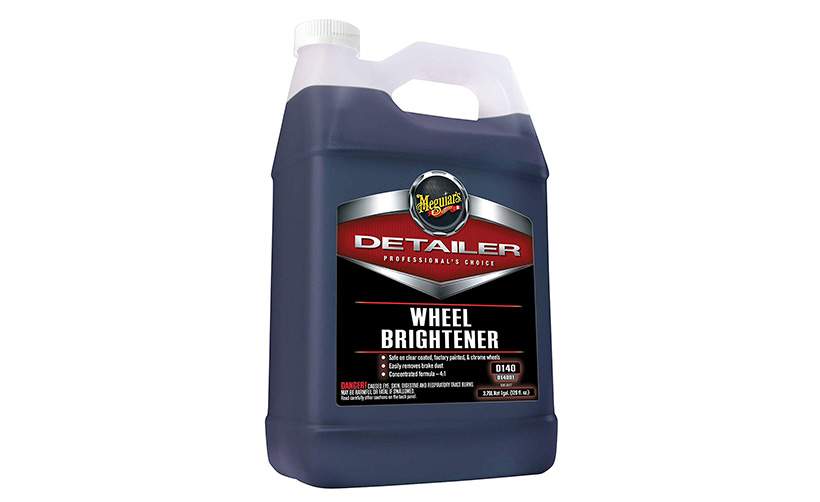 Meguiar's wheel cleaner and shine works pretty well for all kinds of finishes including matte, gloss, clear coated, factory paint, and chrome wheels. It is not safe to use on anodized or polished aluminum wheels though — this product might etch their texture, as it is acid based.
This will also work as a detergent, cleaning brake dust, grime and dirt off your wheels and leaving them looking fresh from the factory. This will be needed to either be sprayed on or applied with a pad, hosed off, and wiped off with a dry microfiber cloth. Bear in mind that this is a concentrated liquid and needs to be diluted 4:1 (heavy duty cleaning), 6:1 (medium duty), and 10:1 (light duty/hard water stain removal). This will make one bottle last longer, too.
---
Pros: Smells decent, acidic base so cleans wheels really well, melts brake dust without unwanted residue, bottle will last a lifetime, professional detailing product, single application will last a very long time
Cons: Requires preparation to dilute, can harm some wheels if instructions are not read properly
---
6. Armor All Extreme Tire Shine Gel
Armor All is the Toyota Corolla of the detailing world. They make dependable light to medium duty detailing products that work well, cost less, and last a sufficient period of time, even though they aren't the most fully featured products out there.
It works as described and most detailers are happy with Armor All products. This tire gel provides very decent results and leaves your tires shining well without much effort. The gel protects the tire from cracking and puts a protective layer over the rubber.
---
Pros: Good price, easy to use, comes with an applicator, holds up for over two weeks with a decent high gloss, one bottle lasts a very long time, good for about a year's use for a single vehicle
Cons: Flimsy applicator, no matter how many days you give it to dry off, some chemical will always spray off into your wheel wells
---
7. Mothers 16915 Speed Tire Shine
One of the oldest car care product manufacturers in the U.S., Mothers products have always been top notch and highly regarded. Their new Speed range of products is no exception.
The tire gel from this range works exceptionally well. If you can look past the steep price, this spray gel leaves your tires looking glossy and protects them from natural elements. They work really well against rain and water.
---
Pros: High Quality product, easy to use—just spray and wipe off, holds up for a long time, smells like wild cherries
Cons: Steep price, smallish bottle (15oz), some people complain of the gel slinging all over the place even after leaving overnight
---
8. Eagle One A2Z All Wheel and Tire Cleaner
You don't hear a lot about Eagle One when looking up detailing products, but this is one of those lesser talked about brands that leave you impressed, making you wonder why more people don't know of this.
This is an all-in-one tire and wheel cleaner. This product cleans your wheels and restores your tires while protecting them from dust and water. The package comes with an easy to use hose spray for a no-scrub application.
---
Pros: Big bottle, easy-to-use hose spray included, holds up for a long time, safe for clear coated wheels
Cons: Steep price, seems to work on newly accumulated brake dust but not on old baked-on brake dust, hose doesn't fix to the container very well after some time
---
9. Chemical Guys Blue Guard II Wet Look Premium Dressing
This dressing comes in a 1-gallon clear can and we love the blue coloring of the liquid. It provides a clean matte look and provides conditioning.
According to Chemical Guys, the formula includes cross-linking silicon technology that combines the highest quality solvents and silicones available, and because of this technology, the shine can outlast numerous car washes. This also works to restore moldings, louvers, bumpers, window trims, skirts, seals, door handles and other exterior vinyl or plastic surfaces. As this is a multi-purpose cleaner, this will not give a high gloss look, rather a dull matte look to your tires.
---
Pros: Easily lasts a week, comes in a big bottle so you won't have to buy often, a little goes a long way
Cons: Matte look as opposed to high gloss shine, it is known to come off if you brush your tires often
---
10. Adams Deep Wheel Cleaner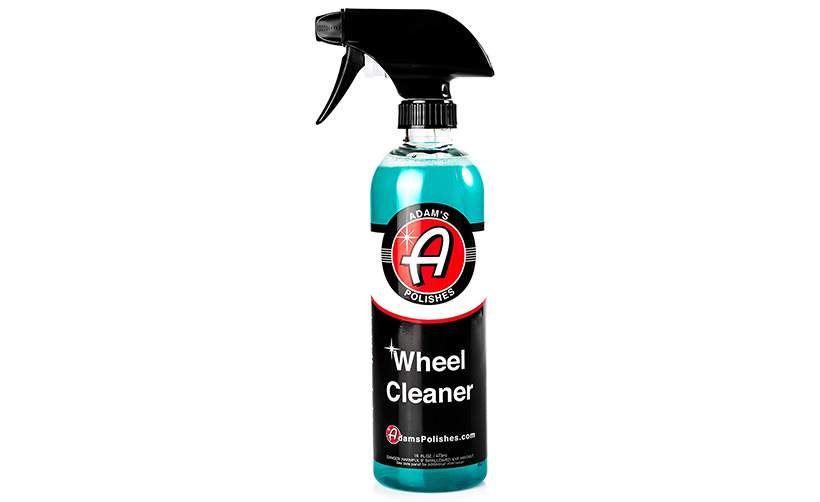 This is a specially formulated wheel cleaner made to target heavy brake dust. This tends to work well for cars with bigger or upgraded brakes that produce more heat. This cleaner comes in a spray bottle and changes the brake dust color to bright purple before falling off. It has an acid free and pH neutral formula so it is safe for the skin, as well as for the clear coat on wheels. It dissolves metallic contamination and is safe for most wheel finishes including clear coated, powder coated, chrome, alloy and painted wheels.
---
Pros: Easy-to-use spray application, safe for all wheel types, good for German cars with dusty OEM brake pads, removes brake dust like a champ
Cons: Bottle will not last long, some might find the smell to be unpleasant
---
Our Final Verdict
Cleaning tires does not only add aesthetic value to your car, but it also helps protect them from damage, ensuring a longer service life. If you are a car enthusiast and love your car, or even if you detail as a hobby, always choose the best available product for your car and don't hesitate in spending an extra buck for a quality product. Quality products go a long way. Also, always read the instructions before detailing the exterior, interior or the wheels.