Top 10 Best Tire Inflators
Most car owners often overlook their tire pressure, especially now that most vehicles are equipped with some form of tire pressure monitoring system (TPMS). But the problem with TPMS is that it only warns the driver when the tire pressure is low and out of a certain threshold. That means you might not know when you're driving on slightly underinflated or overinflated tires. Either condition affects your car's performance, including its fuel economy, so it's a good idea to keep a tire inflator or air compressor handy in your garage.
In this article, we'll take a look at the top 10 best tire inflators currently available on Amazon.com. Since most tire inflators and air compressors have similar features, we picked a variety of different types. When shopping for a tire inflator, you'll want to make sure you get one from a reputable manufacturer so it's high quality and lasts a long time. A tire inflator wouldn't exactly be handy if it decides to not work when you need it. You'll also need to make sure an inflator can properly inflate your specific vehicle's tire, especially if you own a light truck or larger vehicle. And if speed is important to you, get an inflator that pumps quickly, although that typically comes at a cost.
Table of Contents
1. Editor's Pick: EPAuto 12V DC Portable Air Compressor Pump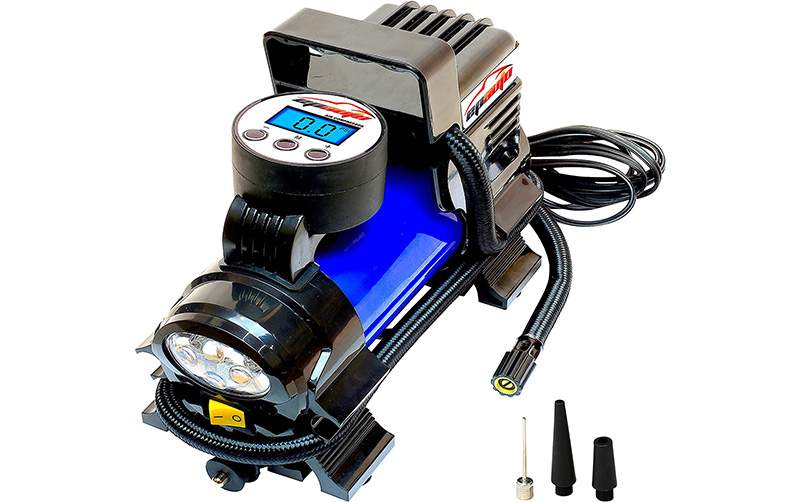 One of the highest rated and most popular tire inflators on Amazon, this 12V DC portable air compressor from EPAuto is competitively priced and works with the cigarette lighter socket inside your vehicle. This inflator does not support LT, HT, and truck tires, but will do the job just fine for cars, bikes, sedans, and SUVs. It comes equipped with an easy-to-read digital gauge that displays PSI, KPA, BAR, and KG/CM2 and features an LED flashlight to help you out in the dark. It also has built-in auto shutoff, which will automatically turn off the compressor when the desired tire pressure is reached.
Its inflating speed is rated at 1.06 CFM and the compressor protects itself from overheating by shutting off the unit if it exceeds 167°F.
---
Pros: Price, easy-to-read digital gauge, displays in four different units, built-in LED flashlight, auto shutoff feature
Cons: Slower than some pumps, doesn't support LT, HT, and truck tires
---
2. P.I. Auto Store Premium Air Compressor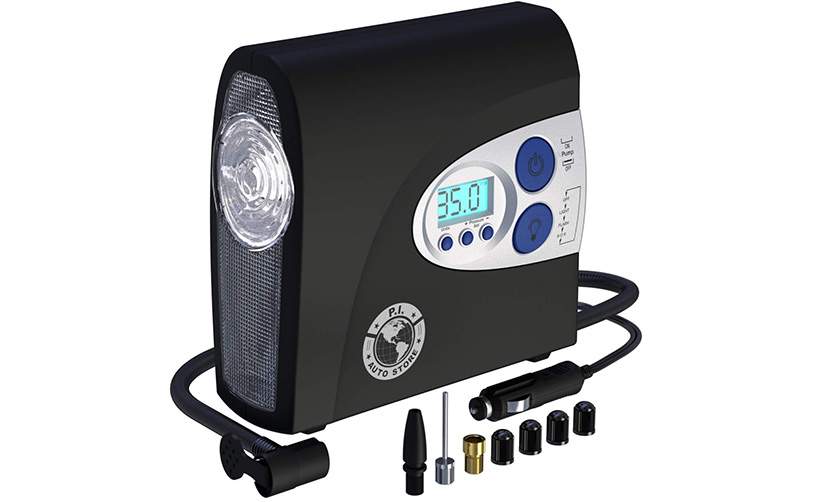 This pump generates 38 l/min of airflow, which means it can inflate a midsized car tire from flat to 30 PSI in under 3 minutes. Like the EPAuto unit, the P.I. Auto Store tire inflator comes with a digital tire pressure gauge and LED light, as well as a red SOS light for roadside emergency situations. It's extremely easy to use with your 12V cigarette lighter socket or any other 12V outlet. This inflator also has an auto shutoff feature to prevent overinflation.
One standout feature is how quickly it connects to your valve, which not only saves you time, but offers a more secure connection than thread-on units. This inflator isn't suitable for trucks, but it'll work just fine for cars, bikes, motorbikes, RVs, SUVs, and ATVs. It comes with adapters so you can inflate other household objects, such as sports equipment. An AC/DC converter is sold separately if you want to plug it into a household electrical outlet. Best of all, this inflator comes with a lifetime warranty.
---
Pros: Versatile, fast, includes adapters to inflate other objects, auto shutoff, uses 12V connection for power, built-in LED light
Cons: Doesn't work on truck tires, loud
---
3. Lifeline AAA 12V DC Air Compressor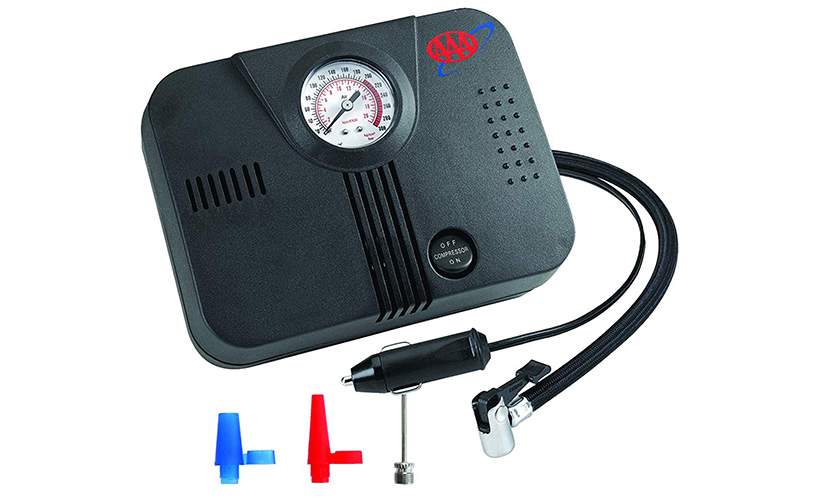 One of the more affordable units on our list, this unit is branded by AAA and can inflate a standard size tire in 8 minutes. That does make it one of the slower units on our list, but that's because it's cheaper. It offers onboard storage for the power cord and adapters, while a quick connect hose makes it easy to get you up and going without having to fight with screw-on threads.
This tire inflator doesn't use a digital gauge however, which means there isn't an auto shutoff feature. You'll have to keep an eye while inflating each of your tires, which again, is a reason why this product is more affordable than others.
If you want a cheaper option to inflate the tires on your car, truck, van, or SUV, this is the way to go. It's also pretty compact, measuring 8″ by 6″ by 4″, so you can just keep it stored inside your car.
---
Pros: Affordable, quick connect hose, includes adapters to inflate accessories, nice onboard storage for power card and adapters
Cons: Slow, no auto shutoff feature
---
4. VIAIR 88P Portable Air Compressor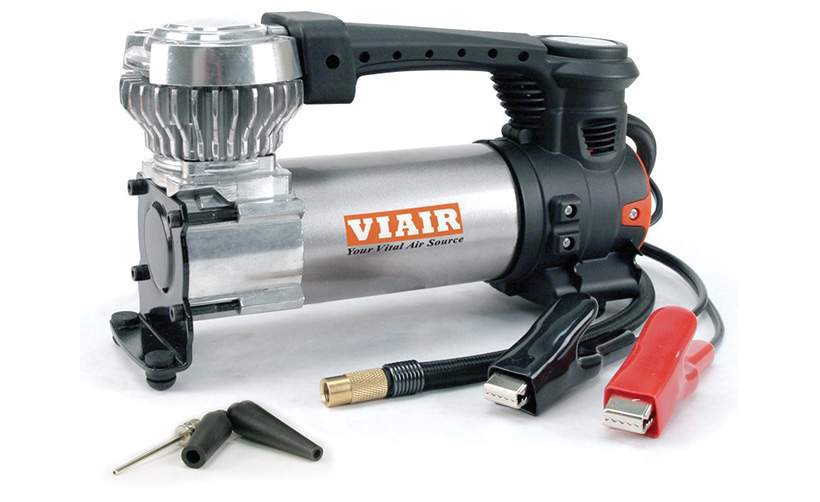 If you're looking for a heavy duty air compressor, the VIAIR 88P is a great option. Instead of using your cigarette lighter socket however, this compressor attaches to your car battery, which means you'll need to have your car running to use it. It has a twist-on chuck, which isn't as convenient as some of the quick connect units, but it offers 1.47 CFM and can inflate tires up to 33″ in size. That means it's good for small ATVs, trucks, SUVs, and conventional cars. The power cord measures 10 feet while the air hose measures 16 feet on this compressor.
There is a gauge mounted on the top of the unit so you can check pressure, but there's no auto shutoff feature on this compressor. It does however, come with three different adapters so you can inflate other household objects.
It's not as convenient as other tire inflators on this list, but it'll be more reliable and versatile—it also appeals to buyers who aren't interested in additional features that could cause the unit to break.
---
Pros: 1.47 CFM, inflates tires up to 33″, includes adapters, 16-feet air hose, 10-feet power cord
Cons: No auto shutoff, no quick connect, connects to your car's battery
---
5. AstroAI Digital Tire Inflator
If you already have access to an air compressor, this 250 PSI air chuck is a great buy for the price. Professionally calibrated to always return a reading within 1% of your tire's exact pressure, this gauge will accurately measure a range from 0 to 250 PSI and will also display in BAR, KPA, and KG/CM2. The product includes an inflation gun, chuck, gauge, hose, and bleed valve, all in one unit. It is compatible with 1/4″ NPT air compressors.
One nice feature is the upgraded heavy duty brass air chuck, which makes it extremely easy to lock onto valve stems.
This can be used with all sorts of vehicles, including cars, SUVs, trucks, motorcycles, and ATVs. A built-in air bleeder valve makes it easy to decrease pressure in overinflated tires and AstroAI includes a 3-year warranty with this product.
---
Pros: Price, reads in 4 different units, heavy duty brass air chuck, 3-year warranty, compatible with all types of vehicle tires, built-in air bleeder valve
Cons: Requires a compressor, no auto shutoff when desired PSI is reached
---
6. JACO SmartPro Digital Tire Inflator Pump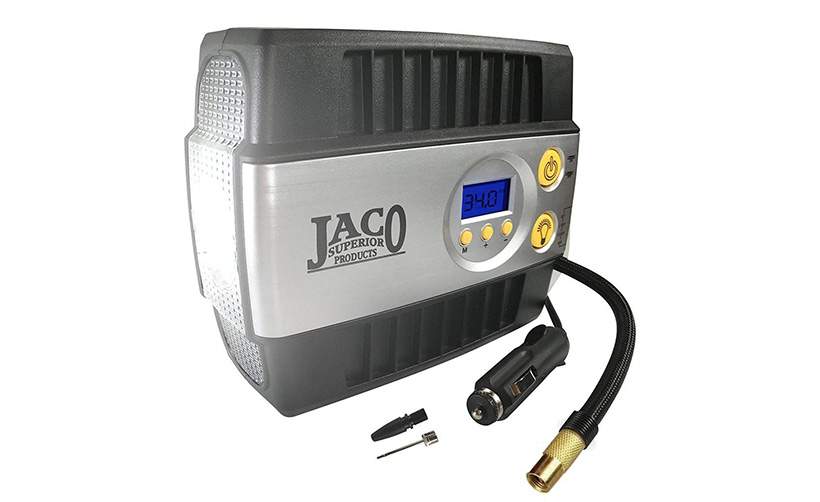 Capable of inflating standard auto tires up to 45 PSI and bike tires up to 100 PSI is the JACO SmartPro Digital Tire Inflator Pump. This product features a precision built-in digital air gauge with a bright LCD backlit display for nighttime use. It measures 0 to 100 PSI within 1 PSI of accuracy and can inflate at 25 l/min. It comes with a heavy duty, woven 24″ air hose with a twist-connect nozzle and includes 2 adapters for household items. Its SmartPressure technology allows the user to preset the desired air pressure and the unit will shutoff on its own once the tire reaches that pressure.
Like other similar 12V air compressors on this list, the JACO unit also comes with a built-in bright LED that can serve as a flashlight or emergency SOS light by flashing red. This product comes with a 12-month guarantee.
---
Pros: 25l/min inflation speed, measures 0 to 100 psi, 24″ air hose, includes 2 adapters, auto shutoff, twist nozzle, built-in LED light and digital air gauge
Cons: Price, included case is a bit on the small side (tight fit)
---
7. JACO FlowPro Digital Tire Inflator Gauge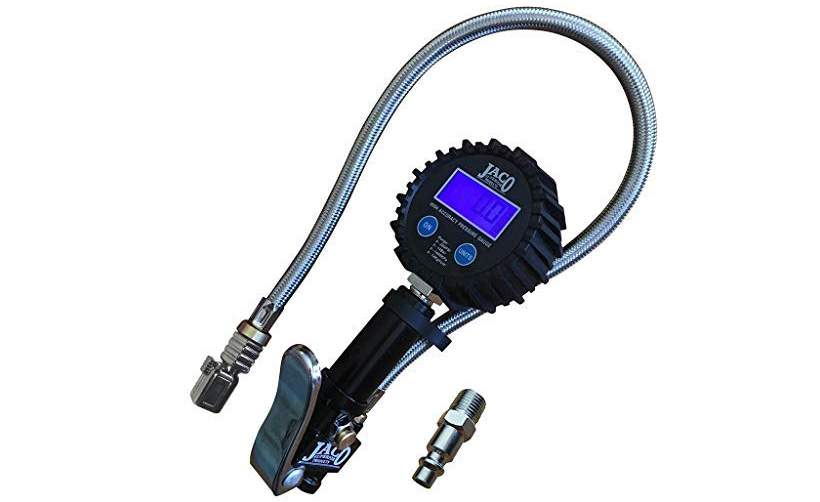 Also from JACO is this FlowPro Digital Tire Inflator Gauge, performance tested and calibrated to be within 1% accurate. It features a bright 0- to 200-PSI LCD display that automatically shuts off after 2 minutes of inactivity. This tire gauge uses a heavy duty 18″ stainless steel braided air hose, a precision "push-to-inflate" air filler thumb trigger, and a built-in air bleeder valve to cover all your needs.
This does require an air compressor and includes a steel 1/4″ NPT male quick connect fitting attachment. The gauge uses 2 AAA batteries (included) to operate and displays in 4 different units: PSI, KPA, BAR, or KG/CM2.
---
Pros: Reads 0 to 200 PSI or in 3 other units, heavy duty 18″ stainless steel braided air hose, built-in air bleeder valve, extremely accurate
Cons: Gauge requires AAA batteries, no auto shutoff feature when tire pressure is reached
---
8. Helteko Portable Air Compressor Pump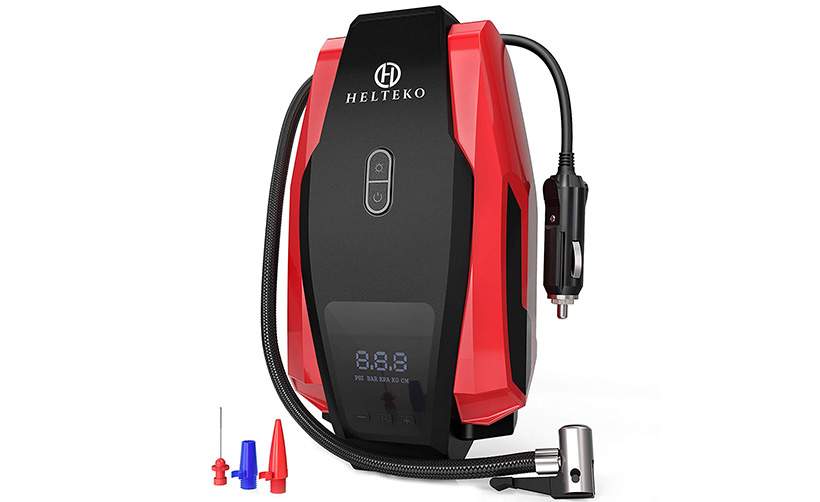 If for whatever reason looks matter, then the Helteko Portable Air Compressor Pump may have been designed for you. With a stylish appearance, this inflator won't stand out like a sore thumb in your garage and is available in red or yellow. Constructed from durable ABS plastic and stainless steel, this pump features a built-in LED light, accurate LCD display, auto shutoff, and has a 13.5-feet working range.
It's got an above average fill rate of 35 l/min with max pressure of 150 PSI, inflating a standard midsize car tire in 3 to 5 minutes and will display in 4 units like most of the other inflators on our list: PSI, BAR, KPA, and KG/CM2. Helteko provides an 18-month warranty with this product, along with 3 adapters so you can inflate other items.
---
Pros: Stylish design, built-in LED light, LCD display, auto shutoff, 13.5-feet working range, above average fill rate, displays in 4 units, 18-month warranty, includes 3 adapters
Cons: Design isn't for everyone, loud, buttons are not backlit
---
9. FORTEM Digital Tire Inflator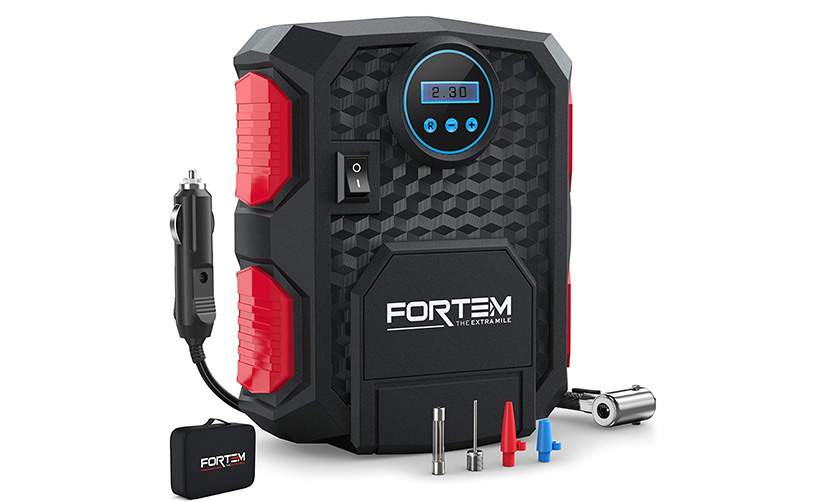 Our last unit of this type comes from FORTEM, boasting similar features and price point as other digital inflators on our list. Along with being a 12V unit that uses your cigarette lighter receptacle, the FORTEM inflator also features auto shutoff to help prevent overinflation. It comes with multiple nozzle attachments so you can inflate other household items and features a built-in LED flashlight for emergency and nighttime situations.
Most of the specifications on this unit is fairly standard, with maximum pressure value of 150 PSI. The company does note it has a continuous maximum working time of 8 minutes, so it's something to keep in mind. It weighs slightly under 2 pounds.
The body of this inflator is constructed from durable, lightweight plastic while the sturdy hose is designed to resist high pressures. All FORTEM products come with a 1-year warranty.
---
Pros: Auto shutoff, reads up to 150 PSI, digital display gauge, built-in LED flashlight, includes nozzle attachments, weighs under 2 lbs, 1-year warranty
Cons: Doesn't display in other units, has an advertised continuous working time of 8 minutes
---
10. Ryobi ONE+ Portable Cordless Power Inflator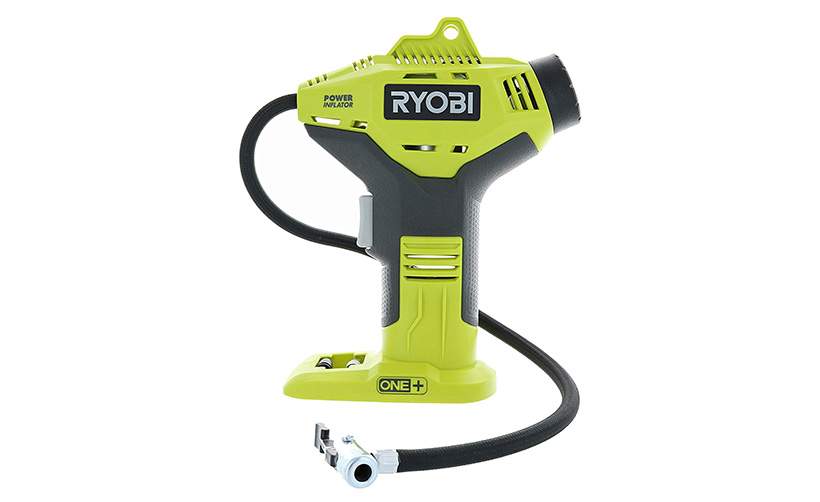 If your garage is already packed with Ryobi power tools, you may want to consider this portable cordless inflator that comes from Ryobi's ONE+ lineup. That means it runs off any Ryobi ONE+ battery, which is important since the tool itself doesn't come with one. It's smaller than most inflators and has an ergonomic pistol grip, making it easier and more comfortable to use. Attached to the unit is a 20″ hose and a 2″ pressure gauge that can read from 0 to 150 PSI. In total, it weighs 2.5 lbs.
What makes this inflator great is that it's portable and cordless, so it doesn't need to be attached to anything. Of course you'll need to have a Ryobi ONE+ battery ready to go, which makes it a bit more inconvenient than simply plugging it into your cigarette lighter adapter. It also includes two high-pressure nozzles and a sports equipment needle.
---
Pros: Portable, cordless option, uses Ryobi ONE+ batteries, 20″ hose, 2″ pressure gauge, weighs 2.5 lbs, easy to use, includes nozzles and sports equipment needle
Cons: Requires a Ryobi ONE+ battery (sold separately), can't use an alternate source of power
---
---
Tire Inflator FAQs
How Do You Use A Digital Tire Inflator?
Although there are many videos for this, we'll give you a quick rundown. Connect your inflator to the recommended power source and turn it on. Check your tire pressure first. Adjust the inflator with the pressure recommended by your tire manufacturer. Attach it to the tire valve, start the inflator. Most digital inflators will automatically shut off when you reach your selected level.
Can I Run My Engine While Using My Tire Inflator?
It is recommended that your engine remains off while you are using the inflator. It's a safety measure in place for preventing accidents. If your inflator uses battery power or the lighter socket, you may have to turn your car on but not start the engine itself.
How Can I Tell If My Tire Is Overinflated Or Underinflated?
You should ideally use a tire gauge to check if your tires are over or under-inflated. But if you don't have one with you, here's how to tell what's wrong. Check for wear on the outside edge of tread; more wear here means underinflated tires. Wear towards the middle of the tread means overinflated tires.
Can I Use A Bicycle Pump For My Car Tires?
Yes, you can. It depends on the model of the pump you're using, however. Plus, it's hopelessly time-consuming. It would be way better just to purchase a new digital car tire pump that shows you exact readings of tire pressure and automatically fills the tire to the pressure you've entered. It would take a lot of effort on your part to give a few hundred pumps to a tire that's not even completely flat.
What Tire Pressure Is Too High?
If you don't hit the maximum tire pressure stated on your tire's sidewall, it's fine. This is way higher than the recommended tire pressure. Always try to stay as close to the tire pressure that the tire manufacturer has recommended. Generally, the recommended pressure for most tires is 33 psi, so even if you go a couple of psi over that, adjust your tire pressure with a digital pump to the recommended pressure.
We are committed to finding, researching, and recommending the best products. We earn commissions from purchases you make using the retail links in our product reviews. Learn more about how this works.