Top 10 Best Snow Brushes and Ice Scrapers
If you live in an area that often experiences freezing or below freezing temperatures, you're probably already well aware of what an ice scraper or snow brush is. Depending on your budget, there are tools available that incorporate an ice scraper with a snow brush, but these tend to be longer and larger. For the most part, ice scrapers are extremely compact products that can fit inside your glovebox so you always have it with you. While snow brushes are more versatile, they tend to take up more space in your trunk and aren't as convenient to keep around.
If you experience frequent snowfall, however, you'll want to get yourself a snow brush. If you mostly deal with ice or frost on your windshield, then an affordable ice scraper should suffice. Either way, clearing the ice and snow off your car is extremely important for your safety and the safety of other drivers around you.
For more information on ice scrapers and snow brushes, refer to our table of contents.
---

The head of this telescoping snow broom is constructed from durable, non-abrasive foam so it's safe to use on a car, while measuring 18-inches wide. It's designed to push away heavy snow quickly and weighs just 1.2 pounds, so you won't get tired when using it. This product features an auto-locking extension pole that can be adjusted from 30 inches to 49 inches and has a built-in ice scraper to clear away any ice buildup on your windshield.
Included with the broom is a built-in bracket holder, allowing you to easily store it inside the trunk of your car when it's not being used.
Owners of this product say it does a great job at quickly clearing snow, especially in hard to reach places. The extension allows it to be used on small and large vehicles and the foam doesn't scratch the paint. Some users do report issues with the telescopic handle, however, and if you forget to dry the extension prior to closing it, water can freeze inside.
Pros:
Price
Telescoping Handle
Adjustable
Foam Head
Lightweight
Includes Bracket Holder
Cons:
Users report issues with the telescopic handle
Feels a bit flimsy when applying pressure
---
2) Mallory Cool Tool Snow Brush with Integrated Scraper and Foam Grip Handle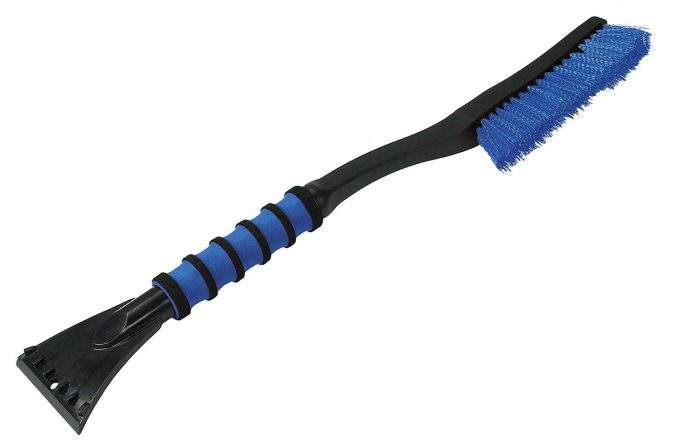 Measuring 26-inches long, this snow brush offers ample reach while being compact for easy storage. It features four rows of sturdy plush bristles for removing snow, while a 4-inch wide scraper blade is equipped with tough ice chippers to break through and clear thick ice. The product also has a contoured soft foam grip that provides comfort and control.
This product has overwhelmingly positive reviews, with its owners showing a lot of appreciation for its comfortable grip. It's ideal for car owners looking for a simple, all-in-one solution that is compact enough to be left inside the car. It's non-adjustable however, so some owners say it's not convenient to use if you're short – look towards a product with a telescopic handle instead. You should also keep in mind that this is a brush, so if you're not careful with it, you could scratch up your paint.
Pros:
Price
Compact
4-inch wide scraper blade
Contoured soft foam grip
Cons:
Non-adjustable
Has bristles so it can scratch your paint if you're not careful
---
3) Sno Brum Snow Removal Tool with Compact Telescoping Handle
Designed to not scratch your car's paint or leave scuff marks, the Sno Brum's head is made from high-grade, durable foam and cross-linked polyethylene. This product is available in three different sizes (Junior, Standard, and Large), along with a variety of colors. The Large version features a telescoping handle that can extend from 27 inches to 46 inches, while the foam head measures 17 by 6 inches. The Standard model's telescoping handle has a reach of 17 inches to 28 inches, while the Junior version has a 9.75-inch wide head.
All of Sno Brum's products are made and assembled in the U.S. using high-grade, durable materials. The variants with a telescopic handle can collapse, for easy compact storage.
The Junior model also features a plastic ice scraper that is attached on the opposite end of the foam head, along with a soft foam grip and locking mechanism to hold the handle in place.
These products are a bit more expensive than the rest of the competition, but you can save a little bit if you opt to purchase a two- or three-pack.
Owners of this product say it quickly clears the heaviest of snowfalls, but it's not great on smaller areas of your car like the side mirrors. Some users comment about the plastic handle, feeling cheap and hollow.
Pros:
Variety of Sizes
Made in the U.S.A
Telescopic Handle
Compact
Foam Head
Cons:
Price
Plastic handle feels cheap and hollow
---
4) Subzero Super Extender Snow Broom with Integrated Squeegee Head and Ice Scraper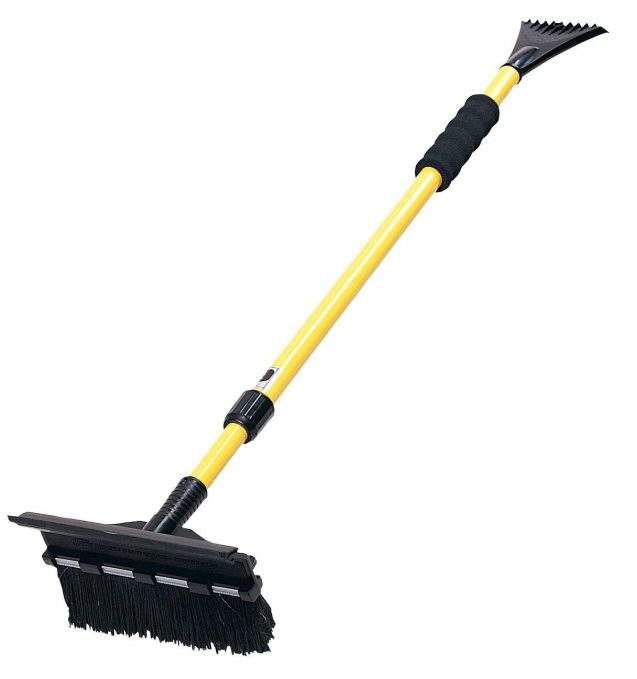 Featuring a telescopic handle that adjusts from 26 inches to 52 inches, the Subzero Super Extended Snow Broom has a wide squeegee blade that can help quickly remove snow and frost, along with an aggressive scraper blade to cut through thick ice. The wipe blades on the ice scraper are designed to clear away frost with fewer strokes and less effort, while the broom is capable of pushing the wettest, deepest snow from your entire vehicle.
Owners of the Subzero Super Extended Snow Broom finds it easy to extend and use, saying the broom size helps make it easy to remove snow. The twist-locking mechanism also works well in holding the extension. Some users however, did note the squeegee blade can easily get loose and slide off, requiring them to use glue to keep it attached. In addition, there's a metal ring that holds the bristles together and some owners say the metal ring has scratched their car.
Pros:
Telescopic Handle
Squeegee Blade
Wide Coverage
Twist-locking Mechanism
Cons:
Squeegee blade falls off for some users
Metal ring holding bristles could scratch your car
---
5) Hopkins Subzero Ice Crusher Ice Scraper
A basic ice scraper is available from Hopkins, which also manufactures the Subzero Super Extender Snow Broom. These tough ice chippers are designed to break through thick ice, while a wide scraper blade provides maximum coverage for ice and frost removal. It's a compact, cost-efficient product with 11 inches of length and a 4.5-inch wide blade. There's a contoured soft foam grip that makes this ice scraper comfortable to use, along with leverage points for the thumb and palm so you can apply more pressure when removing tough ice.
Although it's a fairly basic product, this ice scraper is preferred over others because of its more comfortable handle. Other more affordable scrapers have just a plastic handle with little ergonomics, making it uncomfortable to hold and use for an extended period of time. It is still however, a product made from plastic so it's susceptible to breaking. This product is also short, so keep that in mind if you're trying to scrape ice off a pickup truck or large SUV.
Pros:
Price
Wide Scraper
Contoured Soft Foam Grip
Cons:
Still made from plastic so it can break
Short
---
6) CJ Industries Fantastic Ice Scraper with Brass Blade
Another basic and affordable ice scraper comes from CJ Industries. This scraper is equipped with a brass blade, meaning it will never scratch your glass while cutting through ice with less effort than traditional plastic scrapers. It's very compact so you can store it anywhere inside your vehicle. Overall, this product doesn't offer any special features, but sometimes simpler is better, especially when it's lighter on your wallet.
Owners say the scraper itself works extremely well and cuts through ice, snow, and slush with relative easy. The handle however, is very short, like similarly priced scrapers, which makes it difficult to reach certain areas of your vehicle. The overall quality of the handle is also average and can bend easily when too much pressure is being applied.
Pros:
Price
Brass blade scraper
Compact
Cons:
---
7) Snow Moover Extendable Snow Brush with Squeegee and Ice Scraper
Equipped with a thick bristled brush, the Snow Moover Extendable Snow Brush is designed to remove snow from your car's windshield and windows quickly. It features a multi-functional design with a squeegee located opposite the brush head, while the ice scraper is removable for faster and easier use. In fact, this snow scraper consists of three separate units: squeegee and bristle head snow brush, ice scraper, and telescoping extender. All three components can be pieced together or separated for easier use and storage.
The ice scraper features tough, non-scratch jaws to break through the ice surface quickly before the flat head gets underneath to scrape away the rest. This product can extend up to 39 inches, allowing you to access hard to reach pockets of snow. It does weigh about 2 lbs, so it could get uncomfortable using it for a long period of time.
Users say the product feels well built, but feels large and bulky. Some owners also feel the bristles feel a bit sharp, potentially increasing the chance they scratch your car. It's also worth noting there's a number of owners who have had the brush head snap off entirely.
Pros:
Thick Bristled Brush
Telescopic Extender
Includes Ice Scraper and Squeegee
Can be separated
Cons:
Price
Sharp bristles increase chance of scratches
Weight
---
8) True Temper Scratch-Free Snow Brush
Available in a variety of sizes or with a telescoping roof rake is True Temper's Scratch-Free Snow Brush. This is an innovative EVA foam brush that won't scratch your car and is designed to easily remove snow in tight spaces, such as your mirrors and wiper wells. It also comes with an integrated ice scraper on the opposing end of the brush, as well as a pivoting head that rotates to access hard to reach places like underneath roof racks.
Each version, except for the 26-inch model, comes with an ergonomically shaped, aluminum telescoping handle with a cushion for added comfort. The 26-inch snow brush isn't adjustable and is ideal for compact cars. The telescoping roof rake version has a 24-inch poly blade that is lightweight and reinforced with a wear strip for added durability. Its telescoping aluminum handle extends to 17 feet and is convenient to use with a push-button feature.
Overall, this product doesn't have very many negative reviews, but some owners do say certain models feel flimsy. Another complaint is that the aluminum section of the handle can be very cold to the touch if you're not wearing gloves when using this brush. Most users like it for its foam head, which is safe to use on your paint.
Pros:
EVA foam brush
Variety of sizes
Removes snow in tight places
integrated ice scraper
Cons:
Certain models can feel flimsy
Aluminum handle is very cold to touch
---
9) Desired Tools Premium Ice Scraper
Available as a two-pack is Desired Tools' Premium Ice Scraper, designed to remove the toughest of ice and snow with its extra sharp blade. This scraper won't leave behind any scratches and comes equipped with an extra thick and comfortable foam handle. Overall, it's longer than other regular one-handed ice scrapers, while staying compact enough to fit in your glove compartment.
This two-pack is priced competitively, especially since you're getting two scrapers, and they're sturdy, durable, frostproof, and lightweight. More importantly, they come with an one-year warranty.
Owners say this product is sturdy and well constructed, but some wish the scraper was wider. Many comment positively about the grip and comfort of use. Overall, this product has very few negative reviews.
Pros:
Affordable two-pack
Comfortable foam handle
Longer than the competition
Compact
Cons:
Some users wish the scraper was wider
---
10) Snow Joe Edge Ice Scraper with Brass Blade
If you're shopping on a budget and want something really basic, Snow Joe also offers an ice scraper with a brass blade. It's one of the cheapest products on the list, but it can still effectively remove frost and ice from car windshields and windows. The durable brass blade won't scratch your glass, while an easy grip handle helps make the job less painful. This ice scraper is compact and lightweight, conveniently fitting in your glove compartment.
Given the price of this scraper, you shouldn't expect it to perform miracles. It will however, do a solid job cutting through a thin coating of ice on your windshield. Some users do complain that the handle feels flimsy and it needs to be longer to be more effective. Also, some owners managed to bend the blade when using this particular product.
Pros:
Price
Compact
Lightweight
Good for thin coatings of ice
Cons
Flimsy handle
Short
Some users managed to bend the blade
---