Top 10 All-Terrain Tires 2017
Are you looking for the best performing all-terrain tire for your truck, commercial van or SUV? With the number of models available today at an all-time high, it can be difficult in knowing which tires are worth putting on your vehicle.
Listed below are our 2017 Top 10 All-Terrain tires. Our list is based not only on our own experience, but reviews and comments made by other tire owners. Please note that our list is not in any particular order. All ten tires make excellent choices.
---
Goodyear Wrangler All-Terrain Adventure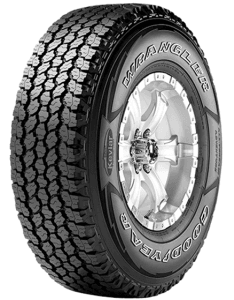 As good as the Silent Armor tires are, the Wrangler Adventure is equally as impressive. This recent addition to Goodyear's AT lineup delivers more than capable traction in a variety of off-road terrain, but it also handles itself very well on the highway. Noise is low and ride quality is much better than you might expect from an all-terrain tire. A 60K mile tread warranty is also included.
Falken WildPeak A/TW3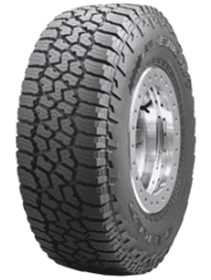 New for 2016, the A/TW3 features a hybrid AT-MT type of tread design that allows this tire to get through the toughest of terrains without issues. The winter grip you'll find on this AT tire is among the best in class thanks to the tread design and Falken's Canyon Sipes. With its 55K mile warranty and lower cost, it's easy to see why this tire rates so highly.

Click Here For A Complete Review
BFGoodrich All-Terrain T/A KO2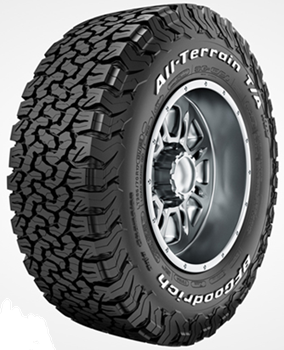 As difficult as it is for any tire maker to improve on an already best-selling tire, BFGoodrich has done just that with the new KO2. Its cut and chip resistant tread compound is also built to provide a longer lasting treadlife. Tri-Guard sidewall construction helps prevent all types of obstructions from puncturing the tire and increasing durability that weekend warriors look for. On the street this is a tire that is built to handle rain and snow as well as any tire in its class.
Click Here For A Complete Review
Cooper Discoverer A/T3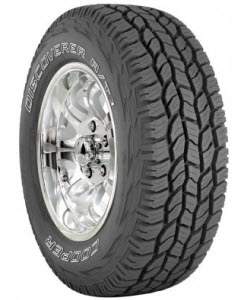 The Cooper AT3 delivers a balance of off-road toughness with excellent on-road manners that few others can match. It handles all types of light duty off-road terrain without letting you down, while its performance on the highway may surprise you. Noise is minimal and treadlife is good. It's easy to see why the AT3 is so popular for truck and SUV drivers.
Click Here For A Complete Review
Kumho Road Venture AT51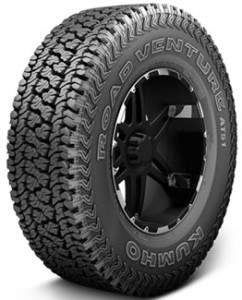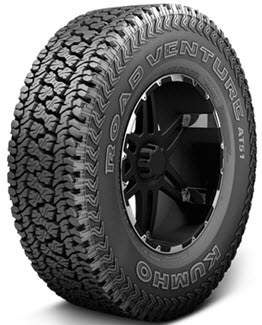 With its release in late 2015, the Kumho AT51 takes its place among the better tires in the all-terrain class. This model sports the latest in tire technology to give it excellent on and off-road performance, and the ride is better than expected for a value-priced model.

Click Here For A Complete Review
Firestone Destination A/T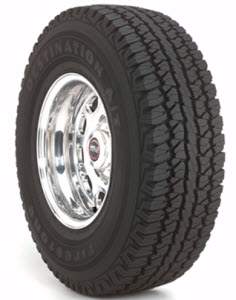 If you're looking for an all-terrain tire that also provides superb traction on the street, including snow and ice, then the Firestone Destination A/T makes an exceptional choice. Off-road, this tire goes through everything you put in its way. On-road, you may think you are riding on a passenger tire with its strong performance. Ride comfort and a long lasting treadlife round out the reasons why this tire ranks up there among the best in class.
Click Here For A Complete Review
Goodyear Wrangler Silent Armor
As one of the leaders in the all-terrain tire market for several years running, the Silent Armor from Goodyear continues to impress with its high level of performance on and off road. If you are looking for toughness, increased durability and a tire that is built to handle heavier loads, this is one of the best.
Cick Here For A Complete Review
Michelin LTX A/T 2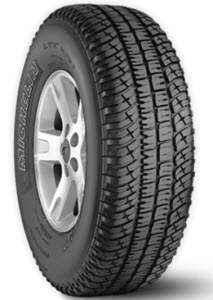 Michelin has a number of very good truck/SUV tires in their lineup and we believe the LTX A/T 2 is one of the best. Not only does this tire make easy work of all types of terrain off the beaten path, but the ride comfort and low road noise this tire provides is among best in class. There's a reason why this model is also found as original equipment on so many different trucks and SUV's… because it's performance is that good.
Click Here For A Complete Review
Yokohama Geolandar A/T G015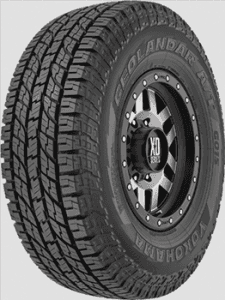 Released in 2016, the Yokohama G015 has quickly proven itself to be a high-quality AT tire that excels in nearly every area. Off-road traction and handling is outstanding, and on the street this tire handles itself better than most. Grip in rough winter conditions is like a dedicated snow tire due to the mountain/snowflake emblem this model features. Yokohama backs it for up to 60K miles.
Click Here For A Complete Review
General Grabber AT2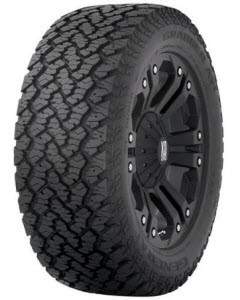 For several years now, the Grabber AT2 has been considered one of the best AT tires when it comes to off-road performance. In addition, the AT2's traction in deep snow is excellent, and General warrants this tire for 60K miles. When you add it all up, the value for the money is outstanding.   
Click Here For A Complete Review 
---