Top 10 All-Season Tires Under $100
Are you looking for a new set of tires, but want to spend the least amount of money as possible? Perhaps you are unsure of which models are the best choice for your vehicle that will still allow you to stay within your budget? Whatever the reason, we've put together our list of the top 10 best all-season tires for under $100 which are updated for 2020.
Many people feel that low cost means cheap tires, but this just isn't the case with the tires on our list. Each of our top 10 tires are chosen as a result of quality, price, reviews and comments from other drivers, as well as our own experiences. For more detailed reviews on each tire, you can find them listed under our Tire Reviews section.
Tires are considered to be the most important component of your car, and deservingly so. Acting as the mediator between the surface and the car, tires are responsible for accelerating, turning and breaking your car – and the speed and efficiency at which they do it can have a major impact on your life.
While there are no doubts about the significance of the tires, people are perplexed when shopping for them because of their prices, models, and alternatives.
We've made your job easier by providing a list of high-quality best budget all-season tires that don't cost as much.
Please note that prices for all tires on this list are based on a 205/55R16 tire size, which is one of the most common tire sizes today.
---
1) Kumho Solus TA71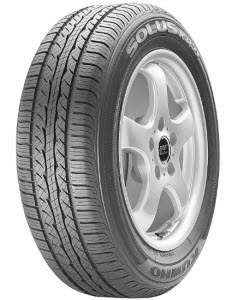 Kumho has really upped their tire quality over the past several years, and the Solus TA71 is a good example of that. Not only is traction very good on dry and wet pavement, but it delivers good cornering stability and the ride is smooth and comfortable. With its 65K mile warranty and lower price, the TA71 is a worthwhile choice in new tires.
Featuring advanced Nano Silica compounds, Kumho's Grand All-Season Touring Tire is designed keeping sporty coupes in mind. Kumho upkeeps the tradition of providing responsive handling coupled with a comfortable, noiseless drive.
Key Features
Nano Silica design
Asymmetric tread design
ESCOT casing technology to optimize sidewall cord tension distribution
Pros
Delivers optimal traction, even in light snow.
Firm grip across dry, wet and icy surfaces.
Hydroplaning resistance.
Cons
Treadwear performance not as good as advertised
2) Cooper CS3 Touring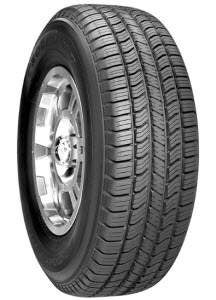 As a basic touring all-season tire, the Cooper CS3 Touring may well be the most comfortable and quiet riding tire on this list. It features excellent year round traction and handling, and treadlife has shown to be very good. Dollar for dollar, the CS3 is hard to beat.

CS3 Touring is the United States very own product, consisting of a high-turnup singly ply polyester casing. The nylon reinforced CS3 Touring is one of the best budget all-season tires designed to combat uneven wear and easy rotation – resulting in a smooth drive.
Key Features
Cooper's Stabiledge Performance for reduced flex
3D sipes on the footprint
Reinforced construction
Pros
Enhanced tire rotation on uneven, rugged surfaces
Optimal value for money
Hydroplaning resistance
High-speed durability
Cons
Subpar wet surface traction
Click Here For A Complete Review
3) Hankook Kinergy PT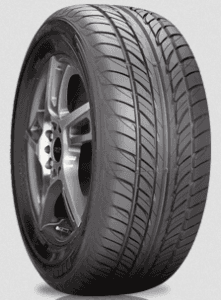 As the newest model on the list, the Hankook Kinergy PT delivers solid wet and dry performance to go with its comfortable ride quality. Its lower cost makes it an excellent value in an all-season tire.
Hankook looks to provide an optimum all-season touring tire that offers excellent mileage, with a 90,000 mileage warranty.
With a No.1 860/A/A rating, featuring jointless full cover reinforced belt to provide unparalleled construction strength – Hankook Energy is one of the best budget all-season tires.
Key Features
Abrasion-resistant, carbon black compound
Computer-designed profile for even weight distribution
Folded belt edge strips to resist belt edge separation
Pros
Superb wet and snow weather performance
Enhanced handling and durability
Improved braking performance
Cons
Could get a little noisy with time
Click Here For A Complete Review
4) General Altimax RT43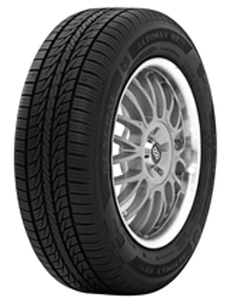 The newest addition to the General Tire lineup is also one of their best. The Altimax RT43 features a unique twin tread compound that not only increases traction on wet, dry or snow covered road surfaces, but it also adds more driving comfort by cushioning the ride. With its 75,000 mile warranty, treadlife is longer lasting on this model as well.
The Altimax RT (road touring) belongs to General Tire's all-season touring flagship brand – the Altimax. Designed using a high-density, all season compound to deliver durability and extended lifespan, the Altima RT43 provide users with a comforting ride throughout the year.
Key Features
Twin cushion silica tread compound
Anti-Slip sipe design
Low surface abrasion technology
Pros
Extended tread life
Increasingly comfortable ride – due to independent tread blocks
Stabilized handling – due to reinforced twin steel belts
Con
Susceptible to be slightly noisy
Buy a set of General Altimax RT43 now
Click Here For A Complete Review
5) Laufenn G Fit AS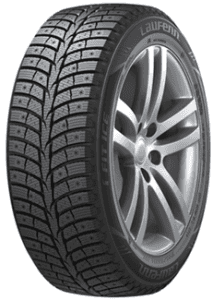 Since Hankook launched their Laufenn brand as an entry-level option for budget-minded drivers, the G Fit AS has quickly become a popular option. For basic driving needs this tire is dependable and built to last, and the lower cost will save you a lot of money in the process.
The all-season touring Laufenn G Fit AS tire is primarily designed to cater to smaller passenger vehicles. With enhanced treadwear and all-season traction, the Laufenn G FIT AS is one of the best budget all-season tires – made to provide a comfortable ride, all year long.
Key Features
45,000 miles/ 5 years tread life warranty
Water resistant
Optimized for coupes, sedans, minivans or smaller crossover vehicle
Pros
Chamfered groove edge treads for increased ride comfort
Optimized tire profile for evenly distributed weight
Four wide, circumferential grooves for water resistance
Cons
Subpar wet surface traction
Buy a set of Laufenn G Fit AS now
Click Here For A Complete Review
6) GT Radial Champiro VP1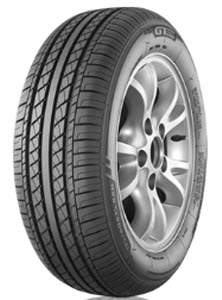 GT Radial has included features on its Champiro VP1 that are normally found only on tires costing much more than this model. A low rolling resistance tread compound increases fuel efficiency, while the tire's tread block design enhances all-season traction and handling. Noise cancelling technology reduces road noise, making this a very quiet and comfortable riding tire.
GT Radial launched Champiro to the interest of buyers who look to get optimum all-season driving performance without overspending their budget.
Key Features
40,000-mile tread life guarantee
5-year manufacturer warranty
Noise cancellation technology
Pros
Fuel efficient due to decreased fuel efficiency
Excellent grip afforded on dry and wet surfaces
Cons
Winter weather conditions adversely impact traction
Click Here For A Complete Review
7) Falken Sincera SN250 A/S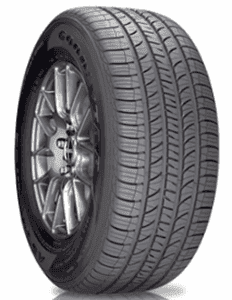 The Falken SN250 A/S has quickly proven to be one of the better models in the entire Falken linep, and one that offers excellent performance and value for the lower cost. Traction on dry and wet road surfaces is better than average, and the ride quality is nearly as good as what you find on top models from Michelin, Continental and others. It carries an 80K mile warranty and treadlife is better than expected.
Labeled as one of the best budget all-season tires – the Falken Sincera SN250 A/S is designed to provide ultimate road traction across all weathers – ensuring you get a quiet, smooth ride.
Key Features
80,000 miles limited tread life warranty
3D sipes to provide biting edges
Dynamic Range Technology for added durability
Pros
Enhanced all season driving – as silica tread remains strong in dry weather while providing flexibility in winter weather use.
Hydroplaning resistance
Uneven surface stability
Cons
The dry traction is not the best in its category
Click Here For A Complete Review
8) Nokian Entyre 2.0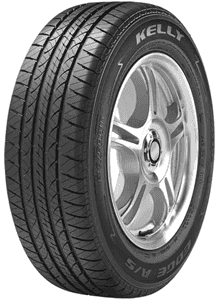 While being widely known for their winter tires, the Nokian Entyre 2.0 is one of the best value-priced all-season tires offered today. Expect to find excellent traction on dry, wet and snow covered streets. It also has a very good ride quality, with road noise being much less than many comparable tires. With its solid overall performance, it's easy to see why publications such as Consumer Reports speak so highly of this model.
The Entyre series is Nokian's flagship all-season touring tires, and the Entyre 2.0 is the latest effort to make the best budget all-season tires – in order to provide excellent year-round traction that is complemented by a smoother, quieter ride.
Key Features
60,000 or 80,000-mile limited tread warranty
Silent sidewall technology to lower noise creation
High modulus silica enforced tread compound
Pros
Increased tread durability
Above-average winter weather performance
Improved stability
Cons
Performs poorly on wet surfaces
Buy a set of Nokian Entyre 2.0 Tires now
Click Here For A Complete Review
9) Arizonian Silver Edition III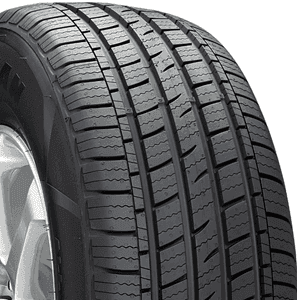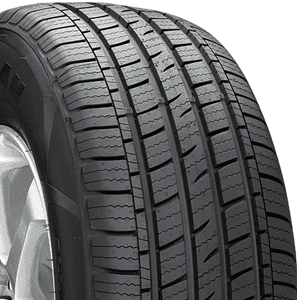 Not a lot of people know about the Silver Edition III, but it fits in nicely for a low cost all-season tire. It's built to deliver reliable dry and wet traction, while providing a comfortable ride with a better than average treadlife. Road noise is minimal. As a subsidiary of Cooper Tire, you'll also find a 55K mile tread warranty on this tire.
The Arizonian Silver Edition III is a durable all-season touring tire that provides excellent value for money, without compromising on delivering a comfortable ride.
Key Features
55,000-mile tread warranty
Optimized tread profile
Symmetric tread pattern
Pros
Reduced noise – due to advanced tread pitch sequence
Enhanced steering – due to staggered shoulder blocks and center rib design
Durability
Cons
Limited access as offered only through Discount Tire
Winter weather performance is below average
Click Here For A Complete Review
10) Westlake RP18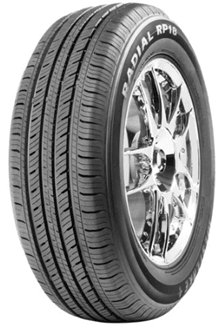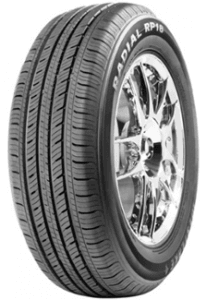 If we had to choose the top all-around lowest priced all-season tire, the RP18 is our likely pick. Expect good dry and wet grip, as well as a nice ride quality. For around town driving or daily commuting, this tire doesn't disappoint.
Labeled as a radical and high performing tire, Westlake RP18 is one of the best budget all-season tires. Designed to provide premium all-season, all-surface traction.
Key Features
Symmetrical tread pattern
Elaborate siping design
Pros
Superior wet and dry surface traction
Increased steering stability
Cons
Tread life not as good as competitor products
Why Should You Invest In All-Season Tires
The best budget all-season tires are designed to provide you with optimal grip and driving comfort – without requiring you to change tires twice a year.
While they might not perform as well as specialist tires do – but they manage to hit the middle ground with perfection, designed to provide you to with stellar all-season performance.
Here are some of the benefits of best budget all-season tires:
Versatility
All-season tires deliver all-year usage and efficiency, saving you from buying a new set of tires when the temperature changes. Designed to take on all weather conditions, they can power your vehicle through mud, rain or snow.
Pocket-Friendly
Tires don't come cheap, but if you plan to use specialist tires; they will certainly cost you much more than when you opt for all-season tires.
Not only do you save the seasonal trips to the mechanic because you have to change the winter tires to summer tires, but also because all-season tires cost less than specialist tires.
Convenience
In such a busy routine and hectic work life, people dread taking out special time to visit the repair shop every time snow falls to get their tires changed. The convenience afforded by all-season tires is unparalleled, as they mean significantly lesser time spent at the auto repair shop.