Super Swamper TSL Thornbird Tire Review & Rating
The Super Swamper TSL Thornbird is a distinctive, aggressive-looking mud tire that is designed to provide the traction, handling and grip required by today's off-roaders. Built for a wide range of jeep, SUV and light truck owners, the TSL Thornbird gives you the strength, durability and stability needed to travel through difficult terrains and still manages to give you the traction and handling needed on the street.
Sporting a three-stage sidewall lug design and a more aggressive tread design, the Super Swamper TSL Thornbird ensures that your rig has the traction required to go through rock, dirt, sand and other debris.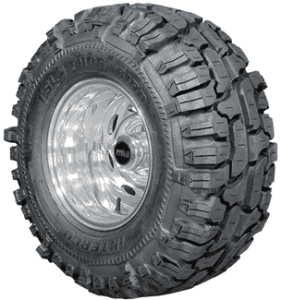 The tires' narrower tread voids and siped lugs help with grip on wet pavement. Unfortunately, these same narrow voids inhibit traction in mud and deep snow. The treads quickly pack up and traction is lost.
Fiberglass belts beneath its tread and body plies constructed from polyester, combine together to offer a smoother, more comfortable ride, especially on the road. This is an area frequently mentioned in other driver reviews.
Super Swamper offers a range 15-17 inch sizes, with C and D load ranges available. A limited tread warranty is included.
Pros
Stylish, aggressive looks
Good traction, handling and grip on dry road surfaces
Performance off-road on everything other than mud and snow
Cons
Performs poorly in mud
Grip in deep snow and ice is nearly non-existent
Overall Thoughts
Everyone who sets their eyes on the Interco Super Swamper TSL Thornbird agree that it is an aggressive, eye-catching mud tire. However, owners of these tires have mixed feelings about almost every other aspect of this model.
It's thick, deep tread and aggressive tread design delivers capable traction on most off-road terrain. We say most because when it comes to mud and snow, this tire falters. Narrow tread voids pack up and leave you trying to figure out how to continue moving forward. It's disappointing for those looking for mud performance.
This model is really better suited for those looking for a street mud tire that features rugged good looks and dependable on-road drivability. It handles well on wet road surfaces for the most part due to the siped lugs. The ride is more comfortable and quiet than most mud tires.
Treadlife has been so-so as well. Used off-road, the tread lasts longer than most mud tires, but it wears down a little more quickly if you drive your rig on the road on a regular basis.
Overall, the Super Swamper TSL Thornbird is best described as a 'Jack of all trades and a master of none'. Unless you are simply after looks and street performance, we feel there are much better options available for the money.
What Vehicles Will The Super Swamper TSL Thornbird Fit?
(This is not a complete list of ALL vehicles this tire will fit)
Chevrolet Silverado, C2500, Blazer, Tahoe
Dodge Ram, Nitro, Durango, Dakota
Ford F-150, Excursion, F-250, F-350
GMC Sierra, Yukon, Jimmy
Hummer H3
Isuzu Rodeo
Jeep Liberty, Grand Cherokee, Wrangler
Land Rover Defender
Nissan Titan, Xterra, Pathfinder, Frontier
Suzuki Equator
Toyota FJ Crusier, Tacoma
Tire Sizes
15″
29×10.50R15LT C SWL
29×10.50R15LT C BL
30×11.50R15LT C SWL
30×11.50R15LT C BL
31.11.00R15LT C SWL
31×12.50R15LT C SWL
31×12.50R15LT C BL
33×10.50R15LT C SWL
33×10.50R15LT C BL
33×11.50R15LT C SWL
33×12.50R15LT C SWL
33×12.50R15LT C BL
35×12.50R15LT C BL
35×12.50R15LT C SWL
35×14.50R15LT C SWL
35×14.50R15LT C BL
38×14.50R15LT C SWL
38.5×14.50R15LT C BL
16″
30×11.50R16LT C BL
31×11.00R16LT C BL
33×11.50R16.5LT D BL
33×11.50R16LT C SWL
33×12.50R16.5LT D BL
35×12.50R16.5LT D BL
35×12.50R16LT D BL
35×14.50R16.5LT C BL
38.5×14.50R16.5LT C BL
38.5×14.50R16LT C SWL
38.5×14.50R16LT C BL
LT225/85B16 C BL
LT255/85B16 C SWL
LT255/85B16 D BL
17″
35×12.50R17LT D BSW
35×14.50R17LT D BL
Price Range
Interco Super Swamper TSL Thornbird prices range from approximately $273 and up. You may also find occasional rebates, discount prices, coupons and special offers on this tire.
Warranty
Super Swamper provides a limited tread warranty on the TSL Thornbird.
---