Super Swamper Trxus STS Tire Review & Rating
Sporting one of the most unique tread designs that you'll find on any all-terrain tire, the Super Swamper Trxus STS is built for a wide range of SUV, jeep and truck owners.
The unique tread pattern is matched up with a sturdy three-stage lug design that features lateral lugs that run from side-to-side. This results in increased grip and traction on off-road terrain. The lugs are spaced more tightly than many all-terrain tires and deliver excellent traction in sand, dirt and rock, as well as providing more than capable traction on the street.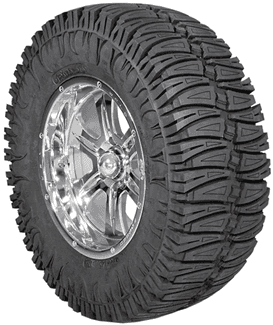 Larger tread lugs and deeper grooves around the tread which are siped, add to wet traction on the road. These same features provide grip in light to moderate snow, although deeper snow can be problematic for this tire.
Super Swamper Trxus STS tires come in 15-20 inch sizes, with C, D and E load ranges available. A limited tread warranty is included with all sizes.
Pros
Very good on-road traction and handling
Road noise is lower than expected
Performs well in sand
Unique aggressive looking tread design
Cons
Perform poorly in mud
Short treadlife if regularly driven on the road or street
Overall Thoughts
The first thing you'll notice about the Super Swamper Trxus STS is its distinctive, aggressive, good looks. It's definitely a unique design that owners will love or hate. Off-road performance is good for the most part. It is one of the better AT tires when it comes to driving through sand or soft dirt. Aired down it simply plows through it with relative ease. In addition, traction on the road is better than expected. You might think the tread pattern would create a lot of added noise, but this tire is really no louder than any other model.
Where this tire falters is grip in mud or deep snow. The lugs are packed together too tightly to clean out the mud and continue moving forward. We've heard the same issue from countless drivers as well. Finally, the softer tread compound wears more quickly on the highway than many models in this class. Getting 30K miles from the tread is about normal.
Overall, the Super Swamper Trxus STS is a good, affordable all-round, all-terrain tire. However, if you will be regularly driving off-road in mud or want a longer lasting road tire, you may need to spend a bit more on higher quality A/T tires.
What Vehicles Will The Super Swamper Trxus STS Fit?
(This is not a complete list of ALL vehicles this tire will fit)
Chevrolet Silverado, Colorado, K1500, Avalanche, S10, Blazer, Tahoe
Dodge Ram, Dakota, Durango
Ford F-150, Ranger, Bronco, Expedition
GMC Sierra, Canyon, Jimmy, Suburban
Hummer H3
Isuzu Trooper, Hombre5, Rodeo, Amigo S
Mitsubishi Montero
Nissan Crew Cab, Titan, Pathfinder
Jeep Wrangler, Cherokee, Grand Cherokee, Liberty, CJ5, CJ7
Land Rover Range Rover
Toyota FJ Cruiser, 4Runner, Tacoma, Tundra
Tire Sizes
15″
29×10.50R15LT C BW
31×11.50R15LT C BW
33×12.50R15LT C BW
33×14.50R15LT C BW
35×12.50R15LT C BW
36×14.50R15LT C BW
38×15.50R15LT C BW
33×13.50-15LT C BW
15/39.5-15LT C BW
21/44-15LT C BW
16″
33×12.50R16LT E BW
35×12.50R16LT E BW
36×14.50R16LT E BW
38×15.50R16LT E BW
36×14.50R16.5LT E BW
38×15.50R16.5LT E BW
33×13.50-16LT D BW
15/39.5-16LT D BW
21/44-16LT D BW
15/39.5-16.5LT D BW
21/44-16.5LT D BW
17″
33×12.50R17LT E BW
35×12.50R17LT E BW
38×15.50R17LT E BW
15/39.5-17LT D BW
21/44-17LT D BW
18″
33×12.50R18LT E BW
35×12.50R18LT E BW
38×15.50R18LT E BW
20″
15/39.5R20LT E BW
33×12.50R20LT E BW
35×12.50R20LT E BW
38×15.50R20LT E BW
35×12.50R22LT E BW
15/39.5-20LT D BW
21/44-20LT D BW
Price Range
Super Swamper Trxus STS prices range from approximately $168 and up. You may also find occasional rebates, discount prices, coupons and special offers on this tire.
Warranty
Super Swamper provides a limited tread warranty on the Trxus STS.
---