Sumitomo HTR Z III Tire Review & Rating
The HTR Z III from Sumitomo is the company's 3rd generation model of their best-selling high performance summer driving tire. Designed for drivers of sport coupes and sedans, the HTR Z III is made to deliver exceptional traction and handling on dry or wet roads, along with outstanding grip in the corners for more spirited drivers.
A silica enhanced high performance tread compound combines with a 5-rib asymmetric tread pattern and larger shoulder blocks for increased dry and wet traction. The tire's continuous center rib and intermediate tread blocks provide added steering response and stability throughout the speed range, while also adding more cornering grip. You'll also find a hard rubber filler in the sidewall that reduces flexing and adds to lateral grip without sacrificing ride quality.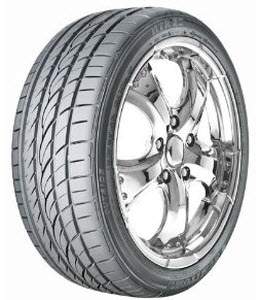 Wet traction is enhanced through circumferential and lateral grooves that effectively channel away water from the tread and increase resistance to hydroplaning. One area that Sumitomo put a lot of effort into is ride comfort. This is one of the more comfortable riding tires in this class due to the unique tread design they came up with. It dramatically reduces outside road noise that is quite noticeable.
Inside the tire you will find two wide steel belts that are polyamide wrapped for added strength and stability at higher speeds. A polyester cord body enhances ride comfort. Sumitomo offers sizes from 17-22 inches, and the tire comes with a Y-speed rating.
Pros
Excellent dry and wet traction

Cornering grip is exceptional

Crisp steering response

Ride quality is very good

Outstanding performance and value for the money
Cons
Would like to see a little more treadlife
Overall Thoughts
The HTR Z III is arguably the best model in this line of HTR Z tires. The traction on wet or dry pavement is very good. Braking and acceleration are dependable, and the cornering performance of this tire is among the best in this class. The tire grips the road like glue. You really have to try to break the rear end loose with this tire.
Ride comfort is excellent with this model. Road noise is surprisingly minimal and not really a factor at higher speeds on the highway. Treadlife is average and could be better. Like most high performance summer tires, your driving style is pretty much going to be the determining factor in how long the tread lasts. That said, this tire provides exceptional performance and value for the lower cost. It makes for a good option in this category.
What Vehicles Will The HTR Z III Fit?
Fits these vehicles and many others:
Audi S4, S8, TT Roadster, RS6, A4

BMW M3, 325i, 750i, Z4, 530i, 335i, M5

Cadillac Seville STS

Chevrolet Corvette, Camaro, Cobalt

Ford Mustang GT, Focus

Honda Civic, Accord, S2000

Infiniti G35

Lexus IS350, LS460L, IS300, LS430, GS350

Mazda RX-8, Mazda3, Mazda6, Mazda5

Mercedes-Benz S600, C230, S55, SL500, CLK430

Mini Cooper

Nissan Sentra, 300ZX, Altima SE-R, 350Z

Pontiac GTO, Trans Am

Porsche 911, Boxster, Cayman

Scion xD, tC

Subaru Impreza WRX, Legacy

Toyota Camry, Matrix

Volkswagen Passat, Phaeton, Golf, GTi, Jetta
Tire Sizes
17″
205/50ZR17 XL 93Y BSW
215/45ZR17 87Y BSW
215/50ZR17 XL 95Y BSW
225/45ZR17 XL 94Y BSW
225/50ZR17 94Y BSW
235/45ZR17 94Y BSW
235/50ZR17 96Y BSW
235/55ZR17 99Y BSW
245/40ZR17 XL 95Y BSW
245/45ZR17 95Y BSW
255/40ZR17 94Y BSW
275/40ZR17 98Y BSW
18″
215/35ZR18 XL 84Y BSW
215/40ZR18 XL 89Y BSW
225/40ZR18 XL 92Y BSW
225/45ZR18 XL 95Y BSW
235/40ZR18 XL 95Y BSW
235/50ZR18 97Y BSW
245/40ZR18 XL 97Y BSW
245/45ZR18 XL 100Y BSW
255/35ZR18 XL 94Y BSW
255/40ZR18 XL 99Y BSW
255/45ZR18 XL 103Y BSW
265/35ZR18 XL 97Y BSW
265/40ZR18 XL 101Y BSW
275/35ZR18 95Y BSW
275/40ZR18 99Y BSW
285/30ZR18 XL 97Y BSW
285/35ZR18 97Y BSW
295/30ZR18 XL 94Y BSW
19″
225/35ZR19 XL 88Y BSW
225/40ZR19 XL 93Y BSW
235/35ZR19 XL 91Y BSW
245/35ZR19 XL 93Y BSW
245/40ZR19 XL 98Y BSW
245/45ZR19 98Y BSW
255/35ZR19 96Y BSW
255/40ZR19 XL 100Y BSW
265/30ZR19 XL 93Y BSW
275/30ZR19 XL 96Y BSW
275/35ZR19 96Y BSW
275/40ZR19 101Y BSW
285/35ZR19 99Y BSW
20″
225/35ZR20 XL 90Y BSW
235/30ZR20 XL 88Y BSW
245/30ZR20 XL 90Y BSW
245/35ZR20 XL 95Y BSW
245/40ZR20 99Y BSW
255/30ZR20 XL 92Y BSW
255/35ZR20 97Y BSW
275/30ZR20 XL 97Y BSW
275/35ZR20 102Y BSW
285/30ZR20 XL 99Y BSW
22″
265/30ZR22 XL 97Y BSW
295/25ZR22 XL 97Y BSW
Price Range
Prices on the HTR Z 3 range from approximately $87 and up. You may also find occasional rebates, discounts, coupons and special offers on this tire.
Warranty
Sumitomo provides a limited tread warranty on the HTRZ III. Tire uniformity is guaranteed for the first 1/32 inch of wear. Materials and workmanship are warranted for 6-years and include free replacement during those 6 years or until the final 2/32 inch of remaining tread depth is reached.
---
Share this review