Sumitomo HTR A/S P02 Tire Review & Rating
The Sumitomo HTR A/S P02 high performance all-season tire is aimed at drivers of sport coupes and higher performance sedans who are looking to get more out of their tires. Sumitomo has attempted to provide excellent traction and handling response in wet and dry driving conditions, as well as reliable traction in light snow and ice.
A silica all-season tread compound helps in providing added grip on wet and light snow covered road surfaces. The asymmetric tread pattern includes wider shoulder blocks with notches to enhance cornering and stability on dry pavement.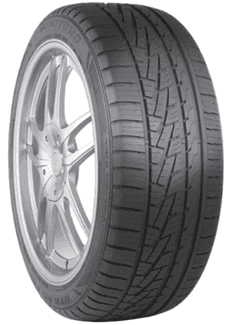 The tire's center rib and deeper circumferential grooves combine with lateral grooves to further enhance traction on wet roads and to decrease the likelihood of hydroplaning. The Sumitomo P02 also adds 3-D sipes to the tread that deliver biting edges for traction in light snow, slush, and ice.
Internally, the HTR A/S P02 has a set of dual steel belts which Sumitomo engineers have reinforced with jointless nylon bands. These are wound in a spiral pattern to enhance performance at high speeds and provide drivers with additional ride comfort. Handling is further improved by a high-tensile polyester casing.
The HTR A/S P02 is available in a massive number of sizes that range from 15-20 inches, and come with speed ratings of H, V or W. Sumitomo has also included up to a 65K mile tread wear warranty depending on the speed rating.
Pros
Decent cornering grip

Reliable traction in wet and dry driving conditions

Quiet and comfortable ride

Lower price
Cons
Less than desirable snow traction
Overall Thoughts
If you drive a high performance "sporty" vehicle, you'll likely be looking for a tire that matches those needs. With plenty of high-performance all-season tires in the marketplace, Sumitomo's HTRA/S P02 holds its own, and is especially a smart buy for the value-conscious.
It is reasonably priced, available in a wide range of sizes, and can offer you a desirable feature set such as a quiet and comfortable ride, good handling in wet and dry conditions, and a good-to-great tread life expectancy.
However, what the HTR A/S P02 doesn't do so well is a common flaw in many "all-season" tires and that is its traction in snow. It leaves much to be desired. If your typical usage scenario doesn't involve more than light snow and little to no ice on the roads, the HTR A/S P02 is a reliable tire for your high-performance passenger vehicle.
Although arguably not up to the performance level of tires such as the BFG Comp-2 A/S, Continental DWS06, Pirelli P Zero AS Plus among others, we like this tire and feel it is much improved over the original P01. We give it a rank in the middle of the class.
Buy Used for 40 – 50% Less than Retail
What Vehicles Will The Sumitomo HTR A/S P02 Fit?
(This is not a complete list of ALL vehicles this tire will fit)
Acura TL, CL, ILX

Audi A4

BMW 135i, 323i, 330i, 530i

Chevrolet Cobalt, Malibu, Cruze, Impala, Sonic LTZ, Cavalier

Dodge Neon, Grand Caravan, Avenger, Dart

Ford Focus, Mustang GT, Taurus, Fusion, Flex

Honda Civic, CR-V, Insight, Accord

Hyundai Genesis, Sonata, Elantra

Infiniti G35x

Kia Optima, Rondo, Forte, Soul

Lincoln MKZ

Mazda6, 929, Mazda3, Mazda5

Nissan Altima, Maxima, Versa, Leaf, Cube, Sentra

Pontiac Vibe, Grand Am, Grand Prix, G5

Scion xB

Subaru Legacy, Impreza Outback

Toyota Camry, Prius, RAV4, Avalon, Solara, Sienna, Corolla

Volkswagen Jetta, Passat, Touareg, Beetle, Golf

Volvo S60, V70
Tire Sizes
15″
175/65R15 84H BLK
185/65R15 88H BLK
195/65R15 91H BLK
205/65R15 XL 99V BLK
215/65R15 96H BLK
195/60R15 88H BLK
205/60R15 91H BLK
215/60R15 94H BLK
16″
205/65R16 95V BLK
215/65R16 98H BLK
205/60R16 92V BLK
215/60R16 95H BLK
215/60R16 XL 99V BLK
225/60R16 98V BLK
235/60R16 100W BLK
185/55R16 83H BLK
195/55R16 87V BLK
205/55R16 XL 94W BLK
215/55R16 XL 97V BLK
195/50R16 84V BLK
205/50R16 87V BLK
225/50R16 XL 96V BLK
17″
225/65R17 102H BLK
235/65R17 XL 108V BLK
215/55R17 94W BLK
225/55R17 XL 101W BLK
235/55R17 99W BLK
205/50R17 XL 93W BLK
215/50R17 91W BLK
225/50R17 94W BLK
235/50R17 96W BLK
245/50R17 99W BLK
205/45R17 XL 88W BLK
215/45R17 XL 91W BLK
225/45R17 XL 94W BLK
235/45R17 94W BLK
245/45R17 XL 99W BLK
245/40R17 XL 95W BLK
18″
235/65R18 106H BLK
225/60R18 100V BLK
235/60R18 XL 107V BLK
245/60R18 105H BLK
215/55R18 95H BLK
225/55R18 98V BLK
225/50R18 95W BLK
235/50R18 XL 101W BLK
215/45R18 XL 93W BLK
225/45R18 XL 95W BLK
235/45R18 94W BLK
245/45R18 XL 100W BLK
255/45R18 XL 103W BLK
225/40R18 XL 92W BLK
235/40R18 XL 95W BLK
245/40R18 XL 97W BLK
255/40R18 XL 99W BLK
255/35R18 XL 94W BLK
19″
235/55R19 XL 105W BLK
245/55R19 103H BLK
245/45R19 98W BLK
245/40R19 94W BLK
275/40R19 101W BLK
255/35R19 XL 96W BLK
20″
235/55R20 102H BLK
245/50R20 102V BLK
245/45R20 XL 103W BLK
255/45R20 XL 105W BLK
275/40R20 XL 106W BLK
255/35R20 XL 97W BLK
Price Range
Sumitomo HTR A/S P02 prices range from approximately $62 and up. You may also find occasional rebates, discount prices, coupons and special offers on this tire.
Warranty
Sumitomo provides a 6-year or 65,000 mile tread warranty on H and V-speed rated sizes, and a 6-year or 45,000 mile guarantee on W-speed rated models. Tire uniformity is warranted for the first 1/32 inch of wear.
Materials and workmanship are guaranteed for 6-years and include free replacement during those 6 years or down to the final 2/32 inch of tread depth.
---