Sumitomo HTR A/S P01 Tire Review & Rating
The HTR A/S P01 from Sumitomo is the company's high performance all-season tire that is built for drivers of sport coupes, sedans and sporty SUV's. (The name stands for High Tech Radial, All-Season, Premium 1st Generation) The HTR sports the latest in tire technology along with the use of high tech materials in the tread design.
An all-season tread compound that also contains added silica, increases dry and wet traction and handling. The tire's directional tread pattern, intermediate tread blocks and continuous center rib give this model enhanced dry pavement handling, as well as increased cornering performance and steering response.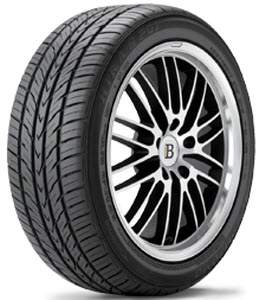 Four circumferential grooves and lateral grooves around the tread work to evacuate water away from the tire and reduce the risk of hydroplaning. The result is increased safety and added driving confidence. Sumitomo has also built in added sipes to help deliver improved snow traction when rough winter weather rolls around.
The HTR A/S P01 utilizes Jointless Nylon Band technology to reinforce the two steel belts around the tread. JNB technology provides added strength and stability to the tire when driving at higher speeds, while also creating a more comfortable ride. Driving comfort is an area this tire excels in, which is often mentioned by other drivers as well. Sumitomo has sizes available from 14-18 inches, and speed ratings up to a W. There is also up to a 65,000 mile tread guarantee depending on the tire selected.
Pros
Outstanding dry traction and cornering performance

Steering is responsive

Ride is comfortable and among best in this class

Excellent value for the money
Cons
Snow and ice traction could be better
Overall Thoughts
The HTR A/S P01 may surprise you in how well they perform. Dry traction and cornering is outstanding. Steering is crisp and keeps you in control throughout the speed range. Wet handling is good on this tire as well. The other area that this tire excels in is ride quality. Simply put, this is a very comfortable all-season tire. You feel as if you are riding on a much more expensive tire.
Winter handling is adequate on this model, but we would like to see a little extra traction in deeper snow and on the ice. To be fair though, this is not advertised as a winter tire. Overall, it would be hard to beat the value and performance that this Sumitomo tire provides for the low cost. Highly recommended.
What Vehicles Will The Sumitomo HTR Fit?
(This is not a complete list of ALL vehicles this tire will fit)
Acura TL, RSX, MDX

BMW 330i, X5

Chrysler Pacifica, PT Cruiser, 300C

Ford Focus, Fusion, Taurus, Mustang GT

Honda Civic, Accord, Insight, CR-V, Fit

Hyundai Sonata

Infiniti G20, G35x

Jaguar S Type

Lexus GS300

Mazda6, Mazda3, Miata

Nissan Maxima, 350Z, Sentra, Pathfinder, Altima, Versa

Pontiac Grand Prix, Firebird

Saturn SC2

Scion xD, xB

Suzuki Grand Vitara

Toyota Camry, Corolla, Prius, Sienna, Previa

Volkswagen Golf GTi, Jetta, Passat

Volvo S70, XC90
Tire Sizes
14″
185/60R14 82H BW
195/60R14 86H BW
185/65R14 86H BW
15″
205/60R15 91H BW
195/60R15 88H BW
185/65R15 88H BW
195/65R15 91H BW
205/65R15 94H BW
16″
225/50R16 92H BW
215/60R16 95V BW
225/60R16 98H BW
205/55R16 91V BW
245/50R16 97H BW
205/50R16 87H BW
205/60R16 92V BW
215/60R16 99H XL BW
17″
235/55ZR17 99W BW
215/55R17 94V BW
215/50ZR17 91W BW
205/50ZR17 89W BW
245/45ZR17 95W BW
235/50ZR17 100W XL BW
235/45ZR17 94W BW
245/40ZR17 91W BW
225/45ZR17 91W BW
225/50ZR17 94W BW
275/40ZR17 98W BW
215/45ZR17 87W BW
235/65R17 104H BW
225/55R17 97V BW
18″
225/60R18 100H BW
235/40ZR18 91W BW
225/40ZR18 88W BW
Price Range
Prices on the Sumitomo P01 range from approximately $59 and up. You may also find occasional rebates, discounts, coupons and special offers on this tire.
Warranty
Sumitomo provides a 6-year or 65,000 mile tread warranty on 60/65 series tires, and a 6-year or 40,000 mile guarantee on 40/45/50/55 series models. Tire uniformity is warranted for the first 1/32 inch of wear.
Materials and workmanship are guaranteed for 6-years and include free replacement during those 6 years or down to the final 2/32 inch of tread depth.
---