Sumitomo Encounter HT Tire Review & Rating
Designed for year-round all-season performance, the Sumitomo Encounter HT is built for drivers of pickups, SUV's and commercial vans. Key features of this tire include reliable traction and handling, a comfortable ride quality and longer treadlife.
Sumitomo uses an all-season tread compound that is matched up to a symmetric tread pattern and continuous center rib. The end result is solid dry traction with quicker steering response, as well as increased cornering and handling performance.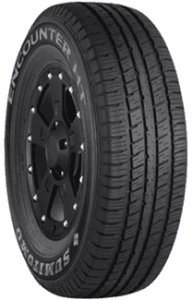 Four wide circumferential grooves and numerous cross grooves enhance wet traction and help reduce the risk of hydroplaning. This is an area you'll find this tire does quite well in. Added zig-zag sipes around the tread further aid in grip on wet pavement, while also providing decent traction on snow covered road surfaces. These biting edges do their job in lighter amounts of snow, as well as helping with braking and acceleration.
Sumitomo has optimized the tread design to reduce road noise and deliver a smoother and more comfortable ride quality. For a mid-tier model, the Encounter HT does provide a good level of comfort on all but the harshest bumps and road surfaces.
Inside the tire is a two-ply construction, with 3-plies on all LT sizes. Twin steel belts that are wrapped with polyamide add strength and durability. Sumitomo has added black letters on the sidewall to give this tire a more attractive look.
Encounter HT sizes range from 16-20 inches, and come with speed ratings of T or H on all non-LT sizes. Sumitomo backs this model with a 60K mile tread warranty.
Pros
Very good dry/wet traction and handling
Low noise
Value for the cost
Cons
Traction on ice and hard-pack
Overall Thoughts
The Sumitomo Encounter HT fits nicely into the second-tier highway all-season class of truck/SUV tires. It delivers good overall performance, with the exception of braking/acceleration on ice of slick hard-pack. The value for the lower cost help make this a good buy in new tires.
What Vehicles Will The Sumitomo Encounter HT Fit?
Fits these vehicles and many others:
Chevrolet Silverado, Avalanche, S10, Suburban, K2500, Colorado, Blazer
Dodge Ram, Dakota
Ford Expedition, Ranger, Bronco, F-150, Explorer
GMC Yukon, Sierra, Canyon
Honda Element, CR-V, Ridgeline
Isuzu Trooper
Jeep Wrangler, Grand Cherokee, Liberty
Mazda B4000
Mercury Mountaineer
Mitsubishi Montero
Nissan Titan, Xterra, Frontier, Pathfinder
Toyota Tacoma, Tundra, FJ Cruiser, Sequoia, Land Cruiser, Highlander
Tire Sizes
16″
225/75R16 XL 108T BSW
235/75R16 XL 112T BSW
245/75R16 111T BSW
265/75R16 116T BSW
215/70R16 100T BSW
225/70R16 103T BSW
235/70R16 106T BSW
245/70R16 107T BSW
255/70R16 111T BSW
265/70R16 112T BSW
LT235/85R16 120/116S BSW
LT225/75R16 115/112T BSW
LT245/75R16 120/116S BSW
LT265/75R16 123/120S BSW
17″
P235/70R17 XL 108T BSW
245/70R17 110T BSW
265/70R17 115T BSW
225/65R17 102H BSW
235/65R17 104T BSW
245/65R17 107T BSW
265/65R17 112T BSW
LT265/70R17 121/118T BSW
18″
255/70R18 113T BSW
265/70R18 116T BSW
235/65R18 106H BSW
255/65R18 111H BSW
265/65R18 114H BSW
275/65R18 116H BSW
235/60R18 XL 107H BSW
245/60R18 105H BSW
265/60R18 110H BSW
LT275/65R18 123/120T BSW
19″
255/60R19 109H BSW
20″
275/60R20 115H BSW
275/55R20 XL 117H BSW
LT275/65R20 126/123T BSW
Price Range
Sumitomo Encounter HT prices range from approximately $113 and up. You may also find occasional rebates, discount prices, coupons and special offers on this tire.
Warranty
Sumitomo provides a 6-year or 60,000 mile tread warranty on the Encounter HT. Tire uniformity is warranted for the first 1/32 inch of wear.
Materials and workmanship are guaranteed for 6-years and include free replacement during those 6 years or down to the final 2/32 inch of tread depth.
---