Starfire WR: Tire Review & Rating
Overview
The Starfire WR are entry level tires for drivers who want a good option at an affordable price – they feature an asymmetrical tread design that helps maintain a strong grip on the road.
With a silica infused tread compound alongside a robust and rigid internal construction, these tires provide you with a comfortable and smooth ride throughout their life. They also include shoulder blocks that are solely designed to improve the breaking and steering responsiveness to maximize safety. This also helps in creating friction at the time of braking and effectively shortens the braking distance.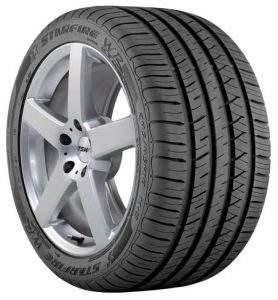 These all-season, high performance tires provide you with a decent ride in slight snow and wet conditions during winters as well.
For constant road contact, these tires have an optimal footprint that increases the road to tire ratio while the centralized rib helps maintain a strong grip. This also helps in spreading out the force from acceleration, cornering and braking, resulting in even tread wear that in turn increases the life of the tire.
This product also comes with massively improved steering responsiveness and stability, even when driving at high speeds due to more expansive contact area and constant road contact. Designed with a varying pitch sequence, they are not as noisy as many other options in the market.
The tires are one of the best budget friendly options for drivers – they can be purchased for as low as $80.
The Starfire WR tire is a perfect match for sedans, passenger vehicles and SUVs. They come with an M+S rating for high performance in all conditions and in sizes ranging from 16 inches to-18 inches.
The Pros
Traction in all weather conditions

Bare minimum noise

Long lasting tread and tire life

Decent control even when driving at high speeds

Budget friendly
The Cons
Not suitable for extreme weather conditions
Overall Thoughts
The Starfire WR is a quality tire that offers good mileage and high performance in a reasonable budget.
Over the years, the Starfire brand has managed to position itself through the help of its parent company as a leading manufacturer of tires. It offers reasonable prices without reducing the quality and performance of each model.
As such, they are known to conduct rigorous testing before introducing a new design – each model is tested under tough conditions and are then compared with top tires from their competitors.
It is for this reason that we feel that Starfire WR is a great set of tires to have for your car – especially if you're looking for tires that offer no noise, comfort and longevity. As an added benefit, they're also quiet affordable.
Although it is disappointing to see that the manufacturer does not offer tread life warranty; but this seems to be the only negative aspect of this tire.
What Vehicles Would Goodyear Winter Command Tires Fit?
These tires are a perfect match for sedans, passenger vehicles and SUVs – here is a list of some models that they fit;
Acura TL

Acura TL type S

Audi A4 Quattro

Audi A4 Quattro Avant

Audi A4 Quattro Cabriolet

Audi A6

Audi A6 Quattro Avant

BMW 525i

BMW 528i

BMW 530i

BMW 540i

BMW 850c Si

BMW M5

Mitsubishi Lancer Evolution

Mitsubishi Lancer Evolution RS

Sab 9-5 Aero

Subaru WRX Limited

Toyota Supra Twin Turbo

Volkswagen CC Luxury

Volkswagen CC Sport

Volkswagen CC Sportline

Volkswagen CC Trend

Volkswagen CC Wolfsburg Edition

Volkswagen Eos

Volkswagen Eos 2.0T

Volkswagen Eos 3.2

Volkswagen Eos Comfortline

Volkswagen Eos Komfort

Volkswagen Eos Lux

Volkswagen Eos Turbo

Volkswagen Eos VR6

Volkswagen Passat 2.0T

Volkswagen Passat 3.6

Volkswagen Passat CC Highline V6

Volkswagen Passat CC Sportline

Volkswagen Passat Comfortline

Volkswagen Passat Highline

Volkswagen Passat Komfort

Volkswagen Passat Lux

Volkswagen Passat Value Edition

Volkswagen Passat Wolfsburg Edition

Volvo C70 T5

Volvo S60 2.4T
Tire Sizes Available
The Starfire WR comes in a variety of sizes ranging from 16 inches to 18 inches;
16'
245/50R16

205/55R16

215/55R16

225/50R16
17'
225/45R17

245/45R17

225/50R17

245/40R17

215/45R17
18'
215/45R18/XL

225/40R18/XL

225/45R18/XL

235/40R18/XL

235/50R18

245/40R18

245/45R18
Price Range
The Starfire WR tires start at around $70-$80 and can go up to $90 – although this price is subject to discounts and deals being offered online and can be bought at cheaper prices as well. A set of these tires can cost anywhere between the $300-$400 range.
Warranty
Sadly, the tire manufacturing company does not offer any warranty.