Spring Tire Guide: Freshen Up Your Tires to Stay Safe on the Road
Your tires can take a real beating during the brutal winter months, especially if you live somewhere that snows. But now, spring has arrived and it's time to get your car's tires ready for the road. Ideally you're swapping out your winter tires for some all-season rubber, and there are a few tools and accessories that can help make sure those tires are safe for you to use—even if you're buying new ones.
In this article, we'll recommend 5 products that help get you on your way, not only to ensure safe driving conditions, but to make those tires shine like new.
Table of Contents
1. Tire Pressure Gauge: Tekton Digital Tire Pressure Gauge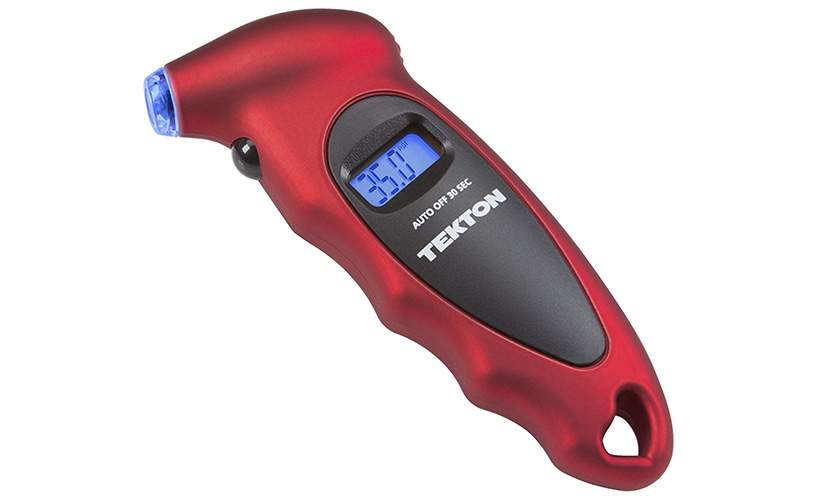 Every car owner should have a tire pressure gauge handy, even if your vehicle is equipped with a tire pressure monitoring system (TPMS). It's important to know whether your tires are underinflated or overinflated, as either condition can affect your vehicle's performance, including fuel economy. For the average car owner, you don't need anything fancy, which is why we recommend this digital tire pressure gauge from Tekton.
SEE ALSO: Top 10 Best Tire Pressure Gauges
This product is one of the most affordable and highly rated tire pressure gauges on Amazon. Interestingly enough, there are several other gauges that look similar to Tekton's product, but this one seems to be the most popular among buyers—likely because of its price. Featuring a digital display that instantly and clearly shows an exact reading, the Tekton Digital Tire Pressure Gauge also comes with a lighted nozzle to help in low light or at night.
The nozzle on this gauge seals to the valve stem quickly for accurate measurements, while a single push of the button turns the unit on. The same button also allows the user to select the desired range and this gauge will automatically shut off after 30 seconds to conserve battery life. It uses one CR2032 3V lithium coin cell and three LR44 1.5V button cell batteries, which are all included.
---
Pros: Price, easy-to-read digital gauge, simple to use, includes a lighted nozzle for low light/night use, single button operation, ergonomic design
Cons: Requires multiple cell batteries (although they are included), changing batteries is a bit of pain, the finish on the device isn't too durable
---
2. Tire Inflator: EPAuto 12V DC Portable Air Compressor Pump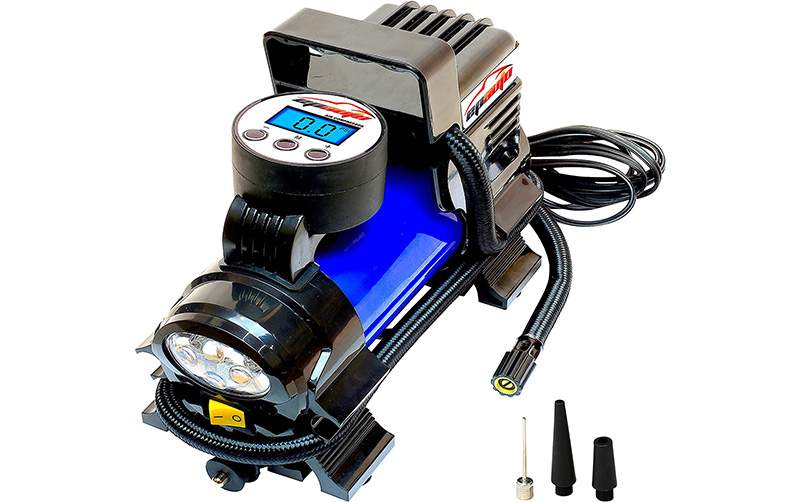 You just never know when you need to put air in your tires, which is why it's convenient to own a portable tire inflator. As we mentioned before, driving on underinflated or overinflated tires can affect how your car performs. So instead of having to hunt down a compressor when you need air, get your own so you can not only check your tire pressure, but fill or deflate your tires as needed.
SEE ALSO: Top 10 Best Tire Inflators
One of the highest rated and most popular tire inflators on Amazon, this 12V DC portable air compressor from EPAuto is competitively priced and works with the cigarette lighter socket inside your vehicle. This inflator does not support LT, HT, and truck tires, but will do the job just fine for cars, bikes, sedans, and SUVs. It comes equipped with an easy-to-read digital gauge that displays PSI, KPA, BAR, and KG/CM2 and features an LED flashlight to help you out in the dark. It also has built-in auto shutoff, which will automatically turn off the compressor when the desired tire pressure is reached.
Its inflating speed is rated at 1.06 CFM and the compressor protects itself from overheating by shutting off the unit if it exceeds 167°F.
---
Pros: Price, easy-to-read digital gauge, displays in four different units, built-in LED flashlight, auto shutoff feature
Cons: Slower than some pumps, doesn't support LT, HT, and truck tires
---
3. Tire Pressure Monitoring System: ZEEPIN Solar Power TPMS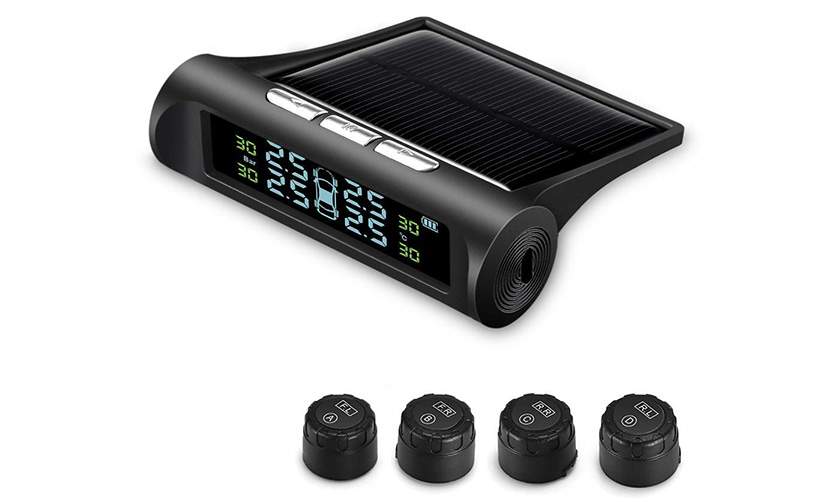 Most vehicles these days leave the dealership lot with TPMS, but if you're driving an older vehicle that didn't come equipped with the technology, you can easily add it to your vehicle. It's highly recommended to add TPMS on your car if you don't have it, as it can notify you when your tires are underinflated, or worse, completely flat.
SEE ALSO: Top 5 Tire Pressure Monitoring Systems
One of the most affordable tire pressure monitoring systems on our list comes from ZEEPIN. It's a solar powered unit featuring a built-in 500mAh lithium-ion battery, which means you don't have to constantly keep it plugged in for power. The unit however, does support USB charging in case solar power doesn't cut it for you. This kit comes with 4 sensors that are waterproof with anti-corrosion and anti-theft technology, which means it'll function perfectly fine in the rain.
This kit comes with a bright, backlit display that reads in BAR or PSI, along with displaying temperature in Fahrenheit or Celsius. The unit supports both visual and audible alarms, which can be customized between 0-5 BAR or 0-72 PSI.
ZEEPIN offers a 180-day free exchange service for the sensors.
---
Pros: Solar powered display, built-in battery, reads in BAR/PSI, visual and audio alarms, 180-day exchange on sensors
Cons: Doesn't include a USB charger and cable, temperature reading isn't accurate, display can be difficult to read in bright light
---
4. Wheel and Tire Cleaner: Car Guys Tire Shine Spray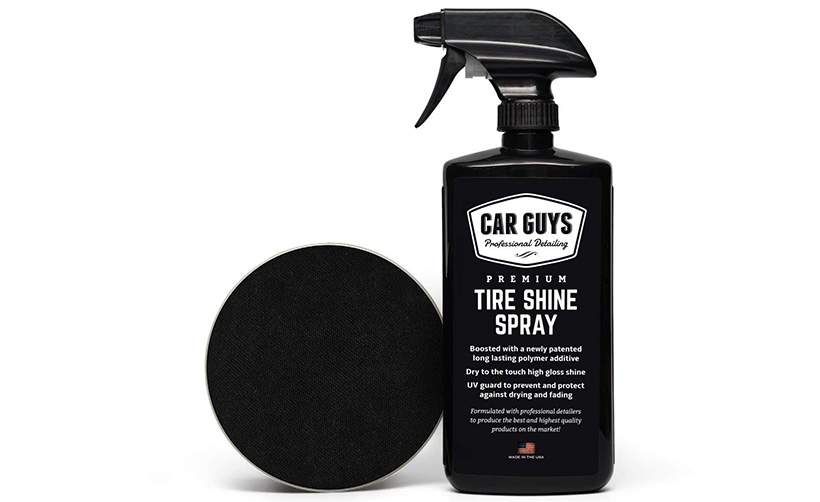 Most car owners care how their vehicle looks on a daily basis, and caring for your tires is one component of having a clean car. Invest in a bottle of tire shine spray so that after a car wash, you can get those tires looking like new and give them the shine they deserve.
SEE ALSO: Top 10 Best Wheel and Tire Cleaners
Car Guys' Tire Shine Spray is an anti-sludge tire spray that can be either applied with a microfiber cloth or like a regular spray. It has a UV protection shield and gives a tire a show car look. The company claims this tire spray includes nano polymer additives that extend the longevity of the tire dressing.
The spray bonds with the tire surface to prevent sling and runoff during high-speed driving. It is sold as a kit with an applicator for ease of use. As every detailer has their own style and preference, the applicator gives you an even look, while directly spraying the dressing leaves your wheels with a rich glossy look, so a detailer can choose the kind of shine they want.
---
Pros: Comes with an applicator, pretty good price for an 18oz bottle, spray is solid and strong, gives a high gloss shine, easily takes away grime, grease and brake dust, good for restoring dull and faded rubber
Cons: Some people claim it wears away faster than claimed
---
5. Tire Dressing Applicator: Adam's Hex Grip Pro
Giving your tires that fresh shine can get messy, which is why it's recommended to get yourself a nice tire applicator. These are typically affordable items you never realized you needed, until you own one. Our recommendation comes from Adam's, with the company's Hex Grip Pro Tire Applicator, which features an ergonomic design and comfortable grip. It's a molded foam applicator that thoroughly covers the area of your tires, allowing you to use just the right amount of product without it slinging all over the place and leaving a mess. Simply dispense your preferred tire shine onto the applicator and effortlessly spread it across your tire's surface.
This applicator is washable and reusable thanks to its advanced open cell foam design. Simply soak it in water or use Adam's Eco All Purpose Cleaner to freshen it up for your next car wash or detailing session. Just make sure it's completely dry before you use it again.
---
Pros: Ergonomic design, comfortable grip, molded open cell foam design, washable and reusable
Cons: There are cheaper options available, plastic handle isn't extremely solid
---
---
We are committed to finding, researching, and recommending the best products. We earn commissions from purchases you make using the retail links in our product reviews. Learn more about how this works.