Riken Raptor ZR Tire Review & Rating
The Raptor ZR from Riken is designed especially for drivers of sport coupes, compacts and smaller sedans who are looking for a high performance summer tire that is value priced to save big money. As a subsidiary of Michelin, Riken is known for its line of budget-minded high performance tires that provide serious grip and handling, as well as aggressive looks and longer tread life.
The directional tire pattern and high tech tread compound on the Raptor ZR combine to provide maximum handling and traction on dry or wet surfaces. Steering response is enhanced through a high modulus composition sidewall, while larger outside shoulder blocks increase cornering power.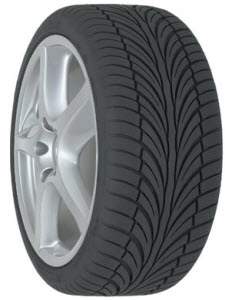 Grip on wet roads is made safer with a continuous center rib and numerous sipes around the tread. It helps evacuate more water from under the tread and reduces the risk of hydroplaning.
The ZR hasn't forgotten about ride quality due to its computer-phased tread design that minimizes road noise and improves overall ride comfort.
Inside the tire you will find two steel belts and a double strip-wound nylon overlay that add more strength and durability to the tire at higher speeds. It also increases the contact patch and allows the tire to maintain its shape. Riken has also added a rim protector to the tire to help prevent damage to custom wheels. A 40,000 mile tread warranty is included as well.
Pros
Traction on dry or wet pavement is very good

Cornering grip and steering response are impressive

Very good treadlife

Value for the money is as good as it gets in a ZR tire
Cons
Tires tend to get more road noise as they wear down
Overall Thoughts
Riken has a winner on its hands with this Raptor ZR. It is hands down one of the best low cost high performance tires in its class. Traction and grip on dry surfaces and in the corners is superb. Wet handling is nearly as good, and the treadlife is better than you would expect.
The only "knock" if you will on this tire is that it tends to get more noisy as it wears down. Not a huge issue in our book though. This is a high performance tire and you would expect that. Overall, just an excellent tire for the low cost.
Click Here To Find Current Price
What Vehicles Will The Raptor ZR Fit?
(This is not a complete list of ALL vehicles this tire will fit)
Acura Integra, RSX, TSX, TL

BMW 325 Ci, M3

Cadillac CTS

Chevrolet Camaro, HHR

Ford Focus, Fusion, Mustang

Honda Civic, Prelude

Kia Spectra

Mazda 3, Mazda 6, Miata

Nissan Sentra, Maxima

Pontiac Grand Am, Trans Am, Gran Prix, Solstice

Saturn Sky

Scion tC

Toyota Matrix

Volkswagen Jetta, Golf
Tire Sizes
16″
205/40ZR16 83W XL B
205/45ZR16 87W XL B
205/50ZR16 91W XL B
215/55ZR16 93W BSW
225/50ZR16 92W BSW
225/55ZR16 95W BSW
245/50ZR16 97W BSW
17″
205/45ZR17 88W XL B
205/50ZR17 89W BSW
215/40ZR17 87W XL B
215/45ZR17 91W XL B
215/50ZR17 91W BSW
225/45ZR17 91W BSW
225/50ZR17 94W BSW
235/45ZR17 97W XL B
235/50ZR17 96W BSW
235/55ZR17 99W BSW
245/45ZR17 95W BSW
255/40ZR17 94W BSW
18″
215/35ZR18 84W XL B
225/40ZR18 92W XL B
235/40ZR18 95W XL B
245/40ZR18 93W BSW
245/45ZR18 96W BSW
275/35ZR18 95W BSW
20″
245/35ZR20 91W BSW
255/35ZR20 93W BSW
Price Range
Prices on the Raptor ZR range from approximately $85 and up. You may also find occasional rebates, discounts, coupons and special offers on this tire.
Click Here To Find The Current Price On All Riken Raptor ZR Tire Sizes
Warranty
There is a 40,000 mile treadlife warranty on the ZR. Also included is a first 2/32 inch guarantee on the tire's uniformity.
Materials and workmanship are warranted for 5 years.
---