Riken Raptor HR Tire Review & Rating
Who says you have to spend hundreds of dollars for a high performance tire? The Riken Raptor HR (Riken is a subsidiary of Michelin) has been designed with an H-speed rating to go with a budget friendly price.
The all-season computerized tread design uses a high-tech tread compound and directional pattern to give this model improved grip on both dry and wet road surfaces. Sidewalls feature a high modulus composition that increase cornering response, while a double strip-wound nylon overlay allows the tire to maintain its shape, even at higher speeds.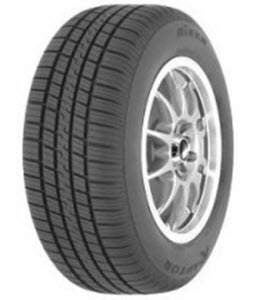 For wet surface traction, Riken has added four circumferential grooves along with a continuous center rib that plow through the rain and reduce the risk of hydroplaning.
The tire's carcass includes two steel belts that add more stability to the tire at high speeds, while also increasing tread life. You will also find a rim protector along the sidewall to help in protecting your wheels from accidental damage with curbs.
Pros
Affordable and comes in at a solid overall value

Very good grip on dry road surfaces

Comfortable riding tire
Cons
Winter weather traction may be an issue for more spirited drivers

Road noise becomes more noticeable as tire wears down
Overall Thoughts
The Riken HR is easily one of the better high performance tires for drivers looking for a less expensive option. It fills a need for those on a tighter budget, while also providing impressive performance on the street.
Handling and cornering grip is impressive and will put a smile on your face. The overall ride comfort is surprisingly good as well despite a little added road noise. Add in the 55,000 mile warranty and you have a tire that offers excellent value for the money.
Click Here To Find Current Price
What Vehicles Will The Raptor HR Fit?
(This is not a complete list of ALL vehicles this tire will fit)
Acura TSX

Chevy Mailbu, Camaro

Chrysler LeBaron

Ford Mustang, Taurus

Honda Accord, Civic

Kia Spectra

Nissan Altima

Saturn SL2

Scion tC

Toyota Prius, Corolla

Volkswagen Jetta, Golf
Tire Sizes
15″
195/60R-15 88H BSW
195/65R-15 91H BSW
205/60R-15 91H BSW
205/65R-15 94H BSW
16″
205/55R-16 91H BSW
205/60R-16 92H BSW
215/55R-16 93H BSW
215/60R-16 95H BSW
225/60R-16 98H BSW
17″
235/55R-17 99H BSW
Price Range
Prices on the Raptor HR range from approximately $65 and up. You may also findoccasional rebates, discounts, coupons and special offers on this tire.
Click Here To Find Current Prices On All Riken Raptor HR Tire Sizes
Warranty
The treadlife warranty on the Raptor HR is for 6-years or 55,000 miles. There is also a first 2/32 inch of wear tire uniformity guarantee.
Materials and workmanship are backed for 5-years.
---