RBP Repulsor M/T All-Terrain Radial Tire
Overview
The RBP Repulsor M/T tire is basically an all season and terrain radial tire that also provides excellent grip and traction on muddy roads. You can trust this tire to master any road; be it sand, rock or snow.
This tire is especially designed to minimize road noise and provide a comfortable driving experience. Since it's manufactured using high quality materials and has an extra layer of rubber outside of the flex zone, it is also considered extremely durable.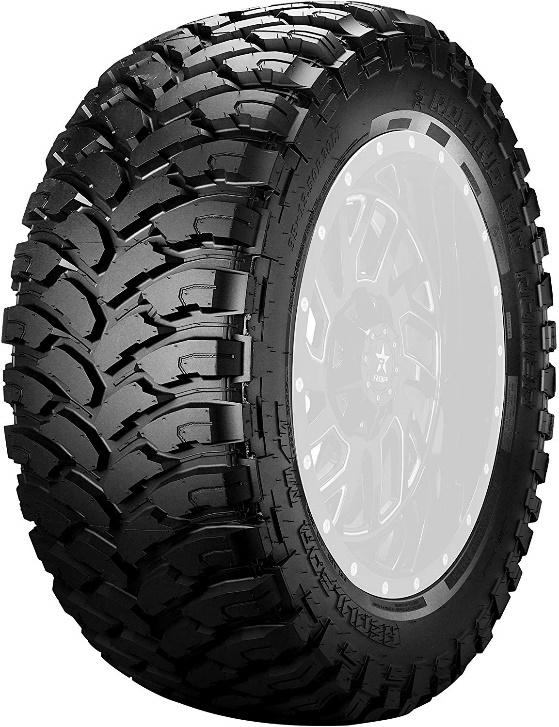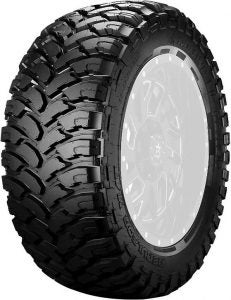 The sidewall aesthetics are also a reason for car enthusiasts to look forward to using it; the tire is a perfect match for off road drivers in any given situation, especially under unpredictable weather conditions. The extra protection, laden with grip and traction equips it to come out as a winner in sleet, rain, mud, snow and rocky surfaces.
All in all, Repulsor M/T all-terrain tires are sure to make your driving experience a pleasurable one. Also, while making sharp turns or gaining speed, you will not experience loss of traction. For instance, even after a heavy rainfall, these tires will handle the clay and mud better than others.
The RBP Repulsor is manufactured within a size range of LT285/70R17-40/15.50R24 with affordable prices.
Pros
Excellent grip and traction on rough surface

Extra protection and durability

Less noise during the drive

Aesthetically appealing

Reasonable price point

Versatility (Mud, snow, sand, rock, rain etc.)

Distinct tread design

Durable
Cons
A little difficult on wet surfaces
Overall Thoughts
With an all-purpose approach, RBP Repulsor is set to conquer all the unpredictability of nature. It provides extra traction and grip that is especially needed on off-road and rough surfaces. The drivers will certainly find their ride to be a pleasant one without worrying about losing grip.
You can easily speed through rough, rocky surfaces without excessive wear and tear and minimal noise while the strong sidewall and tread protection is what creates a comfortable ride on all terrains.
There are two distinct features that improve the tire's overall performance; the open shoulders and large tread blocks for more traction on muddy surfaces.
These tires have wider grooves with stone ejectors that automatically fend off snow, bits of rocks and mud, and maintains good tire to road contact. In terms of the overall handling, these tires operate with the help of a directional tread design that automatically increases the steering response and maintains stability especially while off-roading.
Overall, these tires are one of the best options for light trucks given their quality, performance and price point. They are not only responsive and sharp, but also have the ability to maneuver through the deep snow.
Most truck drivers are also particular about the noise, which in this case is kept to a bare minimum.
What Vehicles Would RBP Repulsor M/T All-Terrain Radial Tires Fit?
Below is the list of vehicles that are compatible with the RBP Repulsor M/T All-Terrain Radial Tires. Please note that this is not a comprehensive list.
Ford Ranger

Gladiator Wrangler

Nissan Armada (Model: 2004-2007)

Ram 1500 and 2500 (Model: 2011-2018)

Toyota Tundra (Model: 2009-2013)

Dodge Ram 2500 (Model: 2005-2010)
Tire Sizes Available
Below is a list of all the tire sizes available in the RBP Repulsor M/T range:
15″
16''
LT265/75R16

LT285/75R16

LT305/70R16

LT315/75R16
17''
33*12.50R17LT

35*12.50R17LT

LT265/70R17

LT285/70R17
18"
275/65R18LT

33*12.50R18LT

35*12.50R18LT

LT285/65R18
20"
33*12.50R20LT

35*12.50R20LT

35*13.50R20LT

37*13.50R20LT
22"
33*12.50R22LT

35*12.50R22LT

37*13.50R22LT
24"
33*12.50R24LT

35*12.50R24LT

37*13.50R24LT

40*15.50R24LT
26"
Price Range
The RBP Repulsor M/T is available in a reasonable price range for all users; they can cost anywhere from $199 to $450 depending upon the tire size.
There are certain suppliers that do offer certain discounts and deals across the year. However, it is suggested that you make a purchase from the authorized dealers only as the company would not accept any claims made otherwise.
Warranty Offered
RBP restricts the purchase and selling to and from authorized dealers only. In case of any tire being purchased from unauthorized dealers, the company may not facilitate the customer in terms of a warranty claim.
Here are the warranty conditions:
If there is any defect in materials from 1 year from the date of purchase

The company will replace, mend or repair the defected parts without any charge minus the transportation charges
There is no warranty on finishes of any kind (leather, liquid, colored finishes).