Radar Pro Tour All Season Touring Tire Review & Rating
The Radar Pro Tour All Season Touring tire is billed as being an affordable, all-season touring tire that is designed to provide the traction, grip and handling required in all four-seasons of the year. Built for owners of compact and medium-sized cars, the Pro Tour tire is built to deliver a quiet ride while also being more economical than many similar touring tires.
Radar uses a symmetric tread design with an all-season tread compound for enhanced traction on dry road surfaces. In addition, the tread pattern promotes better road handling, longer tread life and a smoother, quieter ride. The tires' wide center rib contributes to improved steering response and feel, especially in dry driving conditions.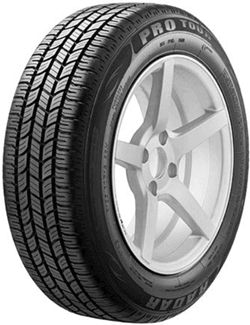 This tire is also designed to perform effectively on wet roads, although we feel this is not a strength for this tire. Wide circumferential grooves and lateral grooves help reduce the risks of hydroplaning.
Omni United Radar Pro Tour tires are available in 13-17 inch sizes and feature S, H and V speed ratings. A limited tread warranted is included on all sizes.
Pros
Dry traction and handling
Steering response
Low cost
Cons
Poor handling in wet and winter conditions
Overall Thoughts
The Radar Pro Tour tire is pretty much everything you could expect from a value-based touring all-season tire. It handles well in dry conditions, while giving you the grip and traction required by this type of tire. Treadwear is acceptable, and this tire offers a quiet and comfortable ride when you drive on the road.
However, as you might expect, this model is not without its faults. Grip on wet pavement is below par when compared to other similar tires. We've heard this same thing from other owners of this tire as well. In addition, traction on snow and ice is poor. In fairness, this is a common issue with most all-season tires.
Overall, if you're a compact or mid-sized vehicle owner, the Radar Pro Tour tire is a budget-friendly offering that holds its own in most areas if you're not driving in parts of the country with regular rainfall or rough winter weather.
What Vehicles Will The Radar Pro Tour Fit?
(This is not a complete list of ALL vehicles this tire will fit)
Chrysler 300, Sebring, PT Cruiser
Chevrolet Malibu, Cruze, Cavalier, Astro, Impala, Equinox
Dodge Challenger, Charger, Magnum, Avenger, Caliber
Ford Focus, Mustang, Escort, Ranger, Taurus, Escape
Honda Accord, Civic, Odyssey, CR-V
Hyundai Elantra
Jeep Patriot, Liberty, Grand Cherokee
Kia Optima, Soul, Spectra
Lexus LS400
Mazda3, Mazda5, Mazda6
Nissan Altima, Sentra, Versa, Frontier
Pontiac Grand Prix, G6, Grand Am
Saturn Aura, SC2, L200
Scion xA, tC
Toyota Camry, Corolla, Supra, Sienna, Prius
Volkswagen Passat, Golf, Jetta, Beetle
Tire Sizes
13″
155/80R13 79S BLK
175/70R13 82S BLK
14″
175/65R14 81S BLK
185/65R14 85S BLK
185/70R14 87S BLK
185/75R14 89S BLK
195/70R14 90S BLK
205/70R14 93S BLK
205/75R14 95S BLK
215/70R14 96S BLK
15″
195/60R15 88H BLK
195/65R15 91V BLK
205/65R15 92S BLK
205/70R15 95S BLK
215/65R15 95S BLK
215/70R15 97S BLK
16″
205/55R16 91H BLK
205/60R16 92H BLK
215/60R16 95V BLK
225/60R16 97S BLK
17″
215/55R17 94V BLK
225/50R17 94V BLK
Price Range
Radar Pro Tour All Season Touring prices range from approximately $51 and up. You may also find occasional rebates, discount prices, coupons and special offers on this tire.
Warranty
Radar provides a limited tread warranty on the Pro Tour tire.
---