Pro Comp Xtreme MT2 Radial Tire Review & Rating
Created for SUV's, 4×4's and light trucks the Pro Comp Xtreme MT2 Radial is designed for both on and off road driving without differing in performance.
The tires sport a Tri-Ply construction that provides greater puncture resistance in the sidewall and ensures that the tires can handle even the most rugged terrain. In addition to this they also have two steel belts and a spiral-wound nylon overwrap that allows for heavier loads to be carried as well as adding another degree of protection.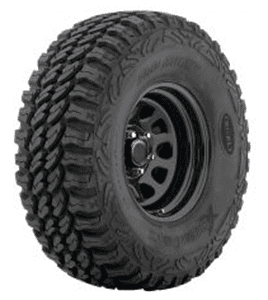 A silica enhanced tread compound combines with a computer-optimized tread design that helps deliver good driving in dry and wet conditions and maintains this performance off road especially in mud. Another area that Pro Comp addressed was road noise. You'll find noise to be much less an issue than with most other MT tires.
The tires come with a good 40,000 mile warranty which is handy for tires that tend to venture off road and the Xtreme MT2 can be found in 15 to 20 inch sizes.
Pros
Aggressive tread design that works in many conditions

Solid all-terrain traction and response

Good on-road drivability
Cons
Overall Thoughts
For driving in mud and off-road surfaces the Xtreme MT2 delivers some of the best performance for light trucks and SUV's. Much of this comes down to their aggressive tread design and durability.
While they do suffer a bit of road noise, which is fairly common for mud and off road specific tires, it is better than most other competitor tires and they certainly make up for this in virtually every other category. Great construction, solid and responsive driving and a tire that will last. Given its durability and warranty there are not a lot of negatives here.
Even though they are not specifically designed for winter use their technology ensures that they can be driven in light snow. Overall, if you go off-road on a regular basis but need a tire to handle normal road surfaces without any fuss then the Pro Comp Xtreme MT2 Radial's are one of the best options that you can choose.
Click Here For Current Pro Comp Wheels Coupons
Click Here To Find Current Prices
Tire Sizes
15″
31X1050R15C1 109Q Blk
33X1250R15C2 108Q Blk
35X1250R15C2 113Q Blk
16″
LT265/75R16E1 123Q Blk
LT285/75R16D1 122Q Blk
LT315/75R16E2 127Q Blk
17″
LT265/70R17E1 121Q Blk
LT285/70R17D1 121Q Blk
LT305/65R17E2 121Q Blk
LT315/70R17E2 121Q Blk
37X1250R17D2 124Q Blk
18″
LT295/65R18E1 127Q Blk
LT305/70R18E2 126Q Blk
37X1250R18E2 128Q Blk
20″
LT295/55R20E1 123Q Blk
LT295/60R20E1 126Q Blk
35X1250R20E2 121Q Blk
37X1250R20E2 126Q Blk
Price Range
Xtreme MT2 prices range from approximately $190 and up. You may also find occasional rebates, discount prices, coupons and special offers on this tire.
Click Here To Find The Current Prices On All Pro Comp Xtreme MT2 Radial Sizes
Warranty
Pro Comp includes a 40,000 mile tread life warranty on the MT2 Radial. There is also a one-year or first 2/32 inch of wear on tire uniformity.
Materials and workmanship are covered for 6-years and call for first year or first 2/32 inch of wear free replacement. A prorated amount is then provided for the remainder of the warranty period.
---