Pro Comp Xtreme AT Tire Review & Rating
Finding an all-terrain tire to fit on your truck or sport utility vehicle is easy, but finding a high quality AT tire that will deliver serious performance off-road, yet provide good on-road mannerscan often be a different story. That is precisely what Pro Comp (made by Cooper Tire) has attempted to do with the Xtreme AT.
An aggressive directional tread design and advanced rubber tread compound increases traction and handling on dry or wet pavement, which is among the best in this class. The tires are siped to further aid wet grip, as well as on snow and ice. The computer-optimized tread design reduces road noise and thehum you get on the highway. Pro Comp has done a very good job in this area.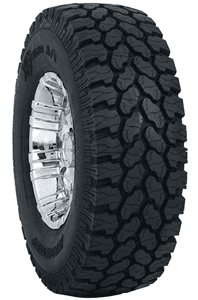 Durability and protection are assured with extra thick sidewalls and also the Dualguard polyester body piles with two steel belts and a spiral-wound nylon overwrap so the Pro Comp Xtreme AT's are ready for rough and rugged driving on all types of terrain. This tire is built to handle rocks, dirt, sand and gravel with the best tires on the market.
Sizes are available ranging from 15 to 20 inches, and you'll also find a 40,000 mile tread warranty as well.
Pros
Good tread design for on and off road driving

Excellent performance on rock, dirt, sand and gravel

Tough sidewalls

Durable and long lasting tread
Cons
Driving in mud can be a problem

Hard to find
Overall Thoughts
All terrain tires sometimes aren't able to truly drive in all conditions however, the Xtreme AT's from Pro Comp are one of the exceptions. While they can pack with mud in really poor conditions, which is the downfall with most AT tires, they handle everything else with ease, and that includes light snow. The larger lugs and added sipes really provide excellent performance.
Quiet, comfortable and responsive, the tires are among some of the better models on the market. Indeed, with a wide range of protection and durability focused technology on board, and a good warranty, these tires will last.
Overall, the Xtreme AT is a good quality all-terrain tire that ranks among the best in their class. Although not the cheapest, the performance and value for the money is very good.
Click Here For Current Pro Comp Coupons
Tire Sizes
15″
31×10.50R15 C BSW
32×11.50R15LT C BSW
33×12.50R15LT C BSW
16″
LT265/75R16 E BSW
LT285/75R16 D BSW
LT305/70R16 E BSW
LT315/75R16 D OBL
17″
37×12.50R17LT D BSW
LT305/65R17 E BSW
LT265/70R17 E BSW
LT285/70R17 D OBL
LT315/70R17 E BSW
18″
37×12.50R18 E BSW
LT325/60R18 E OBL
LT325/65R18 E OBL
35×12.50R18 E OBL
LT305/60R18 E BSW
20″
LT305/55R20 E OBL
35×13.50R20 E OBL
35×12.50R20 E OBL
37×13.50R20 E BSW
Price Range
Pro Comp Xtreme AT prices range from approximately $ and up. You may also find occasional rebates, discount prices, coupons and special offers on this tire.
Click Here To Find Current Prices On All Pro Comp Xtreme AT Tire Sizes
Warranty
Pro Comp includes a 40,000 mile tread life warranty on Xtreme A/T. There is also a one-year or first 2/32 inch of wear on tire uniformity.
Materials and workmanship are covered for 6-years and call for first year or first 2/32 inch of wear free replacement. A prorated amount is then provided for the remainder of the warranty period.
---