Pro Comp A/T Sport Tire Review & Rating
The Pro Comp A/T Sport is the company's newest all-terrain tire for 2016. Set for release from now until March, this model is aimed for drivers looking for a tire that will handle weekend outings off the beaten trail, as well as more serious off-road enthusiasts seeking higher levels of traction on all types of terrain.
A newly formulated tougher tread compound is used on the AT Sport that is engineered to provide more balanced drivability both on or off-road. Pro Comp knows that the vast majority of driving on the tires is done on the streets and highways. But they also wanted a compound that will stand up to the rigors of heavy off-road use. It appears they got the mix just about right on this tire.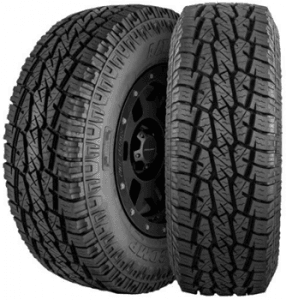 An asymmetric tread pattern features sweeping tread grooves and a staggered design that combines to increase traction dry, wet or snow covered road surfaces. The grooves are also created to clean themselves more efficiently when it comes to mud, gravel and other debris.
Outer shoulder lugs are built to better resist chips, cuts and punctures to the sidewall, as well as enhance grip in light mud, sand, rocks and snow. Pro Comp has also used a multi-pitch variation in the makeup of this tire by alternating the tread blocks to reduce tread pattern noise that you often find with quite a few all-terrain tires.
You will find a wide array of 15-20 inch sizes in P-metric and LT fitments, as well as up to a load range E rating. There is also a 60K mile tread warranty and 60-day trial period included with this tire.
Pros
Excellent off-road performance
Aggressive tread design that looks great
Very quiet on the highway
60K mile tread warranty and 60-day trial period
Cons
Not the best in moderate to deep mud
Overall Thoughts
Pro Comp has a number of all-terrain and mud-terrain tires in their lineup, but this new A/T Sport is arguably their best model out of all of them. The tread design at first glance appears somewhat similar to the Toyo AT2, but upon a more detailed look, you can spot the differences. We like the performance of this tire to say the least. It handles just about anything you want to throw its way off the trail.
Gravel, sand, dirt, rocks and other debris are no problem for this tire. It cleans out very well and doesn't hold rocks in the tread. It's a tire that is ideal for those living in rural areas with a lot of gravel roads and hard packed dirt. It also works very well for drivers on construction sites, as well as those pulling heavy trailers or doing a good deal of highway driving.
Driving on the highway, which is what the vast majority of drivers spend their time doing, is a pleasure. Road noise on the highway is minimal and among some of the best tires in its class. Ride comfort is average among other AT tires. The one area we could find that this tire doesn't deliver stand-out performance would be in deeper mud. Although the tire cleans itself well, the tread is simply not setup for mud bogging.
It's still a bit early to know how long the tread will last, early indications are nothing but positive. The Pro Comp AT Sport features a 60K mile warranty which is among the best in the business.
Overall, this is a solid performing all-terrain tire that we rank in upper half of this category.
Click Here For Current ProComp Coupons
Click Here To Find Current Lowest Price
What Vehicles Will The Pro Comp AT Sport Fit?
Fits these vehicles and many others:
Chevrolet Silverado, Avalanche, Suburban, Tahoe, TrailBlazer, Traverse
Dodge Ram, Dakota, Nitro, Durango
Ford F-150, Escape, Explorer, Expedition, Ranger, Excursion, F-250
GMC Canyon, Sierra, Yukon, Suburban
Honda Pilot, Ridgeline, Passport
Isuzu Rodeo
Jeep Grand Cherokee, Wrangler, Liberty
Kia Borrego
Land Rover Range Rover, Defender
Mercury Mountaineer
Mitsubishi Montero
Nissan Titan, Frontier, Armada, Pathfinder, Xterra
Suzuki Equator
Toyota FJ Cruiser, Highlander, 4Runner, Sequoia, Tundra, Tacoma, Land Cruiser
Tire Sizes
15″
31×10.50R15LT 109Q LR C RBL
33×12.50R15LT 108Q LR C RBL
35×12.50R15LT 123Q LR C RBL
16″
245/70R16 XL 111S RBL
265/70R16 XL 115S RBL
LT235/85R16 120/116Q E RBL
LT225/75R16 115/112Q E RBL
LT245/75R16 120/116Q E RBL
LT265/75R16 123/120Q E RBL
LT285/75R16 126/123Q E RBL
LT315/75R16 127/124Q E RBL
LT305/70R16 124/121Q E RBL
17″
LT265/70R17 115Q E RBL
LT285/70R17 121/118Q D RBL
LT315/70R17 121/118Q E RBL
LT265/65R17 117/114Q D RBL
LT305/65R17 121/118Q E RBL
37×12.50R17LT 124Q D RBL
18″
LT305/60R18 121/118Q E RBL
35×12.50R18LT 123Q E RBL
20″
LT275/60R20 123/120Q E RBL
LT295/60R20 126/123Q E RBL
LT305/55R20 121/118Q E RBL
35×12.50R20LT 121Q E RBL
37×12.50R20LT 126Q E RBL
Price Range
Pro Comp AT Sport prices range from approximately $154 and up. You may also find occasional rebates, discount prices, coupons and special offers on this tire.
Click Here To Find Current Lowest Prices On All Pro Comp A/T Sport Tire Sizes
Warranty
Pro Comp includes a 60,000 tread wear warranty on the A/T Sport under their Forever Warranty package. Materials and workmanship defects are covered for the life of the tire and are non-prorated. There is also a 60-trial provided on this model.
---