Pirelli Scorpion Verde All Season Tire Review & Rating
In an age when drivers are becoming more concerned about environmental impact, tire manufactures have been trying to meet this demand. That's precisely what Pirelli has attempted to accomplish with the Scorpion Verde All Season. Designed for drivers of SUV's and crossover vehicles, the Scorpion Verde All Season is one of the most eco-friendly tires on the market.
The construction has an emphasis on lowering the rolling resistance and reducing tire weight to increase fuel efficiency and lower the overall environmental impact of the tires. It also features a silica tread compound molded into an asymmetric tread pattern to provide optimal handling and traction in both dry and wet conditions. An optimized rubber-to-void ratio and uniform contact patch offer solid grip and overall enhanced steering response.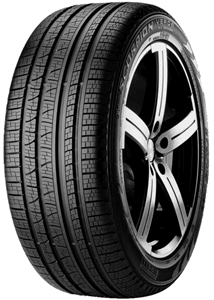 For wet weather driving the four wide circumferential grooves help to dispel water from the tire which provides added traction in less than ideal road conditions. The Scorpion Verde All-Season also has longitudinal siping and high-density lateral siping for increased winter driving performance.
Inside the tire are twin steel belts with a polyester cord body that are built to deliver increased strength and more uniform tread wear. You can find the tires in a wide variety of sizes ranging from 16 to 22 inches. Pirelli also includes a 50,000 mile tread warranty as well.
Pros
Environmentally friendly construction

Solid traction and cornering in dry weather

Wide range of sizes

Good warranty
Cons
Needs a little more wet traction

Can suffer excessive wear around 25k miles
Overall Thoughts
Sometimes "eco-friendly" tires are met with skepticism. Environmentally friendly design often comes at the expense of performance, however this is not the case with the Pirelli Scorpion Verde All Season.
Dry handling and cornering performance are excellent for an all-season tire. Steering is quick and responsive, while the tire maintains very good stability throughout the speed range. Our biggest complaint is wet traction. It's an area that Pirelli could improve on, and one that they did improve with the release of the new Scorpion Verde All Season Plus.
Overall, this is a solid choice in new tires for anyone who doesn't need exceptional wet grip yet wants good performance in all other areas.
Click Here For Current Pirelli Coupons
Click Here To Find Current Prices
Buy Used for 40 – 50% Less than Retail
What Vehicles Will The Pirelli Scorpion Verde All Season Fit?
(This is not a complete list of ALL vehicles this tire will fit)
Acura MDX, RDX

Audi Q5, Q7

Buick Enclave

Cadillac Escalade, SRX

Chevrolet Captiva Sport, Equinox, Tahoe, Traverse, Suburban

Dodge Durango, Journey, Nitro

Ford Edge, Escape, Expedition, Explorer, Flex

GMC Acadia, Envoy, Terrain, Yukon

Honda Crossfour, CR-V, Pilot

Hyundai Sante Fe, Veracruz

Infiniti FX35, FX37, JX35, FX35, QX56, QX60, QX70

Jeep Commander, Grand Cherokee, Liberty

Kia Borrego, Sorento, Sportage

Land Rover LR2

Lexus GX, LX, RX

Mazda CX-5, CX-7, CX-9, Tribute

Nissan Murano, Pathfinder

Saab 9-4X, 9-7X

Toyota 4Runner, Highlander, RAV4, Venza

Volkswagen Touareg

Volvo XC60, XC90
Tire Sizes
15″
205/70R15 96H BSW
16″
215/65R16 98V BSW
215/70R16 100H BSW
225/70R16 103H BSW
225/75R16 104T BSW
235/60R16 100H BSW
245/70R16 111H BSW
P225/70R16 103H BSW
P235/70R16 106H BSW
17″
215/60R17 96V BSW
225/55R17 97H BSW
225/60R17 99H BSW
235/55R17 99H BSW
235/55R17 99V BSW
235/65R17 108V BSW
245/65R17 111H BSW
255/60R17 106V BSW
285/65R17 116H BSW
P225/65R17 102H BSW
P235/65R17 108V BSW
P255/60R17 106V BSW
P265/65R17 112H BSW
P265/70R17 113H BSW
18″
225/55R18 98V BSW
235/50R18 97H BSW
235/50R18 97V BSW
235/60R18 103H BSW
235/60R18 107V BSW
255/55R18 109H RUNFLAT BSW
255/55R18 109H BSW
255/55R18 109H XL BSW
255/55R18 109V BSW
255/60R18 112H XL BSW
265/60R18 110H BSW
285/60R18 120V BSW
P235/55R18 104V BSW
P235/60R18 107V BSW
P235/65R18 104T BSW
P245/60R18 104H BSW
19″
235/50R19 99H BSW
235/50R19 99V BSW
235/65R19 109V BSW
255/40R19 96H BSW
255/50R19 107H BSW
255/50R19 107H RUNFLAT BSW
255/55R19 111H XL BSW
255/60R19 109H BSW
265/50R19 110H XL BSW
265/50R19 110V XL BSW
P235/55R19 105V XL BSW
P255/50R19 107W BSW
20″
235/55R20 102H BSW
245/45R20 99V BSW
255/55R20 110W BSW
255/55R20 110Y BSW
265/45R20 108H BSW
265/45R20 108H RUNFLAT BSW
265/50R20 111V BSW
275/45R20 110H BSW
275/45R20 110V XL BSW
275/50R20 109H BSW
285/50R20 116V BSW
295/45ZR20 110W RUNFLAT BSW
P245/45R20 99V BSW
P255/50R20 109T BSW
P255/55R20 107H BSW
21″
265/40R21 105V BSW
275/45R21 110W BSW
275/45R21 110Y BSW
22″
275/50R22 111H BSW
285/45R22 114H BSW
Price Range
Pirelli Scorpion Verde All Season prices range from approximately $158 and up. You may also find occasional rebates, discount prices, coupons and special offers on this tire.
Click Here To Find The Current Prices On All Pirelli Scorpion Verde All Season Sizes
Warranty
The Scorpion Verde All Season includes an unlimited time period or 50,000 mile tread warranty. Tire uniformity is guaranteed for one-year or the first 2/32 inch of wear.
Materials and workmanship are warranted for life and include free first year or first 2/32 inch of wear replacement. A prorated amount is given for the remaining time period down to the final 2/32 inch of tread depth. A 30-day free trial is also included.
---