Pirelli P6000 Tire Review & Rating
Pirelli's high performance summer P6000 utilizes the latest in tire technology that is designed to provide excellent road control on dry and wet pavement, as well as a lower rolling resistance for enhanced fuel efficiency.
An advanced silica tread compound that includes synthetic polymers and black fillers gives the P6000 increased traction on wet roads, while also reducing the rolling resistance. Pirelli has included unique elliptical water channels around the tread that are built to push away water from under the tire and reduce the risk of hydroplaning, which is something this tire does pretty well.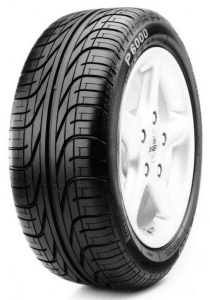 Dry traction is enhanced through the tire's larger and virtually continuous tread block design that runs from the center of the tread to the shoulders. It also increases steering response and feel, while providing more than adequate grip in the corners. A variable pitch tread sequence works to reduce outside road noise and increase comfort.
Inside the tire you will find two steel belts that are nylon reinforced for added strength and stability at higher speeds. A polyester cord body adds to ride comfort. Sizes are available from 15-18 inches and speed ratings up to a Y.
Pros
Excellent dry and wet traction

Very good stability and cornering grip

Tire rides comfortably
Cons
Road noise for some

Tread life could be better
Overall Thoughts
The P6000 offers very good driving performance, but falls a bit short in other areas. We really like how this tire drives and handles on dry and wet road surfaces. Steering is responsive and provides good feedback, and the tire remains stable throughout the speed range.
On the other hand, we could do with a little less road noise. It's nothing overbearing, but not quite up to Pirelli standards it seems. Several other drivers have made mention of this as well in reviews and ratings of this tire. Tread life is another area that we would like to see lengthened. Sure, a 180 UTQG rating says it all, but we feel it could be better.
Overall, we rank the P6000 in the upper middle of the pack for high performance summer tires. We like other models such as the BFG Sport Comp2, Cooper Zeon RS3-S and Bridgestone RE760 Sport among others as the better options in this category.
Click Here For Current Pirelli Coupons
What Vehicles Will The P6000 Fit?
(This is not a complete list of ALL vehicles this tire will fit)
Audi A6, S4, A4, TT Roadster

BMW 325i, 525i, 840ci

Dodge Stratus, Stealth, Neon

Ford Taurus SHO, Focus, Contour, Mustang

Honda Civic, Accord

Jaguar XJ8

Lincoln LS, Mark VIII

Mazda 3

Nissan Maxima, Altima

Porsche 911

Saab 9-5, 9-3

Subaru Legacy

Toyota Corolla, Celica GT

Volkswagen Golf GLS, Jetta, Passat

Volvo C70
Tire Sizes
15″
195/65R15 91W BLK
215/60R15 94W BLK
16″
205/55R16 91H BLK
205/55R16 91W BLK
215/55R16 93V BLK
225/55ZR16 95W BLK
17″
225/45R17 91Y BLK
18″
235/50ZR18 97W BLK
Price Range
Pirelli P6000 prices range from approximately $351 and up. You may also find occasional rebates, discount prices, coupons and special offers on this tire.
Click Here To Find The Current Prices On All Pirelli P6000 Sizes
Warranty
Pirelli provides a limited tread warranty on the P 6000. Tire uniformity is guaranteed for the first year or first 2/32 inch of wear. Materials and workmanship are warranted for an unlimited time period and include free replacement during the first year or first 2/32 inch of wear. A prorated amount is then given down to the final 2/32 inch of tread depth.
---