Pirelli P-Zero Tire Review & Rating
Whenever people start talking about high performance summer tires, Pirelli P-Zero tires are usually always mentioned in the discussion. For over 20 years now this tire remains a mainstay for owners of sports coupes, sedans and other sports cars. Why? Because Pirelli is continuously adding in new tire technology and making improvements to the tread compound and tire design.
The tread compound has been upgraded with new "nano-composites" that improve grip and provide added stability and steering response. The compound is molded into an asymmetric tread design that is both attractive and aggressive.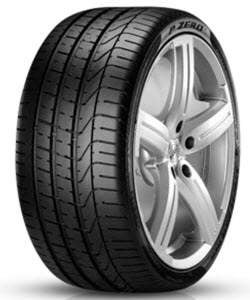 The tread features three longitudinal grooves, a wide circumferential groove and unique "S" sipes that combine to reduce the risk of hydroplaning on wet road surfaces, as well as give you added confidence when driving in nasty road conditions. The S sipes also help eliminate road noise, giving you a more quiet and comfortable ride.
Inside the tread are two steel belts that are reinforced with a much stronger polyamide cord ply to go along with nylon and aramid cord. The result is a more stable and stronger tread area that improves handling at higher speeds.
Pirelli has also come out with a run-flat version of the P-Zero since many drivers had been asking for one. Note: The P Zero is used as original equipment on high performance sports cars and sedans like the Mercedes S-Class AMG, Ferrari 599 GTB, Audi Quattro R8 and others.
Pros
Very good grip on both dry and wet surfaces

Steering response is excellent

Very low road noise

Riding comfort is above average
Cons
Tread life could be better
Overall Thoughts
The grip and performance of Pirelli P Zero tires is very good, and taking corners is enjoyable with this tire. The trade-off though is tread life. These tires tend to wear quicker than other models for those who enjoy more spirited driving, and for the money that can be disappointing.
That said, if you are a driver who takes it easier on the throttle and doesn't light up the tires at every stoplight, you should enjoy a longer tread life and get a lot more out of them.
Click Here For Current Pirelli Coupons
Click Here To Find Current Prices
What Vehicles Will The P Zero Fit?
(This is not a complete list of ALL vehicles this tire will fit)
Audi A4 Avant, A6

BMW M3, 645i, 335i, 750Li

Chevrolet Camaro, Impala SS

Chrysler 300

Dodge Charger

Ford Mustang, Focus ZX5

Honda Civic

Jaguar XJ8, XK8, XF

Mazda RX-7

Mercedes-Benz SLK55, C63 AMG, SL600

Nissan GT-R

Pontiac Bonneville GXP, Trans Am

Porsche 911 Carrera, Panamera 4, Cayenne, Cayman, Boxster

Volkswagen Golf

Volvo V70, XC90
Tire Sizes
17″
225/45ZR17XL 94Y BLK
235/45ZR17XL 97Y BSW
18″
225/40ZR18XL 92Y MBZ
225/40ZR18XL 92Y BLK
235/40ZR18XL 95Y MBZ
245/35R18 XL 92Y MBZ
245/40ZR18XL 97Y BLK
245/40ZR18XL 97Y MBZ
245/45ZR18 96Y AUD B
245/50R18 100Y POR B
255/35R18 XL 94Y MBZ
255/40R18 XL 99Y MBZ
255/45R18 99Y AUD B
265/35ZR18XL 97Y MBZ
275/45R18 103Y POR B
285/35R18 97Y MBZ B
19″
225/35R19XL 88YVW BW
235/35ZR19XL 91Y MCL
235/35ZR19XL 91Y LAM
235/35R-19 XL 91Y VW
245/35ZR19XL 93Y BMW
245/40ZR19XL 98Y JAG
245/40ZR-19 94Y FER
255/35R19 XL 96Y MBZ
255/35R19XL 96Y AUD
255/35ZR19XL 96Y MBZ
255/35ZR19XL 96Y AM
255/40ZR19 96W VW B
255/40R19 XL 100Y BW
255/40R19XL 100Z FRD
255/45R19 XL 104Y BW
265/30ZR19XL 93Y BLK
265/35ZR19XL 98Y BMW
265/50R19XL 110Y POR
275/35ZR19XL100Y JAG
275/40ZR19XL105Y JAG
285/30ZR19XL 98Y MBZ
285/30R19 XL 98Y MBZ
285/35R19XL 103Y FRD
295/30ZR19XL100Y LAM
295/30ZR19XL 100Y AM
295/30R19XL 100Y POR
295/30ZR19XL100Y LAM
305/30R19XL 102Y POR
20″
245/35R20 XL 95Y AM
245/35ZR20XL 95Y MAS
245/35ZR20 91Y POR B
245/45ZR20XL103Y CHV
255/35ZR20XL 97Y JAG
255/35R20 XL 97Y AUD
255/35ZR20XL 97Z MBZ
255/40ZR20XL105Z BEN
255/40ZR20XL101Y POR
265/30ZR20XL 94Y BW
265/35R20 XL 99Y AUD
265/35ZR20XL 99Y BW
265/40R20XL 104Y AUD
275/30ZR20XL 97Y AUD
275/35R20XL 102Z MBZ
275/35ZR20XL102Z BEN
275/35R20XL 102Y AUD
275/40ZR20XL106Y CHV
275/40R20XL 106Y BEN
285/30ZR20XL 99Y JAG
285/30ZR20XL 99Y MAS
285/35R20 100Y FER B
295/30ZR20XL101YPORB
295/30ZR20XL101Y MAS
295/30R20 XL 101Y AM
295/35ZR20XL105Y FER
295/35ZR20 XL 105Y B
305/30ZR20 99Y MCL B
305/35ZR20 104Y FER
335/30ZR20 104Y LAM
21″
245/40R21XL 100Y CHV
265/35R21XL 101Y
265/40ZR21XL105Y BEN
275/35ZR21XL103Y BEN
275/35R21XL 103Y CHV
275/35R21XL 103Y BEN
22″
285/30ZR22XL 101Y
Price Range
Pirelli P-Zero prices range from approximately $170 and up. You may also find occasional rebates, discounts, coupons and special offers on this tire.
Click Here To Find The Current Prices On All Pirelli P-Zero Sizes
Warranty
Pirelli Tires does not have a mileage tread life warranty on the P-Zero. There is a one-year or first 2/32 inch of wear guarantee on tire uniformity.
Materials and workmanship are guaranteed for the life of the tire and include free replacement during the first year or first 2/32 inch of wear. Pirelli follows that up with a prorated amount for the remainder of the tire life down to the final 2/32 inch of tread depth.
---