Pirelli P Zero Nero All Season Tire Review & Rating
Pirelli's latest all-season high performance tire, the P-Zero Nero All-Season, is currently used as original equipment on a variety of coupes, sedans and other vehicles. It's also available as a replacement tire in both a conventional and Run Flat version.
The asymmetric tread design sports a silica enhanced tread compound that give the tire improved grip and handling in all weather and road conditions, including snow and ice. It's why this tire includes the M+S emblem on the sidewall.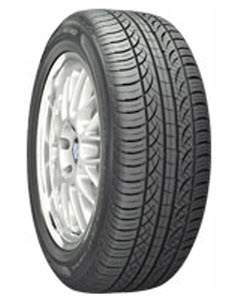 Dry surface grip is excellent due to a solid center rib, added intermediate ribs and outside shoulder blocks that enhance cornering add increase stability. It also provides a more consistent contact patch which reduces braking distances and improves acceleration.
Shoulder grooves combine with four longitudinal and numerous lateral grooves to increase wet surface grip and handling on the P Zero Nero. The results are a tire that minimizes the risk of hydroplaning even during cornering, which adds more driver confidence behind the wheel.
Inside the tire there are two steel belts and a polyester cord body that provide added strength and more durability to the tire at higher road speeds. It also creates a longer treadlife by giving the tire more even tread wear. There is also a 45,000 mile tread warranty on this Pirelli model, as well as a run-flat model.
Pros
Very good traction and handling in all weather conditions

Tire is comfortable to ride on

Tread wear is good and it comes with a 45K mile warranty
Cons
Would like to see improved steering response
Overall Thoughts
The PZero Nero All Season is a very likeable tire. It simply gives you what is says it will. It doesn't excel in any one area, yet it provides more than adequate performance in most everything you want in a tire. Traction on dry, wet or even snow covered surfaces is very good. We'd like to see a little added steering response, but this is not a big issue by any means.
You'll find it has a nice ride and is not a real noisy tire. Although it's an older model tire in the Pirelli lineup, and newer tires like the P Zero All Season Plus has passed it up performance wise, this tire remains a nice choice in the high performance all-season class.
Click Here For Current Pirelli Coupons
Click Here To Find Current Prices
What Vehicles Will The P Zero Nero All Season Fit?
(This is not a complete list of ALL vehicles this tire will fit)
Audi S4, A8

BMW 328i, 330Ci, 750i

Chevrolet Camaro, Impala

Ford Mustang

Hyundai Genesis

Jaguar XJ8

Mazda MAZDA6

Mercedes-Benz E-Class

Saab 9-5

Toyota Camry

Volkswagen GTI, Jetta

Volvo C30
Tire Sizes
17″
P215/50R17XL 95V BLK
P215/55R17 94V BLK
P225/45R-17 XL 94W B
225/45R17 91H XL MBZ
P225/50ZR17 98W XL B
P235/45ZR17 XL 97W B
P235/45R-17 XL 97W B
P235/55R17 98W FRD B
P235/55ZR-17 98W FRD
P245/40R-17 91W B
245/40R17 91H XL MBZ
P245/45ZR17 95W BLK
P245/45R-17 95W B
18″
215/45R18/XL 93W MAZ
P225/40R-18 XL 92W B
P225/40R18 XL 92H VW
225/40R18 92H XL MBZ
P225/45R18 91W BLK
P235/40ZR18 XL 95W B
235/40R18 91H MBZ B
P235/50R18 97W FRD B
P235/55R18 100V BLK
245/40R18 XL 97V MBZ
P245/40ZR18 XL 97W B
P245/40R-18 XL 97W B
P245/45R18 96W BLK
P255/35R18XL 94W BLK
P255/35R18 94H XL MBZ
P255/40R-18 XL 99W B
P255/45R18 99W BLK
255/45R1899V AUD BSW
P265/35R18 XL 93W B
265/35R18 XL 97V MBZ
P275/35R-18 95W B
P275/40R18 99W BLK
P285/35R18 XL 101W B
19″
P245/40R19XL 98W BLK
P245/45R19XL 98W FRD
P245/45R19XL102H JAG
P245/50R19XL104W CHV
P275/40R19 XL 101W B
P275/40R19XL105H JAG
20″
245/40R20XL 99W JAG
275/35R20XL 102W JAG
Price Range
Prices on the P Zero Nero All Season range from approximately $137 and up. You may also find occasional rebates, discounts, coupons and special offers on this tire.
Click Here To Find The Current Prices On All Pirelli P Zero Nero All Season Sizes
Warranty
The PZero Nero All-Season comes with an unlimited time period or 45,000 mile tread warranty. The mileage is cut in half if you are running different sized tires on the front than on the back. A 1-year or first 2/32 inch of wear tire uniformity is also included.
Materials and workmanship are covered for the life of the tire. It includes first year or first 2/32 inch of wear free replacement, which is followed by a prorated amount until the tire reaches its final 2/32 inch of tread depth.
---